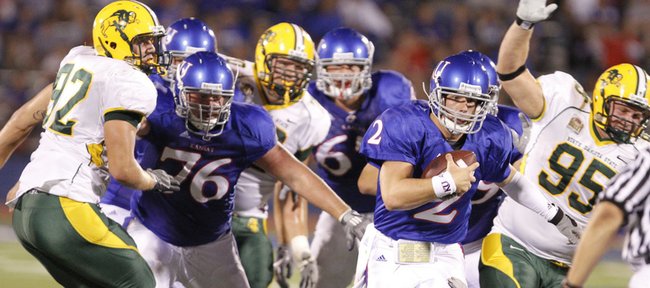 On Friday, red-shirt freshman quarterback Jordan Webb and junior offensive lineman Jeremiah Hatch took a moment to discuss how difficult it was to be on the bench to start the 2010 season.
"He told me before the game, 'Jordan, I'm hurtin' man, I want to be out there,'" Webb said of Hatch. "And I just told him, 'I know, Hatch, me, too. We just gotta keep playing, and we'll get our chance.'"
Little did either Jayhawk know his chance would come so quickly.
Wednesday after practice, Kansas University football coach Turner Gill announced that Webb would be the starting quarterback when the Jayhawks host Georgia Tech at 11 a.m. Saturday at Memorial Stadium.
And the guy who will be snapping him the ball? Yep, you guessed it.
Gill announced Hatch will start at center, and senior Sal Capra will move from center to left guard.
The news of Webb getting the nod comes as little surprise to most who have followed the program. Webb replaced starter Kale Pick in the fourth quarter of KU's season-opening loss and, at the time, appeared to give the Jayhawks a spark on the field. Though Webb's numbers were not drastically different than those Pick put up — Webb was 6-of-11 for 59 yards while Pick finished 13-of-22 for 138 yards and an interception — Gill said the guy with the stronger arm showed enough to earn the chance to start.
"If you look at the things that happened in the last game and overall at what's going on, we thought (Webb) would give us the best opportunity at this point in time," Gill said. "We feel good about what he's done, and right now he deserves to get his opportunity."
Gill informed the quarterbacks of his decision in a group setting during the day Wednesday. Just like last time, Pick, like Webb a few weeks ago, was not happy about the news.
"I think (he handled it) no different than Jordan did," Gill said. "He was disappointed, not happy about it, which I guess, in some aspects, is a good thing. I hope that a person's not happy when he's not playing. That's a competitor. And I know that Kale's a competitor."
Webb, on the other hand was ecstatic. Even though his team suffered one of the most embarrassing losses in school history Saturday, Webb's postgame words carried with them a hint of optimism. Wednesday, that hint transformed into all-out enthusiasm.
"Obviously, I'm excited," he said. "That's what I wanted all along, that's what everyone wants, to be the starter. Hopefully it's something I can make the most of and run with."
Asked if the task of taking on a nationally ranked team in his first college start would be too much to handle, Webb turned things around and spoke with confidence.
"It's an awesome opportunity. It really is," he said.
Hatch started all 12 games at center in 2009.
Senior right tackle Brad Thorson said Tuesday that Hatch had been working harder than ever during the past couple of weeks. Gill reiterated that point Wednesday.
"(Hatch and I) spoke on Sunday and a little bit on Tuesday and he expressed that to me that that was very difficult for him, standing on the sideline and watching his teammates play," Gill said. "But he understood what the situation was, and he's prepared to go out there and play this week."
Added Webb of his center: "He's hungry, he's real hungry."
The move means that senior captain Capra will slide over from center to left guard in place of Duane Zlatnik, who will be used as a reserve. Capra also started all 12 games in 2009, splitting time between the two guard positions.
Just because the Jayhawks named Webb their starter for Saturday's game does not mean that the quarterback position is settled. Gill said Wednesday that Webb and Pick could play against Georgia Tech and stressed that the evaluation process was ongoing.
"It wasn't necessarily things that Kale didn't do because there were multiple things that were happening," Gill said of the reason a change became necessary. "A lot of it wasn't just because of the quarterback. We're not going to sit here and say (Pick) will go in at this time, but I would say there's a good chance that he will get some playing time."
Jayhawks ready to move on
Last week's loss to North Dakota State stuck with the Jayhawks for a good chunk of the days that followed it. But, by Tuesday, the Jayhawks were ready to move on.
Said senior cornerback Chris Harris of the challenge of facing No. 15 Georgia Tech: "Winning this game, that would kind of throw the last game away. This is a very big game for the program. We need it."
Added sixth-year senior running back Angus Quigley: "There has to be a sense of urgency. That was the whole thing after we let the game go: Let's gameplan with a sense of urgency."
Sands seems OK
Red-shirt freshman running back Deshaun Sands, who logged a team-high 10 carries in the opener, appeared to make it through all of Wednesday's practice. Gill said Tuesday that Sands was "very questionable" for Saturday's contest.
Not worth listening to?
In the wake of last weekend's loss, message boards and websites everywhere were loaded with negative things to say about KU's team, its coaching staff and even some individual players.
Gill discussed how he addressed such things with his team.
"We talked about that even in the preseason camp," he said. "I've always prepared them for things that are going to happen during the season so it won't be a shock, it won't be a surprise to them when those things occur. You gotta give them information as far as how they're supposed to handle this."
Dubious honor
Kansas made headlines last weekend for being one of the most high-profile programs to fall victim to an upset during Week 1. The negativity did not stop with the coverage from Saturday night and Sunday morning.
Wednesday, ESPN.com college football writer Mark Schlabach revealed his first "Bottom 10" rankings for the 2010 season. There, in a tie for fifth place with Ole Miss, were the Jayhawks, of which Schlabach wrote: "The Rebels' D looked silly chasing around the Gamecocks, and the Jayhawks' pathetic performance on offense was even worse."