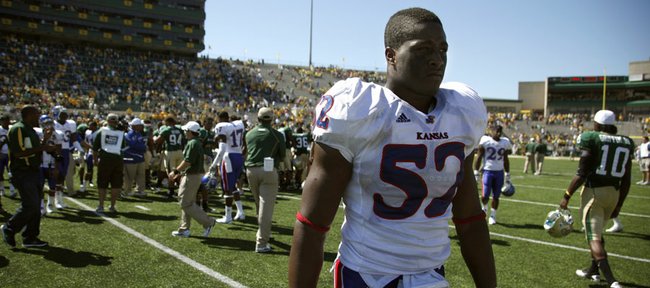 In some ways, it's easy for the members of Kansas University's football team to put things into perspective and take the big-picture-approach that they are still just five games into the Turner Gill era and that building the team they all want to build will take time.
In other ways, it's not.
"It's gotta stop," KU junior Daymond Patterson said. "You can't win, lose, win, lose and expect to have a good season. You gotta string wins together."
Entering the season, that concept seemed a little easier to tackle than it might today. After being pounded, 55-7, by Baylor, a bottom-tier team from the Big 12 South, on Saturday, the Jayhawks have been left to wonder how many victories they might have left on the schedule.
However, according to Patterson, it makes little sense to worry about wins and losses when the team still is trying to find a way to play consistent football.
"We just gotta turn it around," Patterson said. "(There's) no time to hang your head. We see now that we have a lot to improve on, and (we need to) just work. That was (Gill's) big thing, just working. Take no time off. We can't do that."
The bye in their schedule dictates the Jayhawks will take this week off. At least that will be the case Saturday. The Jayhawks will practice Tuesday, Wednesday, Friday and Sunday, and while a lot of the time will be spent looking ahead to their next game against Kansas State on Oct. 14, some of it will be spent on fundamentals.
"We're going to do a little bit of (everything)," Gill said. "The first thing is we're going to rest some guys that need to get rested who have been playing hurt to try to get them as healthy as possible. And then (we'll) also be preparing for Kansas State."

Some Jayhawks say the off week comes at a good time, and others say they'd rather get back on the field as soon as possible. Count Patterson in the latter group, if for no other reason than to wash away the funk from the team's performance at Baylor.
"I know how good we can be, but a lot of teams can be really good," Patterson said. "But until we go out there and show it, week in and week out, we're only as good as what we show on the field, and that's what we're going to be judged by."
Though buzzwords such as "execution," "improve" and "process" continue to be tossed around by both the KU coaches and players — during the good times and the bad — some players were at a loss for words when attempting to explain just what went wrong Saturday.
"We lose one week, and we come back with a big win. It just happens. I don't know," sophomore wide receiver D.J. Beshears said. "We just gotta watch film and get better."
One positive for this team is that, despite the rough start, it has stuck together. The players aren't blaming each other, and they aren't second-guessing their coaches. Perhaps most importantly, they're not giving up.
"Every week we've had a loss, nobody's really been pointing fingers," Patterson said. "We're trying to rally around each other."
Added quarterback Jordan Webb, who played what Gill called his roughest game of the season Saturday: "I'll never attack a teammate. I mess up, too. I had three turnovers (against Baylor). I messed up a lot. Guys are going to make mistakes. I'm going to make them too. We just have to overcome them."
As he has been throughout the first five games — and the entire nine months — of his coaching career at Kansas, Gill remained even-keeled after Saturday's loss. To him, at least during his first season, the outcome of each game is far less important than the overall progress of the team.
Still, Gill indicated that Saturday's effort was unacceptable.
"We're still trying to figure out our football team and our players," Gill said. "There is going to be some inconsistent play at times, but we gotta get better. We cannot play a game like we just played."