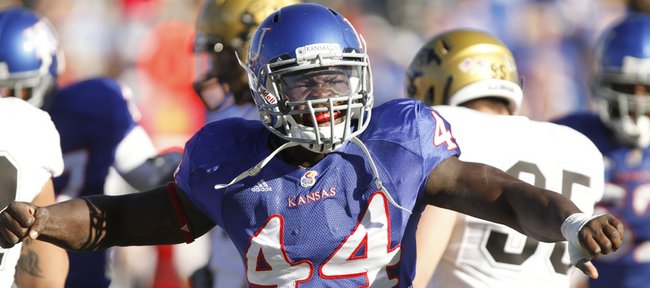 One of the easiest ways to spot a football player on the Kansas University campus is to look for the guys wearing sweats and sweatshirts that say Kansas Football.
That's not the case with KU senior Olaitan Oguntodu. Sure, Oguntodu has his casual moments. But on most days, he prefers to attend classes wearing a shirt and tie. The sharp wardrobe is a direct reflection of how Oguntodu views school.
He takes it seriously and works his tail off. It's the same way he approaches football, and it's the reason he ranks fourth on the team with 51 tackles during his first year as a starter.
Academically, the attitude has delivered two undergraduate degrees in marketing and finance. A third — a masters in business administration — is on the way in December.
"He's a very mature young man, obviously a hard worker," KU defensive coordinator Carl Torbush said. "He understands the importance of looking professional. He's an excellent student, and there's no question that he'll be a tremendous success in life."
In many ways, Oguntodu, 23, already is. We're not talking about a guy who skated through high school, used his God-given athletic ability to land a college scholarship and, four years later, left with a few good memories and a degree. Oguntodu's life has been far more complicated than that.
Born in Nigeria as the youngest of seven children to Aduke and Ola Oye Oguntodu, the KU safety called Africa home for the first six years of his life. Though his time there came nearly two decades ago, Oguntodu remembers both the good and the bad of his early years.
"It's different being a kid in Nigeria," he said. "Toys were whatever you could make, whatever you could come up with. You'd be surprised at the creativity within kids in that realm. It was awesome. But it was tough."
Seeking better education and a better life for his family, Aduke Oguntodu left for America when his youngest son was too little to remember, settling in the Dallas suburb of Mesquite, Texas, where he enrolled at the University of North Texas before bringing his family over to join him.
Oguntodu's name, in its native language, means "God finds a way to bless me." And each time such an opportunity has popped up, Oguntodu has been ready.
As a freshman in 2006, he learned that he would become a father. Though he admitted to being overwhelmed by the news, he turned to his faith, prayed a lot and instantly believed that everything would work out.
During the spring semester of his freshman year, Oguntodu left Lawrence for Mesquite, where he watched the birth of his daughter, Kloie. Oguntodu and Kloie's mother are not together today. But he's quick to point out that they're both responsible, loving parents. The water welling in his eyes as he talks about Kloie, now 4 years old, shows his words are sincere. His voice cracks. His face lights up. The chiseled, 6-foot, 218-pound safety is reduced to mush.
"I think when I talk about my daughter, you can see it," he said. "That's my little girl. That's the love of my life, and she definitely drives me to do a lot."
Though they've been together for just one season, Oguntodu seems to be exactly the kind of man that KU football coach Turner Gill wants to develop. Scholar. Leader. Father. Friend. Football player. Each element of Oguntodu's existence carries an equal amount of weight in his world.
With just two games remaining in his college football career — including Senior Day at 11 a.m. Saturday against Oklahoma State at Memorial Stadium — Oguntodu's future seems brighter than ever.
"I want to help entertainers and athletes," Oguntodu said. "The dirty word for that is agent. But that's what I would like to do. I would like to be a guy in that industry that does it for the right reasons. The only way you change things is for one individual to decide, 'It's time for this to stop.' And the little effect that that person might have might affect the next person. And it goes on from there."
As is the case when he's talking about Kloi or football or family, Oguntodu's words drip with passion. Asked why becoming an "agent" was so important to him, Oguntodu reverted to Kloie.
"It affects our community," he said. "Just think about it. These athletes, these entertainers, they're role models. Regardless of how you want to think about it, they are the people that we look up to, our kids look up to."
During the past couple of years, Oguntodu has worked two different internships. One was with Kansas Athletics, in the marketing department, the other with an organization associated with the creator of the Lance Armstrong "Livestrong" bracelets, which created a website called CelebratePositive.com. The site serves as a platform to spread positive news about professional athletes and entertainers. Oguntodu also traveled to Italy last summer and hopes to return to Nigeria for the first time someday soon, once the demands of school (he took 21 hours last spring) and football are gone.
There are dozens of people who Oguntodu is grateful for in his life, from friends and family members to complete strangers who have helped him along the way.
"A lot of credit goes to the supporting cast that has been around me," he said. "I have several second families in Texas. Since I've been at the University of Kansas, I've had a lot of professors take great interest in my success. I'm not the most diligent student you've ever met. It has more to do with the fact that people have taken an interest in me, and that is what really helped me accomplish my goals."