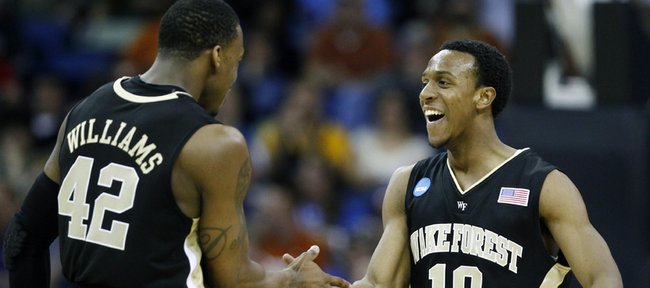 Texas vs. Wake Forest
Feature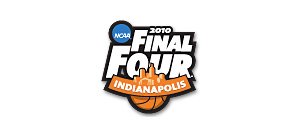 New Orleans, La. — From No. 1 to one and done: Ishmael Smith's last shot meant one more collapse for Texas.
Smith's pull-up jumper from about 17 feet out with 1.3 seconds remaining in overtime gave ninth-seeded Wake Forest an 81-80 win over the eighth-seeded Longhorns in the first round of the NCAA tournament Thursday night.
Texas twice rallied from double-digit deficits, then blew an eight-point lead in overtime, completing a puzzling slide after being ranked No. 1 in the country in January.
It was the third game that went to overtime on a wild first day of NCAA action. Last year, two games went to OT in the entire tournament.
The Demon Deacons (20-10) rallied from a 76-68 deficit in the extra session. They still trailed by four in the final minute, but a 3-pointer by Ari Stewart with 15.9 seconds left made it 80-79.
Gary Johnson then missed two free throws for Texas, giving Smith one more chance.
The Demon Deacons advanced to play top-seeded Kentucky in the second round of the East Regional on Saturday.
Smith finished with 19 points, 12 rebounds, seven assists and eight turnovers.
Wake Forest went on a 17-4 run at the start of the second half to take a 54-42 lead. The Longhorns (24-10), who had wiped out an 11-point deficit in the first half, tied it at 67 on J'Covan Brown's 3-pointer with 49.3 seconds remaining in regulation.
Wake Forest's C.J. Harris made a free throw with 30.5 seconds left, and the Demon Deacons then stopped Texas but turned the ball over trying to inbound it. Damion James tied it for the Longhorns with a free throw with 9.9 seconds left.
Al-Farouq Aminu finished with 20 points and 15 rebounds for Wake Forest. The Demon Deacons weren't playing any better than Texas coming into this game, having lost five of six, but they survived for another round after a game neither team was good enough to put away.
Texas started 17-0 but slumped so badly the Longhorns were hoping for a fresh start in the NCAA tournament. Instead, they began the game shooting 3 of 17 from the field and fell behind by double digits.
Harris made a sprawling, reverse layup to put Wake Forest ahead 12-5, and Stewart added a pair of 3-pointers to make it 18-7.
That was when Jordan Hamilton went to work. The Texas freshman, who was averaging under 10 points per game, made four 3-pointers, a tip-in and a pair of free throws to help his team go into halftime ahead 38-37.
Wake Forest's Tony Woods did give his team some momentum with a putback dunk to end the half.