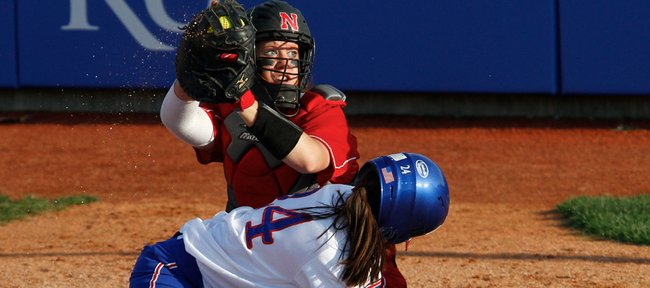 Photo Gallery
KU softball vs. Nebraska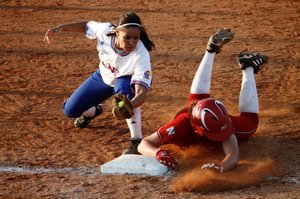 Pictures from the Jayhawks' game against the Cornhuskers April 14, 2010.
Kansas had Robinson Crusoe-itis on Wednesday evening.
The Jayhawks placed 11 runners on base, stranded every last one of them, and Nebraska, despite being out-hit, posted a 2-0 Big 12 Conference softball victory at Arrocha Ballpark.
"It's pretty high," KU coach Megan Smith said when asked where the defeat ranked on her frustration chart. "It's frustrating because they're trying. They aren't trying to strand runners."
The Jayhawks left the bases loaded in the first, two on in both the second and fourth frames and at least one in every inning.
"It's definitely up there in terms of frustrating games," said freshman outfielder Maggie Hull, who collected a third of the Jayhawks' nine safeties. "It seems like we fix one thing, and it's the next thing."
On an evening when KU played flawless defense and its Big 12 Conference-worst pitching staff held the Cornhuskers in check, the Jayhawks were zero-for-clutch situations.
"At least our defense played well," Smith said, "and our pitchers did a good job. I have to look at the positives, and our freshmen are playing well, and that bodes well for the future."
First-year players accounted for seven of the Jayhawks' nine safeties. However, eight were singles. NU had seven hits.
The lone extra-base hit was a double by senior second baseman Sara Ramirez, who later was thrown out trying to score on a Rosie Hull single in the fourth.
Ramirez was the only runner the Jayhawks lost on the bases, though. The remainder were stranded by ineffectual KU hitters.
Kansas fell deeper into the Big 12 cellar with a 1-8 record. KU is 17-23 overall. Nebraska is 4-3 in the league and 25-17 overall.
The Jayhawks were scheduled to depart at 8 a.m. today for Omaha, Neb., and a late afternoon twinbill with Creighton.
"Hopefully, we'll come out tomorrow and get some hits and score some runs this time," Smith said.