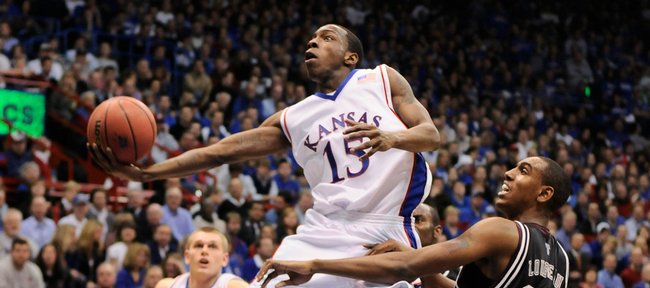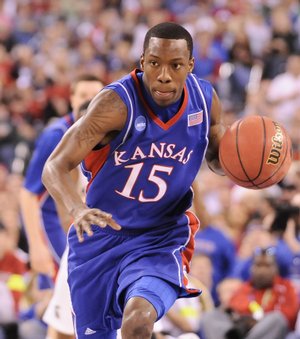 Kansas University sophomore basketball guard Tyshawn Taylor was involved — and injured — in an incident that broke out in front of Burge Union on the KU campus shortly after 6:30 p.m. Tuesday, a source confirmed Tuesday night.
A nursing supervisor confirmed that Taylor was treated and released Tuesday night at Lawrence Memorial Hospital.
A source close to the situation said Taylor suffered a dislocated left thumb and would be out of action three to four weeks. The basketball season begins with the Oct. 16 Late Night in the Phog.
A source said several people witnessed a skirmish between members of the KU football team and basketball team. The identities of the other players involved were not known as of Tuesday night.
It is believed no players except Taylor sustained injuries that would require any missed playing time.
KU associate athletic director Jim Marchiony was asked about the matter on Tuesday night.
"We're aware of reports of an incident, and we are gathering facts as we speak," Marchiony said.
KU coach Bill Self was on a recruiting trip and unavailable for comment.
Police were called to Jayhawker Towers about 10:25 p.m. Tuesday to disperse a crowd of about 20 individuals gathering in the parking lot of the Towers. The Journal-World police scanner indicated it was in response to the incident that happened earlier in the day.
"I don't know much. All I know is a fight happened (in front of union)," a KU student said before entering a Towers apartment.
A source said one group of players was entering the union as another group of players was exiting, arguing ensued, and punches were thrown. Police had no comment on the matter Tuesday night.
As of Tuesday night, KU public safety officials had not returned calls for comment.
— Joe Preiner, Tom Keegan and Gary Bedore contributed to this report.