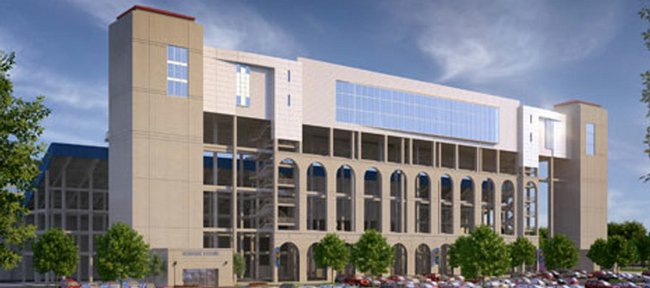 Photo Gallery
KU Gridiron Club at Memorial Stadium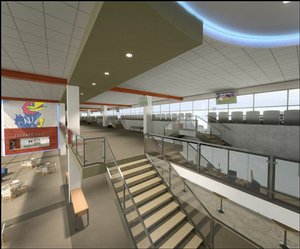 The club will hold 3,000 seats, cost $34 million to build and finance a $40 million commitment from Kansas Athletics to KU's academic programs.
Topeka — The Kansas Board of Regents all but did the wave.
The board on Thursday approved a $34 million addition of high-dollar seating on the east side of Kansas University's Memorial Stadium, and praised the proposal.
Under the deal, Kansas Athletics Inc. will direct $40 million — a portion of revenue expected from the sale of 3,000 Gridiron Club seats — to academic programs at KU.
Chancellor Bernadette Gray-Little called the proposal a "signal event." She said it will increase the seating capacity, add to the stadium's aesthetics, and pump money into academic programs.
And just a few hours after getting permission to move forward, the athletics department launched an aggressive campaign to encourage Jayhawk fans to sign a five to 30 year contract for the seats, at costs ranging from $30,000 for those who sign the five-year contract to $105,000 for those who sign on for 30 years.
All payments will be required up front and KU, according to its Web site, hopes to have the building up in time for the 2010 football season.
According to information that KU is providing on its new Web site devoted to the project, fans can choose from indoor seating, outdoor seating or a combination of the two.
In a letter to donors on that site, Athletic Director Lew Perkins said the new facility was needed to finance not only the academic contribution, but also upgrades to other Olympic sport facilities, including the Olympic Sports Village, which was unveiled earlier this year.
"It would be easy to take a breather, but now is not the time to rest. We must continue our momentum," Perkins wrote.
Those who purchase the Gridiron will receive Williams Educational Fund Priority Points based on the length of the contract they sign and will be able to pass on their suites to a family member, or sell the suite to someone else if they choose to give it up.
The Williams Fund will hold presentations about the club every Tuesday and Thursday starting Tuesday and running until Nov. 12. The sessions last from 5:30 to 7:30 p.m. in the Chancellor's Room of the Anderson Family Football Complex.
Regent Donna Shank said she has read about universities in other states donating athletic funds to academics and was proud to have the same thing happening in Kansas.
"Congratulations to you. Bravo," Shank said to Gray-Little.
The cost of the project will be paid by Kansas Athletics.
Gray-Little said no decision has been made yet on specific areas to spend the money that is earmarked for academics.