Feature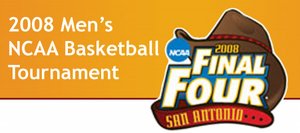 Get your March Madness fix at KUSports.com.
Houston — The Texas Longhorns' 85-67 loss to Memphis proved once again that it doesn't matter where you play, but who, and how well you play against them.
A huge partisan crowd in Reliant Stadium was no help Sunday to the Longhorns, who might have played the eventual NCAA Tournament champion - and didn't play them very well.
"But we are a pretty good team," Tigers coach John Calipari said. "I just keep saying it."
He'll get no argument from Texas coach Rick Barnes.
"We got beat by a better team," Barnes said. "They have a chance to move on and play for the national championship."
The Tigers' swarming defense, founded in height and athleticism, was simply too much for a team that had played and beaten UCLA, Kansas and Tennessee.
"They did a great job contesting shots, did a great job defensively period," point guard D.J. Augustin said. "We did our best on offense as far as cutting and trying to get open, but they did a good job of closing when we had open shots and making it tough for us."
Augustin made only four of 18 shots and finished with more turnovers (four) than assists (three). The Longhorns made only 25 of 69 shots.
Shooting guard A.J. Abrams was 6-for-16, but four of his five made three-pointers out of 10 came late with the game already decided.
"They are real athletic, and their length was I think probably the most we've seen this year," Abrams said. "It was pretty difficult trying to get shots off against them."
Texas had to know it was in trouble by halftime, though it had pared a 17-point lead to 10, because its best role player - Justin Mason - was carrying the team.
Connor Atchley and Damion James were missing in action, their two fouls only indicative. Augustin had four turnovers and one assist. Abrams rarely could find a shot, and when he did, couldn't get it to fall. Combined, they hit two of 12 shots.
And though the Longhorns ripped off the first six points of the second half to pull to within five (39-34), the tremendously talented Tigers weren't having any of it.
Memphis will play UCLA in a Final Four semifinal Saturday on a roll.
"I could sit here all day and talk about Memphis," Barnes said. "I was really impressed, especially this weekend. I thought they brought a defensive mentality a little bit different from (the first two rounds in) Little Rock. Their defense was outstanding."
Stung momentarily by Texas' 13-0 run from late in the first half until two minutes into the second, Memphis scored 16 of the game's next 20 points.
"Though it's kind of a sour note to end the season when we had a chance to go to the Final Four," Atchley said, "you also have to look at all the things we accomplished - winning the Big 12 (regular-season) championship, getting to the finals of the conference tournament.
"Not to mention the good teams we played and beat."
Except for this one.