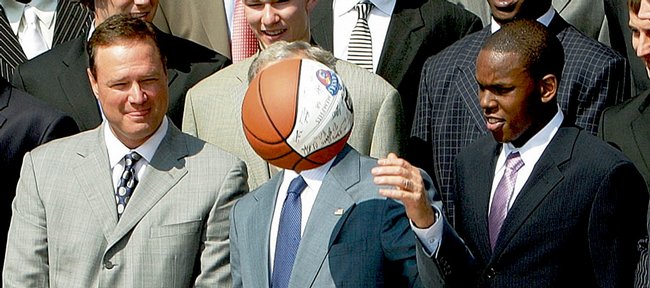 Audio clip
Bush addresses the Jayhawks
Reader poll
The cover of Sports Illustrated.

18%

95 votes

The downtown Lawrence parade.

28%

149 votes

A visit to the White House to meet the president.

38%

198 votes

The Memorial Stadium "welcome home."

14%

77 votes
519 total votes.
Washington — Question his policies or debate his legacy all you want. At least give President Bush props for this: He knows his Jayhawks.
Or at least his speech writers do.
During a brief ceremony Tuesday at the Rose Garden, Bush honored the 2008 men's basketball national champions.
Speaking to a large group that included such dignitaries as KU Chancellor Robert Hemenway, Sens. Sam Brownback and Pat Roberts, Congressmen Jerry Moran and Dennis Moore, and former Kansas Sen. Bob Dole, Bush gave nod to several KU traditions, such as waving the wheat and the Rock Chalk chant.
"I just wish Big Jay and Baby Jay could have come with you. Barney was looking forward to meeting them," Bush joked about the presidential pooch, who, coincidentally, had just, uh, relieved himself within sight of the Rose Garden before the Jayhawks took the stage.
Congratulations
The KU fight song preceded the president's address, and the Rock Chalk chant followed it.
In the intervening eight minutes, Bush gave a brief recap of the season and congratulated the Jayhawks on their season.
"When KU fans come to the Rose Garden, they don't come to admire the flowers," Bush said. "They come to wave the wheat. :
"I just want to congratulate this team. You brought new glory to one of our nation's most storied basketball programs, and you gave your fans all across America one more reason to chant, 'Rock Chalk Jayhawk.'"
Feature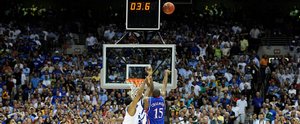 The Lawrence Journal-World looks back at the men's basketball season of 2007-2008, in which the Jayhawks claimed the NCAA championship title for the first time in 20 years and its third ever.
Though it's tradition for champions of all stripes - from World Series and Super Bowl champions on down - to make the journey to the White House, Bush insisted the Jayhawks' visit was exceptional.
"I know you've got to be excited about winning an incredibly tough tournament," said Bush, a noted sports fan. "Your fans are excited, and I'm excited to welcome you to the Rose Garden. It's a big deal as far as I'm concerned to welcome you to the Rose Garden."
'Unforgettable show'
Included in his recap, Bush mentioned the Jayhawks' victory over his alma mater, Yale.
"I don't know how you did it," he joked, "but nevertheless it was a great victory."
Bush mentioned the Jayhawks' 20-game win streak to open the season, their Big 12 championship and their run through the NCAA field, capped by a thrilling championship game victory against Memphis that gave KU its first national title since 1988.
"This championship team gave America an unforgettable show," he said. "It really did."
Bush made special mention of Danny Manning, who led the Jayhawks to the 1988 title and who served as an assistant coach on this year's team.
Videos
Jayhawks at the White House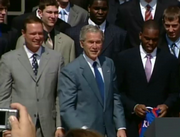 The 2008 national championship Jayhawks went to Washington, D.C. to be honored by President Bush.
"Most of the players on this team have little or no memory of the last time KU won a national title, which would have been 1988," Bush said. "As a matter of fact, most of the players weren't even born yet. That 1988 team became known as Danny and the Miracles.
"Danny Manning," Bush added, turning to the Jayhawks gathered behind him, "welcome back to the White House."
KU fan in the crowd
After wishing the Jayhawks good luck for next season, Bush was presented with a National Championship cap, a KU jersey and an autographed basketball, which he promptly bounced.
Among the spectators on hand was Adam Sterling, a 1977 Lawrence High School graduate who strolled over from his job in the Foreign Services Office at the Department of State.
"It's one of the perks of the job," he said.
Sterling was traveling with the president during parts of the NCAA Tournament.
Bush, in Europe for a NATO summit, met with Russian President Vladimir Putin in Sochi, Russia.
Sterling, whose mother still lives in Lawrence, was frantic to find a televised feed of the Jayhawks' national semifinal game against North Carolina. Sterling explained that in most capital cities, the Marine Corps guard has easy access to American sporting events, but off the beaten path in Sochi, there was no access.
But Sterling found a live Web cast, which he gladly watched, despite the early hours.
When he heard the Jayhawks would visit the White House, he had a much easier time catching the action.
"But I had to keep checking the (ljworld.com) Web site to find out when they'd be here," he said. "They don't do a lot to keep the staff informed here."
Sterling's take on the president's address?
"He was certainly well-briefed," Sterling said.