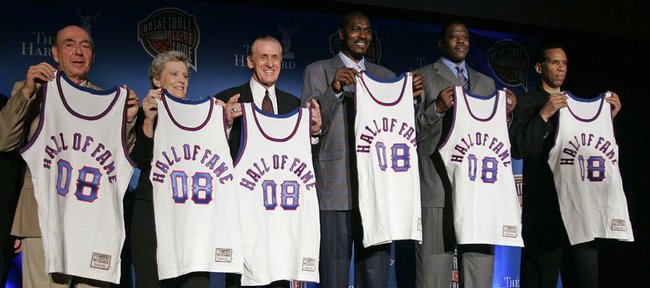 San Antonio — Broadcaster Dick Vitale, a man who had limited success as a coach but brought the game of basketball to millions of TV watchers, was selected to the game's Hall of Fame on Monday alongside Pat Riley, one of the most successful NBA coaches of all time.
Overcome with emotion, Vitale broke into tears during the announcement in San Antonio, site of the NCAA Men's Final Four.
"I can't run, can't jump, can't shoot, but just have had a tremendous - I'd like to think - passion about the game," said Vitale, who had a short stint as an NBA coach in the late 1970s but made his name as a college basketball analyst.
Others in the Class of 2008 were Hakeem Olajuwon and Patrick Ewing, two greats who battled on the court for years; player Adrian Dantley; coach Cathy Rush; and William Davidson, owner of the Detroit Pistons since 1974.
Over the decades, Vitale created his own lexicon with phrases such as "Get a T-O, baby," "You're a P-T-Per," and "Awesome, baby."
Monday, he said he "cried like a baby" upon learning of his selection and thanked Hall of Fame coach Bob Knight - now a fellow ESPN analyst - for spearheading a letter-writing campaign on his behalf.
"When I saw those letters, whether I'd ever gotten in the Hall of Fame or not, that was going to be my hall of fame," said the 68-year-old who was forced off-air for two months after throat surgery.
No matter how strong their credentials, each member of the Class of 2008 seemed a bit star-struck.
Riley, the third-winningest NBA coach ever, called his election "unbelievable, absolutely unbelievable."
Riley won four NBA titles with the Los Angeles Lakers, then grabbed another one two years ago with Miami. He also has one championship as an assistant and another as a player.
Olajuwon and Ewing both played in three Final Fours, with Ewing's Georgetown team beating Olajuwon's Houston squad for the 1984 national championship.
Dantley, a six-time NBA All-Star, played for seven teams during his 15-year NBA career, including Davidson's Detroit Pistons.
Dantley was a finalist six times before finally making it in - more than anyone in the current class.
Rush led Immaculata University to three consecutive AIAW national championships from 1972 to 1974, won 149 games in seven seasons and lost just 15 - a .908 winning percentage.