It's becoming almost routine.
The goal posts came down again Saturday at Memorial Stadium as Kansas University fans celebrated another football victory.
But this time was different. The dunking of the goal posts in Potter Lake washed away 36 years of uninterrupted losses to the Nebraska Cornhuskers. And KU fans took full advantage of the opportunity to savor and celebrate their Jayhawks' 40-15 thrashing of the Cornhuskers.
"This is the third time I've helped carry the goal posts and this time it felt the best," said Andrew Meyer, a KU senior from Woodbridge, Va. "This was just euphoric."
Jess Coffey climbed out of the water, shivering, after jumping in with a piece of the goal post.
"It's freezing, but this was well worth it," said Coffey, a Chapman sophomore.
This time a Potter Lake dunking wasn't enough for some fans. About 25 students paraded one goal post upright down Massachusetts Street. At the Sixth Street intersection a Lawrence Police officer stopped the students from completing their mission of throwing the upright into the Kansas River.
"Thirty-six years of tradition, and we wanted to end it with a big splash," said Adam Masonbrink, a KU junior.
Masonbrink and his friends then walked past Free State Brewing Co. and cheered with other KU fans.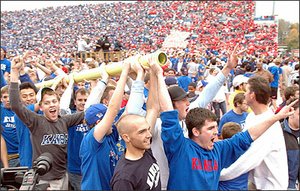 Masonbrink said they carried the upright to Potter Lake and then to the Chi Omega Fountain on campus before their trek down Massachusetts Street.
An officer guarded the upright at 4:20 p.m., after the KU athletic department was notified of its location, a dispatcher said. It was removed about one hour later.
One group of Jayhawk fans found a different way to celebrate the victory.
Members of an online Jayhawk message board gathered at their tailgating site and jubilantly burned a Terry Allen towel one of them had kept since 2000. Allen, who was hired as KU's head coach in December 1996, was fired in 2001 and replaced by Mark Mangino. They said they wanted to make sure the towel burning and the Nebraska victory removed any vestiges of the Allen era.
Ties to 1968
Two members of the 1968 Jayhawks, the last KU football team to defeat Nebraska before Saturday, watched the victory and liked what they saw.
Jim Bailey, a KU defensive lineman in 1968-69 who later played in the NFL during the 1970s, had a feeling Saturday's game would end the way it did.
"Sure, why wouldn't it? You always believe the best is going to happen."
Bailey said he enjoyed the atmosphere of a sold-out Memorial Stadium with fans supporting both teams.
Bailey now works as an insurance agent in Lawrence for Stephens Real Estate.
The '68 Jayhawk quarterback, Bobby Douglass, spent Saturday evening celebrating with friends at the Eldridge Hotel, which he partly owns. Douglass said KU's first half scores were a key to winning.
"They played aggressively on offense," the Chicago businessman and former NFL quarterback said. "I just think Mangino does a heck of a job at making the right calls at the right time."
As for finally beating Nebraska, Douglass said, the most encouraging sign was that KU's football program was improving.
"This is a big step. That's more important than 36 years, but people will talk about that because it sounds good," he said.
Becoming believers
The last time KU beat Nebraska was in 1968, and Rick Stadler was in the second grade. He was one of hundreds if not thousands of fans who watched the game from the Mount Oread slopes south of the stadium.
"I've been coming here for 32 years and I've seen a lot of KU games lost to Nebraska, so this was just great," said Stadler, of Topeka. "It's a great win for the school and the organization."
Stadler's exuberance was the norm Saturday. Many of the KU faithful thought their Jayhawks had a chance to win this one, including Dave Kocour, a 1985 KU graduate from Olathe.
"I had a good feeling they might win after they won against Missouri," Kocour said as he stood with his two sons, Drew, 10, and Noah, 7, outside the stadium waiting for the goal post procession to pass by. "Nebraska has been kind of down, so I thought this might be the year."
Jim Lowther thought the Jayhawks might beat Nebraska, but the outcome still surprised him.
"I didn't think we'd beat them like that," the 1951 KU graduate said, referring to the score. "We saw a lot of action. It was a great game."
Cornhusker doubts
Even some Cornhusker fans had their doubts about this game. As the game entered the fourth quarter a steady stream of red-clad fans poured out of the stadium hoping to get a headstart out of Lawrence.
"We'll give them one every 36 years," one Nebraska fan was heard to mutter.
Some Nebraska fans, however, lingered in downtown Lawrence after the game. Among them were Jim and Jane Gabrielson, of Omaha. Although they were disappointed about the loss, their daughters are KU graduates and they were happy for them.
"We thought we would lose, but not this bad," Jane Gabrielson said.
"KU was a solid team. I was impressed," Jim Gabrielson said.
At least one Nebraskan went home happy. Joel Nickerson grew up near Clyde. He now lives in Omaha but still cheers for KU.
"I've got a long ride back in a carload of Nebraska fans and oh, am I going to have fun," he said. 832-7144.