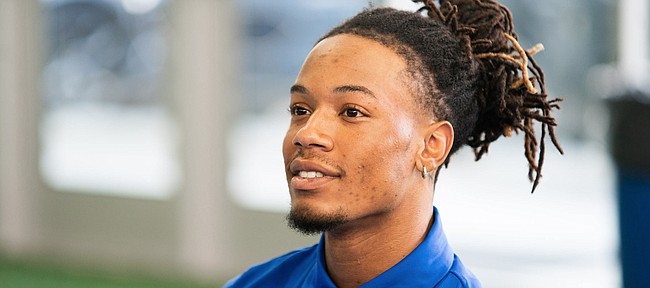 A super-senior who first joined the Kansas football program as a walk-on back in 2016, Kwamie Lassiter II had one of the best games of his career versus Oklahoma this past week.
The 6-foot, 185-pound wideout recorded seven catches for 101 yards, giving Lassiter his second career 100-yard outing.
Each of Lassiter's seven receptions went for a first down as KU (1-6 overall, 0-4 Big 12) tried to snap its losing streak in style with a shocker against the Sooners.
KU's most productive receiver through seven games, Lassiter leads the team with 28 receptions and 347 yards.
Ahead of another challenging game — Saturday at No. 15 Oklahoma State (6 p.m., FOX Sports 1) — Lassiter shared his thoughts on the Jayhawks' progress up to this point of Lance Leipold's first season as head coach.
Q: Obviously you've seen a ton of KU football games over the past several years. Anything stand out to you about this past one that made that game so much more competitive than a lot of them have been in the past?
A: "We kept finishing drives like we should've been, like coming out of halves. So like the first drive of the game we scored (seven) points. Coming out of half (in the third quarter), OU actually scored, so we knew we needed to score that drive. So stuff like that, I feel like that's big. It doesn't really go unnoticed to me. I feel like that's what we need to do."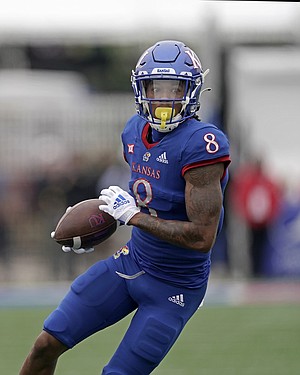 Q: What can you guys do this week to kind of make sure you don't have a letdown, and you kind of stay on an upward trajectory?
A: "Just play each play at a time. So, really, just focus on the play that we're on. It doesn't matter. And just make the play, whatever it is."
Q: What do you feel like made the offense so much better in this Big 12 game compared to your last few — the Baylor, Iowa State, Texas Tech games? The offense really didn't get going.
A: "Yeah, it didn't get going, you're right. I don't know. I just feel like we focused one play at a time. And I feel like that should be every week."
Q: You guys have five games left. What do you feel like this team can accomplish the rest of the way?
A: "We can show that this team can really play ball — it's not just trying to be on the bottom of the Big 12 every year. To show that we can really play ball and show that there's a lot of playmakers on this team. And then show that this team and what the coaching staff is doing is really headed in the right direction."
Q: Kind of along those lines, you've seen a lot of coaches come in and out of this program. What encourages you about what this staff is doing for the long haul?
A: "Oh, this staff, they know what they're talking about. They've got all their pieces in order and they know what they want to do, and they see the vision. And the players see the vision, too, so I feel like that's what you need."
Q: Did that happen immediately? Did it even improve as you guys got further along?
A: "I feel like it improved as the season started and got moving."