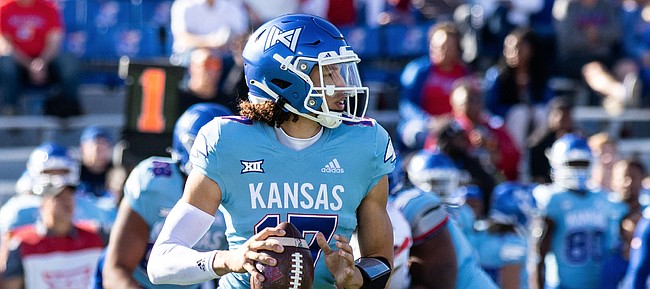 Three days out from Saturday's road game at Texas, Kansas football head coach Lance Leipold said Wednesday night he still didn't know whether starting quarterback Jason Bean will be available.
Leipold reiterated his "we'll have to see" stance on Bean's status during his weekly radio show, "Hawk Talk," and described the dual-threat junior QB as "questionable" to play against the Longhorns.
"He's been out there and dressed for the last two days of practice, and things are progressing, so we'll see," Leipold said.
The way KU's coaches are handling this week, Leipold said the Jayhawks (1-8 overall, 0-6 Big 12) have two QBs — sophomore Jalon Daniels and Bean — "who hopefully are going to be ready to play."
Daniels was planning to redshirt this year — and still potentially could, if he only appears in four games. But the Jayhawks needed Daniels to come in versus Kansas State this past week out of the blue, when both Bean and backup Miles Kendrick suffered injuries in the first half.
Now with Kendrick out for the season and Bean working toward recovering, Daniels could make his first start of the year at Texas on Saturday (6:30 p.m., ESPNU) if Bean isn't cleared for a return.
If Daniels plays, it will be his fourth appearance of the season — the maximum amount allowed for a player who is redshirting.
"If Jalon's going to be called upon and ready to go, then that's what we're going to do," Leipold said. "And then we'll look at the next two weeks, and then for sure we'd have Jason available is what the goal is."
Daniels started six of KU's nine games in 2020, when he was a true freshman. Against K-State this past weekend, Daniels played for a prolonged stretch for the first time since then, and went 13-for-19, with 105 passing yards and one TD. Daniels also appeared briefly late in two games earlier this season, versus Coastal Carolina and Baylor.
Bean has started every game for KU so far this season, and has completed 102 of his 182 passes (56%), for 1,252 yards, with six touchdowns and six interceptions. Bean also is KU's second-leading rusher, with 399 yards and two touchdowns on the ground.