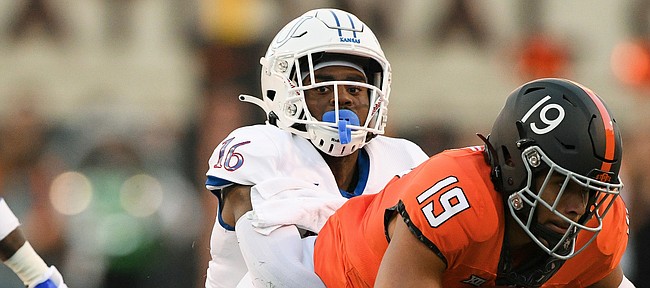 A pair of injury issues within the Kansas football secondary pushed true freshman cornerback Cam'Ron Dabney into his first career start this past weekend at Oklahoma State. And from what head coach Lance Leipold saw out of Dabney, the young defensive back might have secured a permanent spot in the rotation.
Both Jacobee Bryant (one of KU's usual starting corners) and backup Jeremy Webb were out for the Jayhawks' road game versus the Cowboys, so KU's coaches needed Dabney to take on his most extensive playing time of the season.
"I thought Cam'ron played well — played the most of all of them," Leipold said of Dabney joining regular starter Ra'Mello Dotson and backup Duece Mayberry in the cornerback rotation.
A 5-foot-10, 180-pound freshman from Atlanta, Dabney broke up two passes and made four solo tackles in his first career start, after playing seldomly in the secondary as a reserve in previous weeks and contributing on special teams.
"You know, as you watch him grow and mature, become comfortable in his first year in this program, he brings a lot of energy. He plays with confidence," Leipold said of Dabney.
Currently in his 15th season as a head coach, Leipold said he didn't know if he remembered a young cornerback grasping concepts — and not just the ones his team implements — as well as Dabney does. KU's head coach said when he moves around Anderson Family Football Complex, checking in on various meeting rooms during the day, it's common for him to see Dabney standing out.
"He's a guy that's always speaking up and understanding. That's impressive," Leipold said.
The head coach said the true freshman corner had some "on the job training" in Stillwater, Okla., on Saturday, as well as some real learning moments.
"But at the end of the game, he's battling and breaking up passes. So he didn't flinch," Leipold added. "Really proud of him."
Heading into the final four weeks of the season, Leipold said he expects Dabney will "keep seeing playing time and progressing."
Webb dealing with pain
Dabney may not have gotten such an opportunity to impress had Webb been available. A graduate transfer who had played regularly as a backup in KU's first seven games of the season, Webb has been "day to day" with his availability lately, Leipold said during his Tuesday press conference.
Webb and the KU staff didn't know until a little before kickoff at OSU, Leipold explained, whether the veteran corner would be available.
"He went through warmups, and and some days are better than others for him right now," Leipold said.
The staff hopes Webb will be available on Saturday versus Kansas State (11 a.m., FOX Sports 1), Leipold added, but Webb didn't practice on Tuesday and continues to work through an undisclosed injury.
Bryant recovering
Bryant, the freshman corner whom Dabney replaced on Saturday, was back practicing with the team on Tuesday, Leipold said.
A 6-foot defensive back from Evergreen, Ala., Bryant started five games in a row for KU before an injury forced him to miss the Oklahoma State game. Leipold hesitated to predict that Bryant will definitely return to the lineup this week, though.
"But it's definitely moving in the right direction," the coach said of Bryant's recovery.
Robinson questionable
Though KU sophomore defensive end Jereme Robinson made the first start of his career in KU's loss at OSU, he didn't get to play the whole night. Robinson got hurt during the defeat and had to leave the field to be evaluated.
As of Tuesday, Leipold wasn't sure whether Robinson will be back in action for the upcoming K-State game.
"I would see him as questionable in this, as we work through the this week," Leipold said of Robinson, a 6-3, 265-pound D-end from Montgomery, Ala.