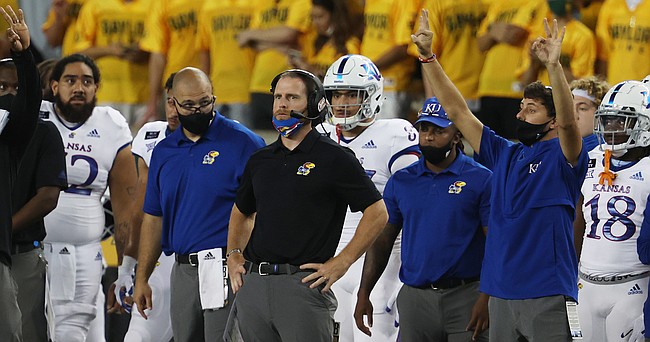 As Middle Tennessee State football made the official announcement Friday that it had hired Brent Dearmon away from Kansas to become the Blue Raiders' offensive coordinator, KU head coach Les Miles expressed his dismay to be losing one of his top assistants.
"While we are disappointed to be losing Coach Dearmon, we fully support his desire to move closer to home and support his family in their time of need," Miles said in a released statement.
Without wanting to divulge specifics, Dearmon informed the Journal-World via direct message that "family issues" were behind his decision to leave KU and relocate.
"I know it was a very difficult decision for him," Miles added, "and I respect his reasoning for the move. We are very appreciative of his efforts during his time in Lawrence, and wish him and his family nothing but the best moving forward."
Miles also shared that KU already started a "national search" to find Dearmon's replacement. That coach will become the fourth offensive coordinator hired by Miles since he took over the program in late 2018.
"We look forward to finding a coach to lead our offense," Miles said, "and develop our players for success on the field and in life."
Dearmon served as the Jayhawks' O.C. and quarterbacks coach since the midway point of the 2019 season.
KU's offense never took off throughout a winless 2020 season, as the Jayhawks dealt with problems at quarterback and along the offensive line, as well as opt outs. In what ended up being Dearmon's last year at KU, the Jayhawks never scored more than 23 points and averaged just 15.8 points (123rd out of 126 FBS teams) and 259.2 yards per game (126th).
In a MTSU release announcing Dearmon's hiring, the former KU assistant said he was eager to move his family to Murfreesboro, Tenn., where he will work for longtime Blue Raiders head coach, Rick Stockstill.
"Getting closer to home in the South was a huge factor in making this move," Dearmon said, "and the fact one of the best coaching years of my life (Bethel went 10-0 in the regular season in 2018, when Dearmon was the head coach) happened in the state of Tennessee."
Stockstill said Dearmon has a "great reputation" among college football coaches.
"He fits every quality I was looking for in this hire," Stockstill stated. "His recruiting ties were in alignment to the areas we recruit, so I know he will have an immediate impact in that aspect as well."
One of Dearmon's old bosses, former Auburn coach Gus Malzahn, also shared an endorsement of the hire in the MTSU release.
"Middle Tennessee is getting one of the top young offensive coaches in all of college football in Brent Dearmon," Malzahn stated. "He has a tremendous work ethic and is very creative with his offensive system."