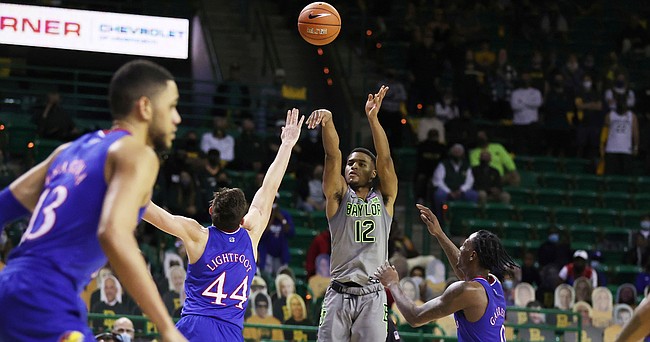 In the kind of top-10 showdown that dozens of Kansas basketball teams have played and thrived in for years, the ninth-ranked Jayhawks never led on Monday night, falling to No. 2 Baylor 77-69 in Waco, Texas.
Behind a monster night from All-American candidate Jared Butler (30 points and eight assists on 10-of-14 shooting, including 7-of-9 from 3-point range), the Bears raced out to early leads of 11-2 and 16-5, making the game look easy for large stretches of the first half while making life miserable for Kansas.
"It's hard to come back against a team like them when you start how we started," KU sophomore Christian Braun said after the setback.
Monday's loss, which snapped KU's streak of 18 consecutive Big Monday victories, marked the first time since the 2012-13 season that Kansas has lost two consecutive conference games.
That team lost three in a row in February of 2013 before regrouping and winning 12 of its next 13 games to advance to the Sweet 16.
After a rough first half that saw KU shoot 38% and get outscored 20-10 in the paint, the Jayhawks (10-4 overall, 4-3 Big 12) showed signs of life early in the second half.
Junior guard Ochai Agbaji, who scored just three points in Monday's first half, knocked in a pair of 3-pointers to open the second and then threw down a pair of monster dunks in transition to give the Jayhawks a lift.
Agbaji was denied a third dunk when BU guard Matthew Mayer rose to meet him high above the rim on another dunk attempt. Mayer was hit with the foul, Agbaji drained both free throws and Baylor's lead was down to nine.
Agbaji's aggressive play and added intensity did not stop there. He helped spark an 8-0 Kansas run that cut the Baylor lead to five (56-51) midway through the second half.
The Bears (13-0, 6-0) responded to the KU surge with a 9-0 run of their own to calmly reclaim control heading into the game's final seven minutes.
Monday marked the second consecutive game in which Kansas found itself staring up at a sizable second-half double-digit deficit that required maximum effort to come back.
While that might have been manageable in last week's road loss at Oklahoma State, coming all the way back against the nation's No. 2-ranked team was a different story.
KU kept trying though, again cutting the Baylor lead to five (65-60) on a hammer dunk by Jalen Wilson with 3:18 to play, but, once again, it was Butler who calmed the waters for the Bears, draining his seventh 3-pointer of the night on the very next possession to put Baylor back up eight.
"That's something we can walk out feeling better about," Braun said of his team's ability to fight back. "But that's not a position we want to be familiar with."
While KU's 3-point shooting and an array of second-half dunks helped spark KU's near-comeback, the Jayhawks' second half defense may have played the biggest role.
Kansas forced Baylor into 12 second-half turnovers and several of them led directly to points for Kansas.
"We started to get some stops, some easy baskets (and got) it going in the right direction," senior forward Mitch Lightfoot, who finished with eight points and four rebounds in 17 minutes on Monday.
Added KU coach Bill Self: "I'll be honest, guys. I thought we played damn well in the second half. But they're a bad, bad team to play from behind against."
Self continued: "Let's not get this too twisted. Baylor's better than us right now. That doesn't mean that we can't beat anybody any night, but our margin for error isn't what their margin for error is right now. They've got a really good basketball team. And we've got a nice basketball team, a pretty good basketball team."
Braun (17 points) and Agbaji (16) combined to shoot 9-of-13 from 3-point range on Monday night, helping Kansas hit 58% in the second half.
But Baylor, which shot 54% from the game, had an answer for every KU run.
All of the things that Kansas was worried about with Baylor heading into the game showed up in the first five minutes.
Offensive rebounding, 3-point shooting, perimeter depth and BU's tenacity inside helped the Bears come screaming out of the gate, continuing a trend of slow starts for the Jayhawks in recent weeks.
Adding to the rough start for the road team was the fact that junior forward David McCormack picked up his second foul at the 17:02 mark of the first half. That sent McCormack to the bench. Senior reserve Mitch Lightfoot checked into the game. And the Jayhawks' challenge grew even tougher without the player who had led their offense in recent games and is their biggest body and best rebounder.
Predictably, things only got worse from there. A couple of careless KU turnovers led to easy baskets for Baylor, and the Bears built a lead of as many as 16 points (37-21) in the first half, with Butler leading the way with 15 first-half points.
KU opened the game 3-of-8 from the floor (1-of-4 from 3-point range) and turned it over four times in the game's first eight minutes.
Baylor, meanwhile, made seven of its first 13 shots (54%) and scored 10 of its first 18 points in the paint.
Even with that, four first-half 3-pointers from Braun helped keep Kansas close and KU actually had a chance to cut Baylor's lead to as few as six midway through the first half. But Baylor senior Mark Vital's run-down block of a Dajuan Harris dunk attempt kept the BU lead at eight and sparked a 7-0 Baylor run that allowed the home team to regain complete control.
It was during that stretch that Braun got hot, hitting three of his four first-half triples and scoring 11 KU points in a row to help keep the Jayhawks alive.
Braun had 14 points at the half and KU's next highest scorer to that point was Lightfoot, with four. Lightfoot nearly made it six while cutting the Baylor halftime lead to 11, but his turn-around hustle jumper as the halftime buzzer sounded was ruled a fraction of a second too late and BU led 41-28 at the break.
Up next for the Jayhawks is another lengthy break before heading to Norman, Okla., on Saturday for an 11 a.m. rematch with the Sooners, who played Kansas to a 63-59 game in Allen Fieldhouse 10 days ago.