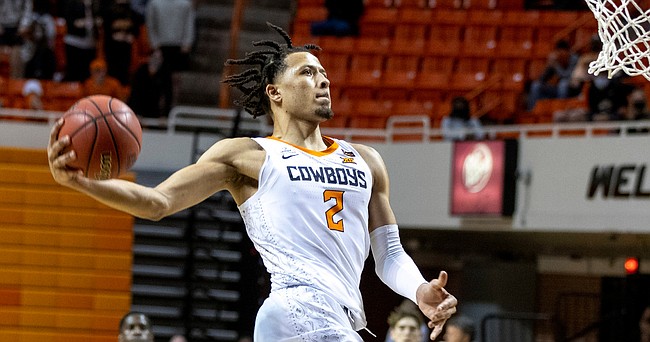 No. 6 Kansas Jayhawks (10-2 overall, 4-1 Big 12) vs. Oklahoma State Cowboys (8-3 overall, 2-3 Big 12)
Time: 7 p.m.
Location: Gallagher-Iba Arena, Stillwater, Okla.
TV: Big 12 Now/ESPN+ | Radio: IMG Jayhawk Radio Network
Log on to KUsports.com for our live game blog coverage and follow the KUsports.com staff on Twitter: @KUSports @mctait @bentonasmith & @SJacksonLJW
Keys for Kansas
1. Corral Cade Cunningham
Projected by many as the top pick in the 2021 NBA draft, Oklahoma State freshman Cade Cunningham is a generational talent who brings a little bit of everything to the floor.
As such, the Jayhawks will have to be sound and creative in their attempt to slow him down in this one.
"What I like about him the most is he's just a basketball player," said Kansas coach Bill Self, who noted that the Jayhawks recruited Cunningham early in the process. "He can play 1 through 4, maybe 5, he rebounds his position, he's got size, he's got unbelievable vision, he can score at all three levels and he's got great pace."
So far this season, Cunningham is averaging 17.8 points, 6.1 rebounds and 3.8 assists in 33.4 minutes per game. He has shot 45.3% from the floor, 37.2% from 3-point range and 82.1% at the free throw line. But more than that, Self said the talented freshman has looked to be in complete control of everything the Cowboys do from Day 1.
"The game's in slow motion to him," Self said. "I think that's a tribute to his IQ and his feel, and also his talent."
Said KU senior Marcus Garrett, who figures to spend a fair share of this one guarding Cunningham: "He kind of can do everything. He can pass, he can shoot, he can handle the ball. Basically, everything kind of runs through him."
Cunningham's career high (29 points) came in an easy win over Oral Roberts earlier this season, when he attempted as many free throws as field goals (10). He has reached 20 points four other times, including twice against Big 12 competition, when he scored 25 against both Texas and West Virginia.
"He's certainly worthy of all the accolades that have been thrown his way so far," Self said.
2. Start faster
In two of their last three games, the Jayhawks have looked a step slow in the game's opening minutes, and it has shown up on the scoreboard.
Against Texas, in what turned out to be a 25-point home loss on Jan. 2, the Jayhawks found themselves in a 10-2 hole just a few minutes into the game.
Two games later, in a home win over Oklahoma, KU started out down 9-2 before bringing the fight to the Sooners.
While Kansas was able to recover from the slow starts in both instances — however temporarily against Texas — doing so took a lot of extra energy and added stress to the situations.
KU suffered a similar fate against Gonzaga in the season opener and also against Kentucky in the Champions Classic.
When the Jayhawks have started out well, they've been tough to beat. They jumped out to a 17-8 lead on the road at TCU in between those two bad starts and nearly beat the Horned Frogs by 30.
Prior to that, KU got out to a 13-4 edge in a double-digit home win over West Virginia and played even-up with Texas Tech at the start during a one-point road win in the Big 12 Conference opener.
A fast start certainly does not guarantee victory, but it could make some of these games a little less stressful for the Jayhawks, who continue to try to find their complete rhythm.
A good start is the goal in any game. But it could be more important at Oklahoma State than anywhere. The Jayhawks are just 6-7 in Stillwater in Self's 18 seasons in charge of the program, and OSU has more wins over Kansas (8) than any other program in the country since 2008.
"I think that they get pretty amped up to play against us and they've had some really good players and they've had some good teams," Self said. "They've got a nice team (this year). (OSU coach) Mike (Boynton has) done a great job and he's well liked by everybody down there, and they play hard for him."

3. More from the bench
On Monday, Self made it clear that he liked the pieces he has on this roster and the players he can turn to off the bench.
But simply having depth, Self said, is not the same as getting a big lift from that depth. And that's exactly what the Kansas coach is looking for from his second unit in the weeks ahead.
"I think we've got good depth," Self said on Monday. "But I don't think our bench has played anywhere close to like they're capable of playing."
Against an Oklahoma State team that often plays five guards — and appears to play with five guards even when their front court players are on the floor — the Jayhawks' bench could be called into action in this one.
Reserve wings Tristan Enaruna and Tyon Grant-Foster both have received increased opportunities of late, with freshman guard Bryce Thompson out with a back injury. And Self said Monday that Thompson "may be available" for tonight's game after missing the last two.
Add to that the presence of backup point guard Dajuan Harris, who has been impressive at times and inconsistent at others.
We've had flashes," Self said. "But I don't think we've had very many games where you've had two or three guys on the bench really produce in a way that would be comparable to the starters."
While the benefits of performances like that are obvious from a production standpoint, there's also another reason Self would like to see his reserves merit a little more playing time.
"Christian (Braun) and Ochai (Agbaji) don't need to be playing 37 minutes a game, and Marcus 32," Self said of the three KU starters. "That's not really utilizing your bench in the way that I that I had envisioned."
Marquee Matchup
Oklahoma State's offense vs. KU's D in the paint
Self will be the first to tell you that these Jayhawks aren't as good as some from the past in the area of shot blocking.
However, the stats tell a different story.
Despite missing an obvious and elite rim protector like Udoka Azubuike, Joel Embiid, Jeff Withey or Cole Aldrich, the Jayhawks currently lead the Big 12 with 4.5 blocks per game.
Put another way, KU has blocked 12% of their opponents' field goal attempts so far this season.
You'll have to excuse Self if he's not overly impressed with that.
"I think that there's been years where four a game by a single player is realistic," Self said. "We're not a great shot blocking team by any stretch. We've got some guys that can run guys down and block from behind or alter (shots), but it doesn't feel like that we have a dominant shot blocker."
Junior forward David McCormack has been much better in the paint during conference play. After blocking just four shots in KU's first eight games of the season, McCormack has recorded six blocks in the past four games, two a game against West Virginia, TCU and Oklahoma.
The reason this becomes such an important matchup in this one is because the Cowboys are the conference's most blocked team, seeing 12.8% of their field goal attempts sent back in their face so far this season.
OSU does plenty of other things well on offense, including taking care of the basketball, which sets up another interesting clash.
According to KenPom.com, opponents have taken the ball away from OSU via steals just 6.6% of the time — lowest in the Big 12 — and Kansas has forced steals on just 7.6% of its opponents possessions, which ranks KU last in the Big 12.
Both Self and Garrett said the Jayhawks were making strides defensively. But if KU is going to get to the next level as a defensive team, Self believes it has to start showing progress in that area.
"The thing about it is, we don't get very many opportunities from our defense to score easy," Self said. "Our activity level's got to improve."
Jayhawk Pulse
After losing to Texas at home, the Jayhawks responded with two victories that came in different ways.
Against TCU, Kansas played lights-out offensively and ran away from the Horned Frogs on the road. Back at home against Oklahoma over the weekend, KU did not play as well on either end and had to scratch and claw their way to a four-point victory.
Such is life in the Big 12 Conference, and the Jayhawks know that they have to bring their best game every night to survive. That's particularly true in this matchup against an Oklahoma State team that plays with top-tier tempo, ranking as the third-best adjusted tempo team in the Big 12 per KenPom.com, seven spots ahead of KU's tempo, which ranks last.
"They play five guys at a time, just like us," Garrett said. "And they get up and down the floor quick. They shoot 3s. They defend. (They're) energetic. We know we're going to have to come ready to play."
Kansas leads the all-time series with the Cowboys, 118-59, and has won five in a row over OSU since the Cowboys swept the regular season series during the 2017-18 season.
OSU has won four of the last seven matchups with Kansas at Gallagher-Iba Arena, but the Cowboys are just 35-38 all-time against KU in Stillwater.
KenPom.com lists KU as a one-point favorite in this one (72-71), with a win probability of 56%, marking one of four games in KU's next six contests where the site projects KU's win chances to be 58% or lower.
Oddsmakers in Las Vegas listed Kansas as a one-point favorite when the game opened, but the line has moved to KU -3 in the hours since.
Probable Starters
No. 6 Kansas
G – Marcus Garrett, 6-5, 195, Sr.
G – Ochai Agbaji, 6-5, 210, Jr.
G – Christian Braun, 6-6, 205, Soph.
G – Jalen Wilson, 6-7, 190, RS-Fr.
F – David McCormack, 6-10, 265, Jr.
Oklahoma State
G – Avery Anderson III, 6-3, 170, Fr.
G – Bryce Williams, 6-2, 180, Sr.
G – Isaac Likekele, 6-5, 215, Jr.
G – Cade Cunningham, 6-8, 220, Fr.
F – Matthew-Alexander Moncrieffe, 6-7, 215, Fr.