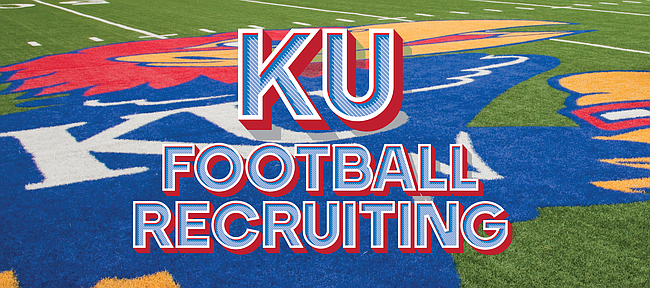 The top unsigned high school senior receiver in the country, Quaydarius Davis committed to join the Kansas football program on Saturday night.
A four-star wideout from Dallas' Skyline High, Davis is rated by Rivals as the No. 5 receiver in the entire Class of 2021 and the 36th-best overall prospect in the country.
Davis told Jon Kirby of Jayhawk Slant his close connection with KU receivers coach and passing game coordinator Emmett Jones played a key role in his decision.
"Me and Coach Jones have known each other since I was a freshman," Davis said of Jones, who also recruited former Skyline standout Velton Gardner to KU.
From 2006-11, Jones worked at Skyline as a receivers coach and offensive coordinator. Jones first recruited Davis when Jones was at Texas Tech.
According to Davis, his other finalists were Florida and Oklahoma State.
Most recently, Davis was committed to USC from May to December of 2020. Prior to that, he was committed to Texas in 2019, and made his first commitment in Dec. of 2018 to SMU.
Over the span of his recruitment, he picked up 19 total scholarship offers, including offers from Alabama, LSU, Texas, Oregon and several other Power Five programs.
"I talked about it with my family," Davis told Jayhawk Slant of his choice. "I have known Coach Jones for a while. He told me I could be a legend. So I just want to go there and bring in the dog in me. I want to go in there and turn it around. I think it can be special up there."
If Davis indeed signs with KU in February, after making his nonbinding verbal pledge, he would become the highest-rated recruit to join the Jayhawks since Rivals began ranking players in 1999.
KU already signed 20 high school seniors during the early period in December, but could add as many as five more in February. Davis would become the only four-star prospect in the class upon signing.
Unsigned KU football Class of 2021 recruits
(Rivals rankings)
• Quaydarius Davis — 4-star Texas prep WR
• Kameron Grays — 3-star Alabama prep DB
• Garfield Lawrence — 3-star Texas prep DE
KU football Class of 2021 December signees
√ Ben Easters — 3-star Indiana prep QB; 6-3, 195
√ Omar "O.J." Burroughs — 3-star Florida prep S; 5-10, 167
√ Cam'Ron Dabney — 3-star Georgia prep CB; 5-10, 175
√ Corey Robinson II — 3-star Georgia prep OL; 6-5, 270
√ Majik Rector — 3-star Texas prep WR; 5-9, 152
√ DeVonte Wilson — 3-star Florida prep CB; 6-3, 192
√ Kelan Robinson — 3-star Texas prep WR; 6-2, 183
√ Tommy Dunn Jr. — 3-star Texas prep DL; 6-3, 277
√ Deldrick "D.J." Withers — 2-star Arkansas prep DL; 6-4, 245
√ James Wright — 3-star South Carolina prep S; 6-1, 195
√ D'Marion Alexander — 3-star Texas prep LB; 6-5, 215
√ Trey Staley — 3-star Georgia prep LB; 6-2, 200
√ Mason Brotherton — 3-star Arkansas prep TE; 6-4, 242
√ Devin Neal — 3-star Lawrence prep RB; 5-11, 208
√ Jayson Gilliom — 2-star Georgia prep S; 6-2, 190
√ Andrew Simpson — 3-star California prep LB; 6-1, 220
√ De'Kedrick Sterns — 3-star Texas prep OT; 6-4, 272
√ Larson Workman — 2-star Texas prep OT; 6-5, 270
√ Tanaka Scott Jr. — 3-star Alabama prep WR; 6-4, 192
√ Edwin White — 3-star Alabama prep S; 6-0, 196