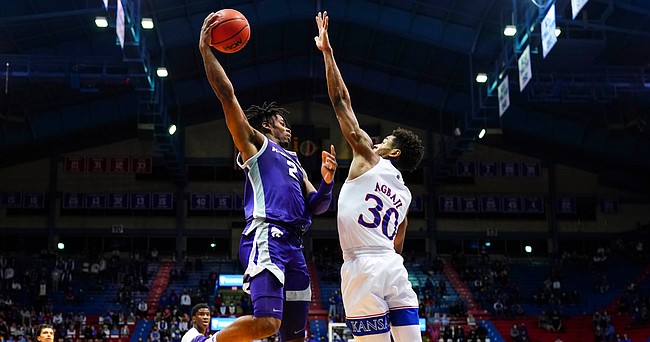 No. 23 Kansas Jayhawks (15-7 overall, 9-5 Big 12) vs. Kansas State Wildcats (5-17 overall, 1-12 Big 12)
Time: 7 p.m. | Location: Bramlage Coliseum, Manhattan, Kansas
TV: Big 12 Now / ESPN+ | Radio: IMG Jayhawk Radio Network
Log on to KUsports.com for our live game blog coverage and follow the KUsports.com staff on Twitter: @KUSports @mctait @bentonasmith & @SJacksonLJW
Keys for Kansas
1. No need to deviate
For the past few weeks, the Jayhawks have talked about locking in on defense as their main focus and top priority to getting back on track.
And the results have been good. Not only has KU played three of its better defensive games of the season during its current three-game winning streak, but the Jayhawks also have seemed to find their identity in their defense.
The idea is simple and it seems to be working: Make others play bad, focus 100% on defense and let the offense come as a result.
That approach has helped Kansas keep its past three opponents to 66 points or fewer, with the opponent's total declining in each game.
With things just starting to come into form on that end of the floor, the Jayhawks have no interest in bogging down their minds with other factors or a reshuffling of their priorities. It's defense wins from this point on for Kansas, which will need to play quality defense in the final two weeks of the regular season to pick up a couple more wins.
"It's kind of hard to really go away from that when we really are thinking of that as our primary thing (that leads to us) being successful and getting wins," junior guard Ochai Agbaji said of the team's defense. "So I think (the key is) really just not going away from that, always having that defensive mindset. I don't really think there is anything else now."
Few games illustrate KU's late-season adjustments — and their effectiveness — better than the Jayhawks' 74-51 victory over Kansas State in Lawrence a couple of weeks ago.
In that one, it was the Kansas defense that led the way, holding the Wildcats to 34% shooting overall and 24% shooting from 3-point range. That, along with KU's offense turning it over just six times, allowed the Jayhawks to turn a somewhat sluggish eight-point halftime lead into a 23-point runaway in the second half.
Just three of the 11 Wildcats who played in the first meeting shot above 50% for the game. And no one in purple scored more than 10 points.
That's certainly nothing new for K-State this season. The Wildcats rank last in the Big 12 in several key offensive categories, including total offensive efficiency, effective field goal percentage, turnover percentage and 3-point percentage.
2. Let it fly
Balance has been a key part of KU's offensive approach this season, but if the Jayhawks hope to pick up some key wins down the stretch and get hot in time for a deep postseason run, 3-point shooting is likely going to have to be a key part of it.
This would be a good game for the Jayhawks to dial in their confidence from behind the arc one more time before things get tougher.
Two of KU's final three opponents after tonight (Baylor and Texas) are currently allowing just 31% shooting from 3-point range, which ranks in the top four of the conference.
The Kansas State defense, meanwhile, allows the most points from behind the arc in the Big 12. Opponents have scored a whopping 35.6% of their points against the Wildcats from 3-point range.
That includes K-State allowing 39% shooting from 3-point range this season.
The Jayhawks appeared to be willing to attack this weakness in the last meeting, hoisting 29 3-pointers in their win over the Wildcats, which was KU's third highest total this season.
The Jayhawks, who currently are shooting 36.1% from 3-point range, made just nine of them, though, dipping well below their season average.
Kansas shot 37% from 3-point land in the four games since it last faced Kansas State, which could indicate that the Jayhawks are primed for a 3-point onslaught in this one.
3. No looking ahead
It would be awfully tempting for the Kansas men's basketball team — with the postseason now in sight — to look past Wednesday's game in Manhattan against a K-State team that has lost 12 in a row after starting the season 5-5.
But the Jayhawks don't plan to do that. And the Wildcats' recent outings show that doing so would not be wise.
No, K-State has not won a game since falling to KU by 23 in Allen Fieldhouse earlier this month. But the Wildcats have played three ranked teams since then, losing by an average margin of defeat of seven points per game to Texas Tech (73-62), Texas (80-77) and Oklahoma State (67-60).
"This game, it means a lot to our team," senior forward Mitch Lightfoot said on Monday. "Even more because it's a rivalry game. Games with K-State are always going to be turned up and everyone in the game is going to be hyperfocused (and) locked into their task at hand. We have to understand that and we have to make sure we're all prepared and locked in a scouting report as best as we can. "
Agbaji said the Jayhawks are well aware of what lies ahead after the K-State game and what's at stake in those matchups. But he added that the rivalry nature of this one, along with the team's desire to continue building momentum, has the Jayhawks locked in.
"I wouldn't say it's really hard because you know we're taking it game by game and we're as excited for for this game as we are for the three after that," Agbaji said. "Taking it game by game really puts things in perspective for guys and really has us just focusing and locking in on (one) game so we don't really get too ahead of ourselves."
Marquee Matchup
Kansas forward David McCormack vs. The Game's First Few Minutes
Though it has not always been pretty, junior forward David McCormack has been one of the most consistent and productive offensive players in the Big 12 this season, averaging 14 points and seven rebounds per game in KU's first 14 Big 12 contests.
However, even with that, Self believes the KU big man still has room (and time) to raise his ceiling.
"The biggest thing that I could see is get off the better starts," Self said this week when asked what McCormack could do to improve. "You know, if he gets off to better starts he's going to score three or four more points a game if he continues to play (the same) way the rest of the game."
Adding a couple of early buckets each game would bring McCormack into the realm of the conference's leading scorers, alongside Oklahoma State's Cade Cunningham (18.5 points per game), TCU's TJ Nembhard and Texas Tech's Mac McClung (17.2) and Baylor's Jared Butler (17).
And it also would go a long way toward helping the Jayhawks get off to better starts as a team. Few players have struggled as much in the early going as McCormack, who has been saddled with early fouls, missed several point-blank bunnies or both in recent weeks.
The trend became so problematic that Self, in KU's recent win at Iowa State, even adjusted the way his team opened the game to try to change things up.
"We didn't run anything for him early in the game," Self said. "You know, just to kind of let him get in the flow first."
But not even that worked. McCormack picked up a quick foul and a turnover in the game's first 1:36 before taking a seat on the bench.
"After the game, I said, 'Hey bud, you were great after you checked back in, but up until then we need you to get us off to better starts,'" Self recalled this week.
It has not been an energy issue that has plagued McCormack in the early going. The junior forward has been one of the most active players on the floor in the opening minutes in nearly all of KU's games this month.
But that energy and effort has rarely led to the kind of poise and production that McCormack has displayed the rest of the game.
The Jayhawks want to continue to play through McCormack as often as possible. And if they're going to be able to do that with any efficiency and effectiveness, McCormack's going to have to find a way to fix his sloppy starts.
"I think he's fully capable of giving more," backup big man Mitch Lightfoot said of McCormack this week. "I think he wants to give more. I think he understands that if he gives us (what he has been), then we're gonna be good, but if he gives us more we're gonna be great."
Jayhawk Pulse
KU's annual trip to Bramlage Coliseum is typically one of the most eventful of the season.
"The most memorable ones to me that standout are the ones we didn't win," Self said. "And so that's a memory I'd just as soon forget. But there's been some fun games over there, there's no question."
From the wild and crazy energy from the K-State student section to the anti-KU signs the KSU students bring that add to the atmosphere, the Jayhawks don't need long to discover what kind of reception they'll receive from the home crowd.
But with the crowd size significantly limited because of the pandemic, this one figures to be different than any others in the past.
"The fans are always animated, the fans are always excited for that game and we're always excited to play them," Lightfoot said. "(It) might be a little bit different this year because of the COVID stuff, but hopefully it still has that energy."
Although their attention typically stays on the court, Lightfoot said he'd be lying if he said he didn't notice a few of the signs or student-section antics throughout the years.
"I think it's fun, honestly," he said. "It's part of playing basketball Kansas. You're going to have people at your rival schools that that make cool signs. They might not be in your favor, but you got to give them a tip of your hat when they have some good signs. I appreciate their effort and I think it's fun."
K-State and Riley County health officials have set the COVID-adjusted capacity of Bramlage Coliseum at 15% full for men's and women's home basketball games this season, opening up spots for just under 1,900 fans. However, the Wildcats have averaged right around 1,000 fans per game for the past several weeks.
Kansas leads the overall series with Kansas State, 200-94. The Jayhawks have won 12 of the last 13 matchups and are 79-47 all-time in games played in Manhattan, including a 27-5 mark in Bramlage Coliseum.
KU is 53-6 against K-State since the inception of the Big 12 Conference and the Jayhawks have won 61 of the last 67 games against their in-state rivals.
Self is 36-6 all-time against K-State and KSU coach Bruce Weber owns a 3-18 career record against Kansas.
Kansas opened as a 15-point favorite in the eyes of the oddsmakers in Las Vegas. The line has since dropped to KU -13.5. KenPom.com gives Kansas a 14-point edge and a win probability of 88%.
Probable Starters
No. 23 Kansas
G – Marcus Garrett, 6-5, 195, Sr.
G – Ochai Agbaji, 6-5, 210, Jr.
G – Christian Braun, 6-6, 205, Soph.
G – Jalen Wilson, 6-7, 190, RS-Fr.
F – David McCormack, 6-10, 265, Jr.
Kansas State
G – Mike McGuirl, 6-2, 195, Sr.
G – Nijel Pack, 6-0, 180, Fr.
G – Dajuan Gordon, 6-4, 190, Soph.
F – Davion Bradford, 7-0, 265, Fr.
F – Kaosi Ezeagu, 6-10, 255, Soph.