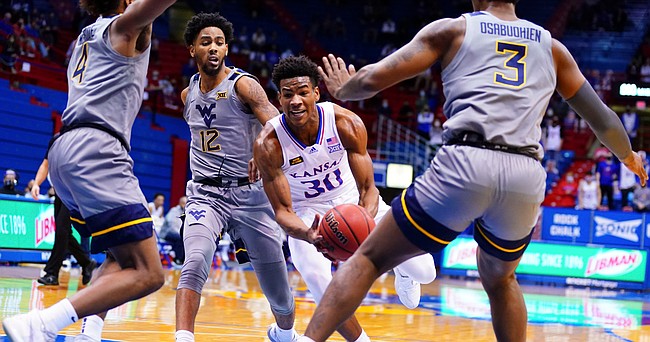 No. 23 Kansas Jayhawks (12-6 overall, 6-4 Big 12) vs. No. 17 West Virginia Mountaineers (12-5 overall, 5-3 Big 12)
Time: 1 p.m., Saturday, Feb. 6, 2021
Location: WVU Coliseum, Morgantown, W.Va.
TV: CBS | Radio: IMG Jayhawk Radio Network
Log on to KUsports.com for our live game blog coverage and follow the KUsports.com staff on Twitter: @KUSports @mctait @bentonasmith & @SJacksonLJW
Keys for Kansas
1. Rebound on both ends
This is not an uncommon key when facing West Virginia, which, for the past few years, has boasted a beast of a front line and looked to bully opposing players big and small.
But it's a little strange to put such emphasis on the rebounding battle today, with West Virginia playing without talented big man Oscar Tshiebwe, who was on the roster when KU and WVU first met up but has since decided to transfer to Kentucky.
That move left the Mountaineers with 6-foot-10, 255-pound junior Derek Culver operating as their only true big man. And, in Kansas coach Bill Self's opinion, it actually made them better.
"They're putting more shooters on the court, they're playing faster offensively, they're definitely pressuring more than what they did when they were playing two bigs," Self explained this week. "They look more like the West Virginia that we've seen the last several years."
Culver was a big part of that in the past and continues to be today. Even without Tshiebwe, WVU still ranks ninth nationally in offensive rebounding percentage, getting back 36.5% of its misses. But the Mountaineers have shown they're vulnerable on the defensive glass.
WVU ranks 263rd nationally in allowing opponents to get on the offensive glass, giving up second-chance opportunities on 30.5% of misses.
KU big man David McCormack is coming off of one of his best games on the offensive glass. And the Jayhawks, as a team, recording a season-best 19 offensive boards (51.4% of available misses) in the first meeting with WVU.
While those facts both point to offensive rebounding being a strength for KU, Self said recent circumstances have kept that from being as true as he would like it to be.
"Our team hasn't rebounded the ball well offensively of late," he said. "We were so bad in defensive transition for a while that we put such an emphasis on that and I think it created a situation where guys are more worried about getting back than they are crashing."
McCormack has recorded at least three offensive boards in three of KU's last six games, and his ability to put pressure on the WVU defense to clear the glass — along with a similar effort from KU's wings — could go a long way in determining how this game plays out.
2. Don't expect 16 3-pointers again
In the Jayhawks' 79-65 win over West Virginia in late December, nearly 60% of their points came from behind the 3-point line.
Kansas exploded for a season-high in 3-point makes (16) and attempts (37) against a WVU zone defense that continually left those shots open.
It led to an offensive efficiency rating of 132.2 for Kansas (KU's second best mark this season) and far exceeded Self's thoughts about the ideal percentage of 3-point shots his team should take.
"That's an awful lot for our teams to shoot," he said. "But (the shots) were there in large part because of their zone and they're not gonna play as much zone."
If they do?
"I guarantee they're going to get to shooters," Self added.
The Jayhawks have reached double-digit makes in 3-point shooting just one time (at Baylor) since their explosion against West Virginia back in December. And Self has asked the offense to play even more through McCormack than he was doing in December.
McCormack's ability to be a factor inside — as a scorer and creator — could help Kansas get open looks even if the Mountaineers aren't in a zone, but Self is certainly not counting on it.
If open jumpers are available, though, the Jayhawks have to do a better job of knocking them down than they have in Big 12 play to date.
KU is eighth in the conference in unguarded catch-and-shoot shots, hitting those attempts at a 33% clip. The Mountaineers, meanwhile, are allowing more uncontested shots than any team in the country, according to WVU play-by-play broadcaster Tony Caridi.
Bottom line: Whether they come against zone defense or man-to-man, the Jayhawks have to knock down whatever open shots they get in this one.
"It's always important to make shots, regardless of who you're playing or where or styles," Self said. "But I don't see us getting that same number of opportunities from behind the arc this game."
On the flip side of that, Kansas would do well to force the Mountaineers off of the 3-point line themselves when KU is on defense.
WVU ranks second in the Big 12 in 3-point shooting at 41.7% and KU's defense is eighth in that category, allowing opponents to make 36.9% of 3-point attempts.
KU's defense, however, leads the Big 12 in 2-point field goal defense (44.6%) and WVU ranks last in offensive 2-point field goal percentage (43.4%).
3. Take care of the ball
Valuing possessions has always been a staple of a successful game plan against West Virginia and the Jayhawks enter this one on an uptick in that department.
The Jayhawks have recorded single digit turnovers in their past two games and committed 11 or fewer turnovers in three of their past four games.
While the reasons — and benefits — of that approach are obvious, junior guard Ochai Agbaji said Thursday that the extra attention to taking care of the ball has been about more than keeping it away from their opponent.
"(We're just really focused on) making sure we at least get a shot every possession offensively," Agbaji said. "There's times where we'll turn the ball over on unnecessary plays that we need to convert on, and I think that's kind of stuck with us. We just need to continue to keep taking care of the ball and being smart with it."
The Jayhawks rank behind West Virginia in Big 12 play in both turnover margin (+2.29 to +1.06 per game) and assist-to-turnover ratio (1.16 for WVU and 1.09 for Kansas), so maximizing each possession and preventing themselves from aiding West Virginia's defensive efforts will, as always, be a huge part of this game.
That has been true in most games, but it is magnified a great deal in games played in Morgantown.
Marquee Matchup
It's 1-2 punch against 1-2 punch
While both rosters feature players who can get hot and heavily impact the outcome of a game on both ends of the floor, the duos of Agbaji and McCormack for Kansas and Miles McBride and Culver for WVU figure to play a huge role in how this one ends up.
Agbaji and McCormack enter this game as the Jayhawks' top two scorers, averaging 26.4 points, 9.7 rebounds and nearly two steals per game.
McBride and Culver enter this clash averaging 29.1 points, 14.5 rebounds and nearly three steals per game.
While those numbers aren't exactly the same, they illustrate the type of production all four players are capable of providing their teams.
If one of the four either massively exceeds his averages or falls short of reaching them, that could play a huge part in the outcome of this game, given the fact that all four are such a critical part of how each team runs its offense.
Both Agbaji and McBride have spent most of the season in the top 10 in the Big 12 in scoring, and both have been among the more consistent players on their teams on the offensive end of the floor.
At 15.1 points per game, McBride ranks eighth in the conference, while Agbaji, at 14.1 points per game, currently sits in 11th place.
Included on McBride's list of season highlights is a game-winning, off-balance driving bucket to beat Texas Tech. Agbaji, meanwhile, has done most of his damage from the outside, ranking second in the Big 12 in 3-point makes per game. But he also is among KU's most exciting and explosive players above the rim, which he showed with a couple of high-flying dunks against Kansas State on Tuesday night.
Production, skill set, style and execution will be a key part of how both 1-2 punches play in this one. But the X-Factor of energy and emotion could have just as much of an impact.
Jayhawk Pulse
There's little denying just how big this game is for the Jayhawks.
After dropping four of five heading into Tuesday night's Sunflower Showdown with Kansas State, the Jayhawks picked up a much-needed 23-point victory over the Wildcats and took the first step toward getting their season back on track.
There was, however, one problem: K-State is not the type of opponent that anybody is going to brag about beating this season, and the game, though solid in terms of the final score, still featured a few signs of trouble for the Jayhawks.
KU's win over West Virginia in December, statistically speaking, was one of the Jayhawks' best all-around games of the season. And it will be interesting, given all they've been through since then, to see if they carry over any confidence from that game into this one.
If they do, and if they play well and walk out of WVU Coliseum with a victory, the boost that would give the program would be massive.
Not only would it set them up to feel good about themselves going into a Big Monday battle against Oklahoma State at Allen Fieldhouse, but it also would position the Jayhawks to get on a little bit of a roll, with the three games after that coming against K-State and Iowa State.
"A big opponent, a big matchup on a big stage is what we play for here at Kansas," Agbaji said. "And I think we have a lot to show our fans and the people that support us. … That we're here still here to fight and still here to carry on this Kansas name.
"I'm looking forward to just being focused and really, really locking into this game, knowing that this is one of our biggest games probably of the season."
West Virginia opened as a 1-point favorite in the eyes of oddsmakers in Las Vegas, and KenPom.com lists WVU with a 2-point edge. KenPom gives KU a win probability of 41%.
The Jayhawks own a 15-5 advantage in the all-time series with the Mountaineers, including wins in five straight games and nine of the last 10 meetings. That includes tough wins in two of KU's last three trips to Morgantown.
However, even with those wins, Bob Huggins' program is 5-3 all-time against Kansas inside WVU Coliseum.
Probable Starters
No. 23 Kansas
G – Marcus Garrett, 6-5, 195, Sr.
G – Ochai Agbaji, 6-5, 210, Jr.
G – Christian Braun, 6-6, 205, Soph.
G – Jalen Wilson, 6-7, 190, RS-Fr.
F – David McCormack, 6-10, 265, Jr.
No. 17 West Virginia
G – Jordan McCabe, 6-0, 188, Jr.
G – Miles McBride, 6-2, 200, Soph.
G – Taz Sherman, 6-4, 190, Sr.
F – Jalen Bridges, 6-7, 220, Sr.
F – Derek Culver, 6-10, 255, Jr.