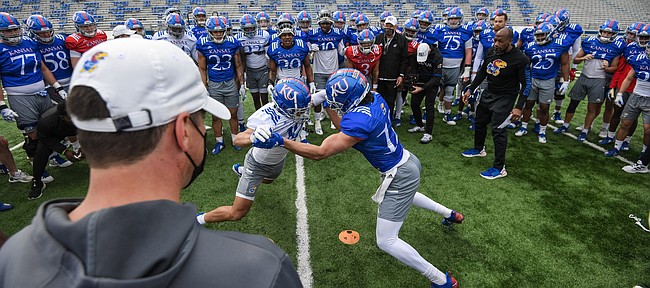 As they go through the final week of spring practices, Kansas football players know it might be a matter of days before they have a new head coach leading them.
While it's a reality most have doubtlessly pondered, even with Saturday's anticipated spring game on the horizon, the Jayhawks say they are doing their best to ignore the buzz surrounding the coaching search.
"We all try to block out all of that," veteran safety Ricky Thomas said Tuesday night, following the team's practice.
A decision from KU Athletic Director Travis Goff could come this week, with Buffalo's Lance Leipold, Army's Jeff Monken, Louisiana Tech's Skip Holtz and Texas A & M defensive coordinator Mike Elko emerging as the reported leading candidates to take over the program.
If the looming change, following weeks of interim head coach Emmett Jones leading the program, has been any type of distraction, KU's players aren't acknowledging it.
"That's out of our hands," Thomas, a super-senior, said of the search coinciding with this crucial portion of the offseason. "We can't do anything about it. That's out of our control. We just focus on getting better."
Senior quarterback Miles Kendrick, the second of two players made available for interviews Tuesday evening, echoed his teammates' words when asked about wrapping up spring practices at the same time the search is nearing a close.
"My focus this spring has just been on getting better each day," Kendrick said. "All that stuff on the outside, we can't control that as a team. What we can control is staying together."
When Thomas wants to "block out" any outside noise,
the safety said he finds himself circling back to some advice defensive coordinator DJ Eliot gave the players.
"Once you cross these lines, it's just football," Thomas shared.
The KU defensive back said these days he's taking that approach with everything regarding the program and its future, and Thomas thinks his teammates are doing the same.
"We just focus on what we have to do," he said, "and not everything else that's going on."
It's possible pulling that off might be easier for program veterans than the younger players on the roster, some of whom are true freshmen going through their first semester of college.
Kendrick said he has noticed the younger players leaning on the veterans and seniors of late.
"The guys that have been here for four, five years have been through some adversity. They've been through challenges here at KU," said Kendrick, currently in his fourth year with the Jayhawks.
"We've been through some things. I think it's been pretty good to be able to talk to those young guys and say, 'Hey, it's all right. Focus on what you can control. Focus on getting better each and every day and focus on your craft.' All that stuff on the outside, we can't control that," Kendrick repeated. "All we can control is getting better each day and staying together as a team."
When a permanent head coach is in place, Kendrick said it will be important for the team's leaders to get together with their young teammates and go over how important it will be for them all to stay together.
"The number one thing this whole spring, it's been about family. We're a family here," Kendrick said. "We're a team. And we're all here working toward the same goal. We don't want to take steps back after this spring. We want to keep moving forward, picking up where we left off in the spring in fall camp. I think to do that we've got to stay together and keep going."
KU's spring game is scheduled to kick off at 6 p.m. on Saturday at David Booth Kansas Memorial Stadium (ESPN+).