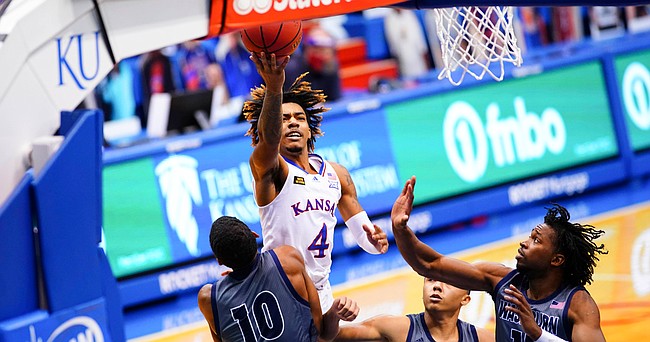 The Kansas men's basketball program lost another player to the transfer portal on Thursday, when freshman guard Latrell Jossell decided to explore other options.
Jossell, a former 3-star prospect from Texas, who joined the program last summer, played in 10 games for Kansas during his lone season with the team and was hampered by injuries at both the start and end of his time as a Jayhawk.
KU coach Bill Self said he and Jossell visited a few times during the past few days and Jossell made the decision to look for more playing time elsewhere.
"Latrell is very popular with our staff and teammates and we all wish him the best at his next stop," Self said. "He'll do great."
Jossell becomes the fourth member of the 2020-21 roster to enter the portal. He joins Tyon Grant-Foster, Tristan Enaruna and Gethro Muscadin in electing to look for a fresh start and bigger role somewhere else.
None of the four players have made a decision about their next school yet, and Jossell's departure opens up another scholarship for Self to fill this offseason, perhaps through the portal or through typical high school recruiting channels.
KU already has filled the spots vacated by Grant-Foster, Enaruna and Muscadin's departures, with prep guard Bobby Pettiford Jr., of Creedmoor, N.C., Missouri Southern State big man Cam Martin, a three-time Division II All-American who played for former Jayhawk Jeff Boschee, and Drake transfer Joseph Yesufu, a 6-foot point guard who announced he was coming to Kansas on Wednesday.
Self's program remains in pursuit of prep guard Ty Ty Washington, a top-40 prospect from Phoenix, who backed out of a commitment to Creighton earlier this spring.
The Jayhawks also have had contact with Creighton transfer Christian Bishop, a 6-foot-7, 220-pound junior from Lee's Summit, Mo., who, be-cause of the extra year of eligibility brought about by COVID, will have two years of college eligibility remaining wherever he elects to transfer.