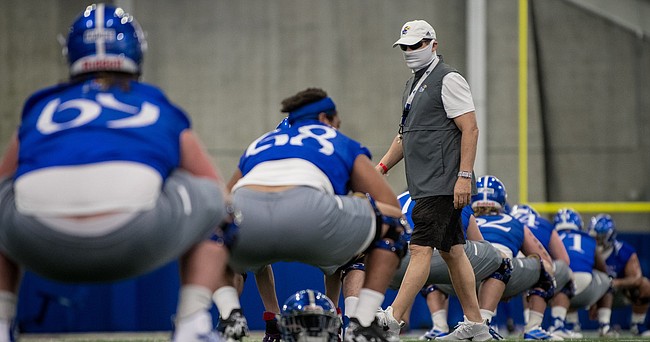 In a 2020 college football calendar filled with oddities, one of the strangest discrepancies occurred long before the kickoff of a pandemic impacted regular season.
Some programs, unlike KU, were able to get in some spring practices before the entire sports world got put on lockdown.
It so happened the Jayhawks in their opener faced a Coastal Carolina team that not only had reps in the spring, but got through its entire 15-practice schedule.
In the wake of his team's 38-23 home loss to the Chanticleers, KU head coach Les Miles this week was asked if he noticed anything in the opener that would have been helped by practicing in the spring.
While Miles didn't use the Jayhawks' lack of springtime preparation as an excuse — 52 FBS teams in total didn't even start spring ball, according to Sports Illustrated — he did say those offseason sessions are a necessity.
"I think it's really where you teach your kids to play. The snaps that you see, competition," Mile said on the Big 12 coaches media teleconference. "The snaps where you lay the foundation of their football."
As far as Miles is concerned, one KU position group in particular showed how much it needed spring practices during the loss to CCU.
"The offensive line gets better because they've taken good footwork and they've been taught and they've run into serious contact and they know how to drop their hips and use their hands. All those things happen in the spring," Miles said. "We look forward to getting our spring back as we go forward."
The Chants racked up 12 tackles for loss and three sacks against KU's O-line.
According to SI, CCU and UConn were the only two FBS programs to have all of their spring practices. In total, 28 programs had at least six practices in the spring.
Similar to KU, Kansas State, following a spring with no practices, lost at home in its opener to an Arkansas State team that practiced 11 times.
Coin toss backfires
The Jayhawks' season began with a successful midfield coin toss prior to kickoff against CCU. And instead of deferring to the second half, they elected to receive the first half kick and open on offense.
"We took the ball, so we were looking forward to capitalizing on some early momentum," Miles explained on his weekly "Hawk Talk" radio show, "and being in that stadium, because we enjoy being in The Booth."
Obviously the idea of jumping out to an early lead didn't do the trick. KU's first drive had traveled 41 yards before a Thomas MacVittie pass for Lawrence Arnold went off the receivers' hands and CCU secured the interception, leading to a 62-yard TD drive and early lead for the visitors.
In retrospect, KU would've preferred to get the ball first in the second half, down 28-3 thanks to three giveaways before halftime.
"I think it's an innocent team. A team that doesn't understand how to start fast," Miles said. "I did a poor job obviously getting them to do that."
Miles said the coaches have discussed the slow start with players since then, as the team looks to move on during an off week.
"It didn't turn out the way we wanted it to turn out," he said. "When you give three turnovers away (leading to 21 points off turnovers for CCU), I don't care who you are, you play on the Dallas Cowboys and it would look very similar."
Uzo-Diribe on top young coaches list
One of KU's young position coaches landed this week on 247 Sports' 2020 edition of its "30 Under 30" list of the industry's rising stars.
The honor went to outside linebackers coach Chidera Uzo-Diribe, currently in his first year as a full-time assistant under Miles.
A four-year letterman as a player at Colorado from 2010-13, Uzo-Diribe had 19.5 sacks, 30.5 tackles for loss and nine forced fumbles in his career before later transitioning to the coaching profession. He got started at CU as a defensive graduate assistant and followed D.J. Eliot to KU when Eliot became the Jayhawks' defensive coordinator. Uzo-Diribe was a quality control staffer in 2019 before getting promoted in early 2020.
"Uzo-Diribe has emerged as an impact recruiter, landing players from California, Texas and Georgia, including two of the eight highest ranked recruits in the Jayhawks' 2021 class," Chris Hummer wrote for 247 Sports, adding that one source told him the KU assistant "has a really high ceiling in this profession."
In his previous behind the scenes role, Uzo-Diribe said earlier this year, he learned a few things that he thought helped his transition to a full-time assistant.
"I think just understanding more about the Big 12 Conference," he said, "what offenses do, what they like to attack, having a good understanding of the defense and kind of where we fit. And how we can do things to capitalize on some things that the offenses will do."