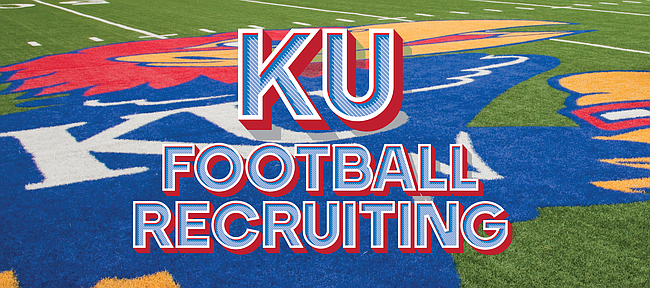 With the early signing period a little less than two months away, the Kansas football program added another receiving prospect to its upcoming recruiting class.
A 6-foot-4 target from Mobile, Ala., Tanaka Scott Jr. announced Thursday night on Twitter his commitment to the Jayhawks.
Scott became the fourth receiver in KU's 2021 class, joining three prospects who have been on board since late last year: Majik Rector, Jaddai Henry and Kelan Robinson.
KU lost a commitment from Louisiana receiver Keon Coleman earlier this month.
Rivals ranks Scott, currently playing his senior season at Murphy High, as a three-star prospect. Scott made his decision public, in part, by thanking offensive coordinator and quarterbacks coach Brent Dearmon in his tweet, which was accompanied by a KU-produced graphic that featured a picture of Scott.
According to Rivals, Scott has picked up 20 scholarship offers through his recruiting process. While his list of offers includes programs such as South Florida, Troy, Southern Miss, Louisiana Tech, UAB and Coastal Carolina, KU is the only Power Five program to extend an offer to him thus far.
The Jayhawks now have 20 of their possible 25 spots in the upcoming recruiting class filled, with 18 of those players rated as three-star prospects.
All verbal commitments, of course, are nonbinding. The earliest that Class of 2021 football prospects can sign is Dec. 16.
KU football Class of 2021 commitments
(Rivals rankings)
• Majik Rector — 3-star Texas prep WR
• Ben Easters — 3-star Indiana prep QB
• Jaddai Henry — 3-star Texas prep WR
• Kelan Robinson — 3-star Texas prep WR
• Devin Neal — 3-star Lawrence prep RB
• Mason Brotherton — 3-star Arkansas prep TE
• De'Kedrick Sterns — 3-star Texas prep OL
• Andrew Simpson — 3-star California prep LB
• Trey Staley — 3-star Georgia prep LB
• Omar Burroughs — 3-star Florida prep DB
• Devonte Wilson — 3-star Florida prep DB
• Kameron Grays — 3-star Alabama prep DB
• Christien Hawks — 3-star Norton prep OT
• D'Marion Alexander — 3-star Texas prep LB
• Tommy Dunn Jr. — 3-star Texas prep DL
• Shad Dabney — 3-star Georgia prep DB
• James Wright — 3-star South Carolina DB
• Tanaka Scott Jr. — 3-star Alabama WR
• Deldrick Withers — 2-star Arkansas prep DE
• Larson Workman — 2-star Texas prep OL