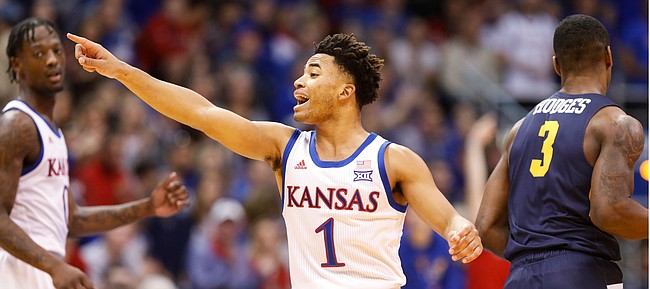 Kansas basketball coach Bill Self characterized Wednesday night's NBA draft as "bittersweet" for fans of the KU program.
Early in the night, the Jayhawks watched center Udoka Azubuike land in the first round at No. 27 overall to Utah, proving that all of the hard work he put in during the years — and particularly last season — paid off.
A couple of hours later, however, many people close to the Kansas program sat stunned as point guard and former KU All-American Devon Dotson was not picked at all.
"Dok, I thought, went as high as he possibly could," Self said in a Zoom call with reporters following Wednesday's draft. "So happy for him. Happy for the organization he went to. I know that he was emotional and ecstatic. And then you have the total polar opposite with Devon."
Two players who dominated college basketball and the Big 12 last season experienced dramatically different draft nights.
"It's a bittersweet night for us," Self added. "Because I can't believe that there were eight point guards or whatever there were in the draft better than Devon."
None of that mattered, however, when the dust settled and news started leaking about free agent deals in the hour following the draft.
Azubuike was still a first-rounder and ESPN's Adrian Wojnarowski reported that Dotson had agreed to a free agent contract with the Chicago Bulls.
For a kid who grew up in Chicago and spent his childhood idolizing former Bulls star Derrick Rose, a tough night eventually led to a pretty good consolation prize.
"It's not the end," Self said of Dotson's status as an undrafted prospect. "He's just going to have to do it the hard way, and sometimes doing it the hard way plays out to be the best way. So he'll stay positive and he'll stay focused and I'm sure that he'll still yet ripple some waters."
Self admitted to being surprised that Dotson went undrafted, but, having been through the process a number of times in his days as a head coach, he also said he understood how it could happen.
"You can't really say that he deserved more than what some of the others may have got tonight," Self said. "But in our biased eyes I certainly felt like he was overlooked in a way that I haven't seen very often with any of our very own.
"But he's going to be fine; he's just going to have to keep grinding. I certainly thought he played a way that would always give him a chance (to get drafted) because of his speed. But you know beauty is in the eye of the beholder and sometimes guys are looking for a little bit something different, and certainly you can't fault them for feeling that way."
Self, who keeps in contact with various people in NBA circles throughout the year, said there was no indication prior to Wednesday that Dotson was in jeopardy of not getting drafted.
"Everybody that we talked to was very impressed with his work at his workouts, his work ethic, his interviews, those sorts of things," Self said.
Beyond playing for his hometown team that he grew up cheering for, Self said landing with the Bulls could provide Dotson with other advantages early on that could help jump-start his professional career.
"You know, he's from Chicago and their G League team is in Chicago, if I'm not mistaken, so I think that would be a big bonus, to have something close as far as the opportunity to still be a part of the organization and be in the same city. So we'll see."
As he has said in years past, with other Jayhawks who were not drafted, Self reiterated Wednesday that the draft reached a point midway through the second round where he thought it probably would be best for Dotson to not get drafted so he and his agent could pick their destination.
"There are success stories like this," Self said. "I don't think anybody really anticipated Devon going in the first round, and I think we were all hopeful he would go sometime early second. When it didn't work out, after it kind of start getting away, I think it was probably best it ended this way."