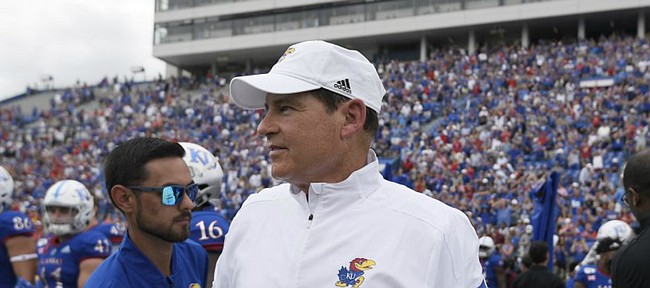 Throughout the 2020 season, and, really, the entirety of his 24 months in charge of the Kansas football program, KU coach Les Miles has led with optimism.
Unbridled, unabashed, unapologetic optimism.
To those who choose to look mostly at the Jayhawks' 3-16 record and lopsided losses during that time, the positive approach doesn't always fit.
"I understand where they're coming from," Miles told the Journal-World during a Zoom call from his office.
But to the people who know Miles best and have seen him operate this way for decades, the KU coach's sunny disposition and unending belief in his players is evidence that he's the same guy he's always been.
"Les hasn't changed a lick since I met him," longtime Miles friend and former Michigan quarterback, John Wangler, said in a phone interview this week. "It's not an act at all with Les. That's who he is. He's that guy. Really."
Asked recently to explain where his optimistic nature came from, Miles pointed to the influence his father, Hope Miles, had on him growing up.
One story of a conversation after a spring scrimmage during his playing days at Michigan still moves Miles to tears.
After sharing it during a recent press conference, he elaborated during a Friday morning interview with the Journal-World.
"I had a miserable day," Miles recalled of the scrimmage. "We got in the car and were going to eat and I told him I didn't like how I played. He said to me, 'Les, you need to see what I'm seeing. You were the best guard in the stadium today.'"
Miles laughed. His father didn't.

"That was really the first time I figured out that he was wired that way," Miles said. "He sees it through Miles-colored goggles. That's just the way it was. And, frankly, I wanted it to happen just like that for me."
From that moment on, it did.
A few years later, on a cold December night in 1982, Miles and Wangler, who were both graduate assistants under legendary Michigan coach Bo Schembechler, were sent from Ann Arbor to Detroit to scout a high school lineman.
Wangler doesn't remember the player, but he does remember the drive home, simply because he wanted no part of trying to make it.
Ice covered the roads, cars slid off the highway into ditches and emergency vehicles were out in force.
As Miles and Wangler came to a hill that no one had been able to climb, Wangler told Miles they should go back. Miles believed they could make it.
"We're going to give it a hell of a run, John," Wangler recalled Miles saying in the moment.
It took two tries and the assistance of a road wrecker to push them over the top, but the two Wolverines got their black 1979 Buick Regal over the hill, with Miles laughing the entire way.
"He was not going to be denied," Wangler said. "But that was Les. It wasn't like it was something that was out of the ordinary. That's how he is. If he was coaching a community college there in Kansas or he was coaching the Kansas City Chiefs, he'd be the same guy. And that's a tribute to him, his parents and the way he was brought up."
Like father, like son
Hope Miles stood 6-foot-5, 300-plus pounds and, according to his son and daughter-in-law, Kathy Miles, commanded every room he ever walked into.
His big personality and abundant confidence in himself and others was the driving force behind everything he did.
That included raising his children.
"He talked to Les when he was young about how he was a superhero," Kathy recalled during an interview with the Journal-World. "He just made him feel like he could do anything and I always could see that his dad had such confidence in him."
Wangler saw it, too.
Miles' longtime Michigan friend got to know Hope Miles well during the 1980s. He remembered him as a gregarious, brush-cut, old school Irishman.
"You talk about a fun guy to be around," Wangler said. "Bubba (Hope) was a guy who loved life every second and always found the joy in any situation. And that came through to Les."
That influence shaped Miles' outlook on life. It's why he always points out when the sky is blue and the sun is shining. And it's why he believes that staying positive in the face of adversity, "is the only way to be."
Not even his rough start at Kansas has undercut that approach.
"I don't think so," Miles said. "I want to do the things that make us better and I want to work like hell at painting the picture of how we're going to be successful rather than bemoaning the position we're in."
Coaching mentors
It was not just his father who instilled positivity and optimism into Miles during his younger years.
His coaching mentors provided that, as well.
"Schembechler always believed in us," Miles remembered. "And he would kick our tails. He had the pulse of the team in his hands and did a great job. When he turned to you and said, 'I'm proud of you,' it was your father, it was your coach, it was your friends. He was representing all of them."
After his GA duties at Michigan, Miles went to work for Colorado coach Bill McCartney, coaching CU's offensive line from 1982-86.
Like Schembechler, McCartney was demanding. But Miles said McCartney led in a way that made his players feel like he believed they had it in them to do whatever was asked.
Kathy's favorite story of Miles' days in Boulder, Colo., involved a McCartney assistant ripping into one of his players after a bad rep in practice.
"If an assistant said to him, 'I've told that kid 113 times how to block that right,' Coach McCartney would say, 'Well, it might be the 114th time that he gets it right,'" Kathy recalled. "Bill McCartney had that same style of positivity, and Les always thought that was why he was able to turn that Colorado program around."
Even at home, Miles would use the lessons he learned from McCartney's playbook.
"I've said those things around the house with the kids growing up," Kathy said. "Like, 'I told her seven times to bring her dirty clothes down to the laundry.' And Les would say, 'Well, it might be the eighth time when she does it right.'"
'He's always the light'
While Miles was leading football players at Oklahoma State, LSU and, eventually, Kansas with his signature optimism, his own children were getting the same treatment at home.
"He just knew that Smacker was going to be an Olympic swimmer and Manny was going to play professional baseball," Kathy recalled of their two oldest children. "Now, with Macy (a junior softball player at Free State High), every time she goes up to the plate, he wants her thinking home run, home run."
Not everyone in the Miles family took to the optimist's mantra as easily as either patriarch.
Miles shared a story of his daughter, Smacker, throwing a fit on the pitcher's mound during a youth softball game when her team was struggling to field the ball behind her.
Rather than building her up by blaming others, Miles broke her down on the drive home by challenging her to change her approach.
"I said, 'Listen, you can't pull your hat down on your head and glare at your teammates and expect that they are going to do what you want them to do," Miles recalled.
Hoping to hammer home his point, Miles pulled into a parking lot and hopped in front of the headlights.
"I took her hat and shoved it down on my head and put my hands on my hips and showed her what an ass looked like," Miles said with a laugh. "And she was phenomenal from that point on."
That approach of encouraging people to do something instead of riding them for not is one he uses with his players at Kansas today.
And whether it's while he's recruiting them to Lawrence or after they arrive, they're paying attention to their coach's positivity.
"Of course," said sophomore safety Kenny Logan Jr. "We feed off Coach Miles. He's always the light, even in the darkest moments. And that's a big factor in our development because having a guy that believes in us and motivates us, even when we're down, is something we need."
Whether it's a helmet tap in practice, a 'keep your head up' after a tough loss or the simple gesture of telling someone that burnt toast is his favorite when he sits down to a less than desirable breakfast, Miles refuses to deviate from his eternally optimistic ways.
"Les is a guy you want in the foxhole with you because, no matter what happens, he's not going to quit and he will be there until his last breath, trying to make the outcome as positive as it can get," Wangler said.
Added Kathy, when asked if the losses at Kansas have chipped away at her husband's positive persona: "There's no doubt that it is not easy to finish second. But I've always felt like Les is really comfortable in his own skin. He knows who he is and, more than anything, he's willing to work to try to get things fixed. I think there's just an ultimate feeling with him that eventually it'll work out as long as we stay the course and don't worry about what everybody else is doing."