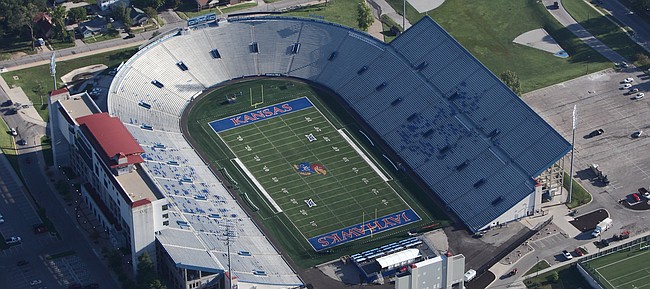 A new NCAA document gave universities and conferences across the country some more guidance Friday on how to prepare for the return of college athletics, advising them to create COVID-19 task forces and to formulate plans for what to do if an athlete gets sick.
The 3,200-word report was created in consultation with the NCAA's COVID-19 Advisory Panel, and it says it aims to be consistent with recommendations from the federal government and various health experts. However, the report also says it isn't intended to be binding and may be revised as the pandemic goes on.
It also comes at a time when the University of Kansas and the Big 12 Conference are both figuring out their own reopening plans. The Big 12 last week pinpointed June 15 as the first date for football players to return to campus for voluntary workouts, with other fall sports athletes able to return on July 1 and the rest of the student-athlete population able to return on July 15. Kansas officials have told the Journal-World that they are adhering to that timeline.
In addition to advice on how to operate with student-athletes back on campus — hand-washing, physical distancing, mask wearing, disinfecting frequently touched surfaces, etc. — and what to do in the event of an infection, the NCAA report suggests that each school create a special COVID-19 task force to stay on top of all pandemic-related issues.
Such a team could include members of a school's administration, such as an athletic director or an athletics health care administrator, the report said. It might also include coaches, student health services employees, campus dining hall or dorm directors, members of the school's compliance office, legal counsel and communications officials.
As for the specifics of allowing the athletes to compete and train, the report suggests daily self-evaluations, physical screening and clearance prior to participation, and mental health evaluations.
In the event that a student-athlete contracts COVID-19 while on campus, the document suggests the following steps:
• A designated isolation room.
• Personal protective equipment for both the symptomatic individual and the medical staff.
• Transportation to one of the following: an on-campus facility with an isolation room, off-campus housing with isolation precautions or a hospital or other medical facility.
• Contact tracing of all exposed individuals.
• Either a 14-day quarantine for all newly infected athletes, or regular testing for the infected individual over a span of five to eight days.
The document notes that if the infection occurs during a time of competition, "the response and mitigation plan likely will need to take into account the safety of student-athletes and staff from the opposing team."
While the document is specific to Division I student-athletes, it urges all schools and athletics administrators to connect the guidelines to "the broader campus action plan to facilitate identified health and safety objectives."
"Collegiate sport is intimately tied to college education," the document reads. "In other words, NCAA student-athletes are first and foremost students. While the structure of typical student life may evolve over time, and while student-athletes invest intensely in the development of their unique skills, being a student is and will continue to be an essential function of being a student-athlete."