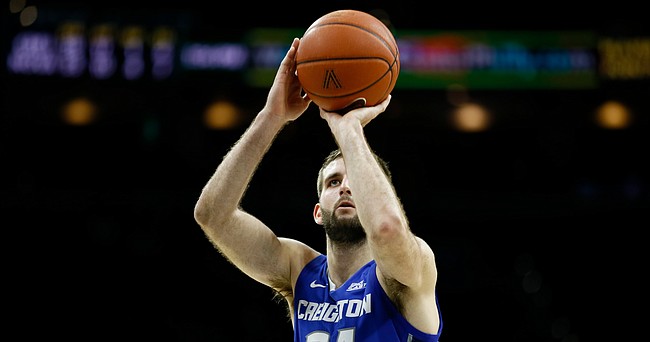 By his own admission, former Eudora High standout Mitch Ballock nearly committed to play basketball at Kansas three different times.
During his upcoming senior season at Creighton, Ballock will finally get his chance to play at Allen Fieldhouse.
That matchup was made official on Wednesday, when KU released the nonconference portion of its 2020-21 men's basketball schedule.
On Dec. 3, Ballock, his Bluejays teammates and what he hopes will be his entire family will make the trip to Lawrence for a regular-season clash between the two Midwest college basketball powers.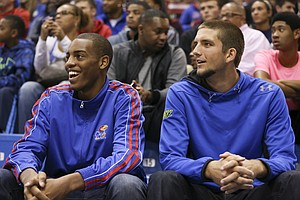 "It'll be surreal," Ballock told the Journal-World during a recent phone interview. "It's one of those childhood dreams, you know?"
Recruited by KU throughout his standout high school career, Ballock spent dozens of nights inside Allen Fieldhouse, often sitting right behind the KU bench.
"I want to say every time I left the arena I was like, 'All right, I'm about to commit,'" Ballock said. "But then I had to slow my roll and kind of figure it all out. It's just that kind of place. It sends chills down your spine, and it's fun, man."
To be able to see all of the pomp and circumstance of game night at Allen Fieldhouse as a member of the opponent is something Ballock is looking forward to. Not just because he wants to do everything he can to help his team leave Lawrence with a victory. But also because it will add to the ways he has experienced the historic venue.
"I'm looking forward to that atmosphere," Ballock said. "I've seen it from the stands, and it will be unbelievable to experience it from the court. Just being in there, playing on the opposite bench, will be an unbelievable opportunity and hopefully I can take a moment to soak it all in."
In 2017, Ballock and the Bluejays played two games in the Hall of Fame Classic at Sprint Center in Kansas City, Mo. Several of his friends and family members from Eudora were in attendance as Creighton knocked off UCLA and lost to Baylor.
But the former Cardinal still has yet to play a game with his entire family in the building. And he's hoping the game at Allen Fieldhouse will end that streak.
"I've always wanted to play close to home," he said. "And it'll be cool to see a lot of my friends and family from back home all be at a game I'm playing in. Hopefully all of my brothers and sisters and nieces and nephews can make the trip over and see a game live."
Last season, the 6-foot-5 shooting guard led Creighton in both 3-point makes (95) and 3-point percentage (45.3) while averaging 11.9 points, 5.3 rebounds and 3.1 assists in 31 starts.
One of the last games Ballock attended in Lawrence was KU's triple-overtime victory over Buddy Hield and Oklahoma in 2016. He's hoping his next trip will feature similar high-level basketball, with or without the ovation that Hield got from Kansas fans that night.
"Everything they do is second to none," he said of the Kansas basketball program. "It's an unbelievable tradition, it's an unbelievable university and what Coach Self has done with that program is unbelievable. I have a large amount of respect for him."