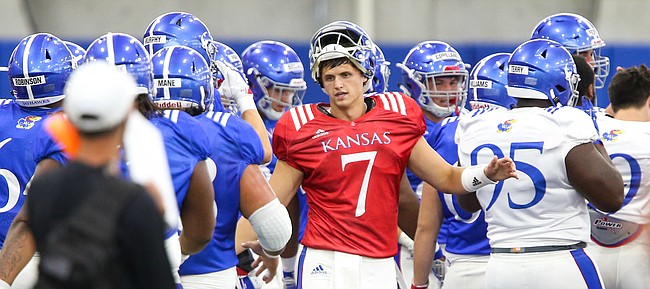 By this point in March, the Kansas football team was supposed to be four practices into its spring schedule. At least that was the plan before the coronavirus pandemic changed everything.
Now, the Jayhawks don't know when they will have a chance to practice again.
"It's really tough," former KU starting quarterback Carter Stanley told the Journal-World when asked what type of impact losing the 15-practice spring schedule would have. "I couldn't even imagine."
KU Athletic Director Jeff Long told reporters during a video conference on Monday that head coach Les Miles and his assistants were geared up and ready to embark on the spring schedule — the first practice was set for March 17 and the finale slated for April 18 — when it had to be put on hold, and pressing pause felt like a "big blow."
And even though the original version of spring football has essentially been canceled nationwide, Long remains hopeful some alternative practice schedule could be put in place once KU operations start to get back to normal.
"We are looking nationally about how that will be handled — whether there's a possibility of being able to come back and have some kind of a spring practice in June, maybe as an extension of the preseason going into August," Long said. "So maybe there's additional days added on that front end. But none of that has been decided."
As the Jayhawks and college football players nationwide wait to find out what's next for them, Stanley said he felt sorry for his former KU teammates, and he was thankful that his final season in the program wasn't marred by this type of obstacle.
"Obviously if this happened last year, it would be catastrophic," Stanley said, "because we had a new staff and were putting in an entirely new system."
During his five years at KU (Stanley redshirted as a freshman) he learned that spring football is a "great opportunity" for every player in the program, as well as a critical stage for developing team chemistry.
"For players, you can put yourself in a position to be the starter for fall camp if you stack days consistently," Stanley said. "For coaches, it's huge, because you can put in almost the entire playbook and get 15 opportunities to evaluate players."
For the current KU team in particular, spring practices projected to be a pivotal stage for the quarterback competition.
The last time offensive coordinator Brent Dearmon was made available for interviews, back in December, he envisioned senior Thomas MacVittie and junior Miles Kendrick as the two QBs in the program likely to battle for the starting job in 2020.
When asked about the challenges that would result from the loss of a typical spring schedule, former KU linebacker Joe Dineen said it was likely to hit the QBs the hardest.
"It's not the end-all," Dineen told the Journal-World, "because a lot of competitions can roll over into camp. But usually I think teams will know what direction they're headed by the middle or end of spring ball regarding the QB position."
Dineen said the absence of spring football would be a setback for younger Jayhawks in particular. Those sessions can provide a rare chance for players buried on the depth chart to prove themselves.
"If you redshirted or didn't play much defense or offense (the previous season), spring ball is kind of where you get the opportunity," Dineen said, "because when camp rolls around you get into more game plan stuff and coaches don't have the time to evaluate a bunch of guys."
Spring repetitions and meetings, Dineen also pointed out, give players time to get acclimated to new coaches and their different coaching styles.
This offseason, Miles hired four new position coaches — running backs coach and special teams coordinator Jonathan Wallace, tight ends coach and recruiting coordinator Josh Eargle, safeties coach Jordan Peterson and outside linebackers coach Chidera Uzo-Diribe — to replace assistants from the 2019 staff who left the program.
Hakeem Adeniji, a former four-year starter on KU's offensive line, said the Jayhawks could take some solace in the fact that the loss of practices would affect all football programs, not just Kansas.
"The teams that will be, I guess, the most benefited by it would be the teams that have the least amount of turnover," Adeniji told the Journal-World. "I think we definitely need it. So many seniors gone, people having different roles."
Dineen was hopeful that teams could make up some of that lost time in the summer — if the coronavirus situation improves enough by then.
"I hope the NCAA will grant them extended summer hours," Dineen said, "and maybe some nonpadded practices in the summer to make up for this. But it'll be interesting to see how KU and every other team can overcome this."
Stanley said coaches who are best navigating these bizarre circumstances — by maintaining contact with players about playbooks and the like — will benefit from those endeavors eventually.
"Who knows how long this will last?" Stanley said. "But the teams that do the best job of communicating and teaching now will show a lot in early games."