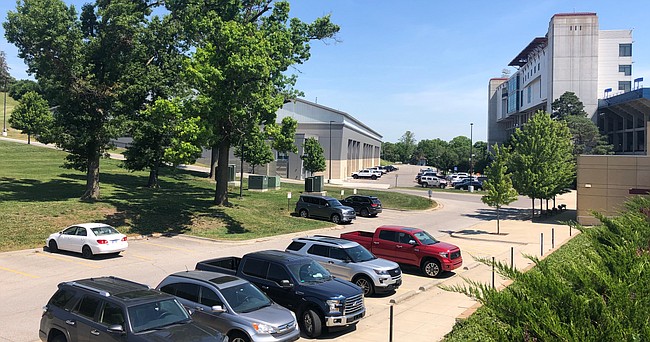 On Monday, the Kansas football team conducted its first voluntary team workouts since the pandemic, after about 75 athletes tested negative for COVID-19, an athletic department official confirmed.

KU spokesman Dan Beckler told the Journal-World early Monday afternoon that Kansas Team Health, at an on-site location, had tested "about 75" KU student-athletes who began coming back to campus last week. All of the tests returned negative results, opening the door for those athletes to begin voluntary workouts.
Monday marked the first day that such workouts for conference football players were allowed under the Big 12 Conference's COVID-19 return-to-campus guidelines, and the parking lot behind David Booth Kansas Memorial Stadium reflected that lots of players arrived as soon as they could.

Typically, KU's voluntary workouts begin when the first session of summer school begins in early June.

By 11 a.m., between 50-60 cars were parked in the lot, and players, managers and support staff periodically made their way into the Anderson Family Football Complex and then made the walk over to KU's indoor facility for the voluntary workouts inside.
Per normal NCAA summer rules, no coaches were allowed to be in attendance. But first-year strength and conditioning director Ben Iannacchione and his staff were on hand to supervise the workouts.
While the testing of KU's student-athletes was a critical part of the return, Beckler said keeping those KU football players who had tested negative in a controlled environment also was a key part of the process.

To that end, anyone wishing to enter the football complex has to have a negative COVID-19 test on file with the athletic department.
That goes for KU football staff, trainers, administrators and even teammates who are just getting back to town.
"They cannot be around the team until their tests come back negative," Beckler told the Journal-World.
As for the specifics of KU's voluntary workouts, Beckler said the Jayhawks would be split into groups of no more than 10 players and those groups would conduct their sessions inside the facility at predetermined times.
As is the case with all of KU's athletic facilities, Beckler said masks were required to be worn in any common areas. Just before noon on Monday, a group of eight KU athletes wearing masks, made the trek from the Anderson Complex into the indoor facility for their workout.
This system will remain in place throughout the month as more football players return to campus. And the Big 12 has identified July 1 as the day for other fall sports athletes to return to start their workouts.
Men's and women's basketball players are scheduled to come back to campus on July 6. And all other student-athletes can report to campus beginning July 15.