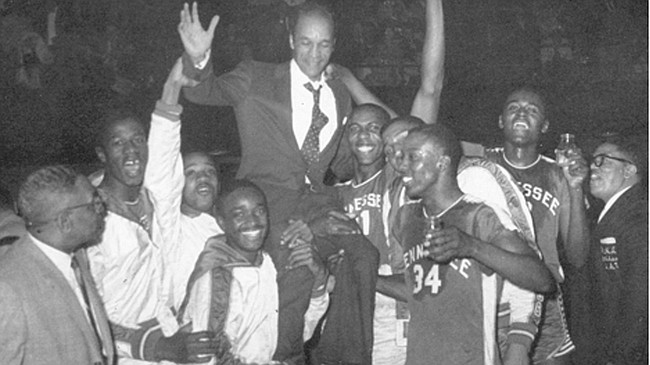 Kentucky's John Calipari, Kansas coach Bill Self and more than 30 other college basketball coaches announced Monday the creation of a minority leadership initiative that carries the name of former KU pioneer John McLendon.
In partnership with the John McLendon Foundation, the new initiative is designed to increase the amount of diversity in both college basketball and college athletic departments throughout the country.
The idea first surfaced on Calipari's "Coffee with Cal" Facebook show, which started at the outset of the COVID-19 pandemic.
During a roundtable discussion with Harvard coach Tommy Amaker, and through conversations with his own wife, Calipari said they came up with the idea to create opportunities and enhance career options of minorities in college athletics.
"What can we do to make a difference," Calipari recalled thinking Monday morning while announcing the new organization on ESPN's Get Up morning show. "In athletics, it's add diversity to athletic departments."
Self, now in his 18th season at Kansas, is one of the coaches backing the project and he tweeted Monday afternoon that he was "all in."
"Proud to help launch the McLendon Foundation Minority Leadership Initiative and help provide access and opportunity to deserving minority candidates," Self wrote.
According to the website created for the initiative — www.minorityleaders.org — the mission of the McLendon Minority Leadership Initiative is "to provide minorities a jump-start to their careers through practical experiences, opportunities to build their network, and instilling the values of John McLendon: Integrity, Education, Leadership, and Mentorship."
Although McLendon was not allowed to compete collegiately during his time at KU, the Hiawatha native who died in 1999 at age 84 was KU's first Black physical education graduate and also is credited with integrating KU's pool and student government, according to biographer Milton S. Katz.
In addition, his relationship with basketball's founder, James Naismith, helped open doors to the coaching world and led to McLendon becoming the head coach at six different stops, including a one-year stint with the American Basketball Association's Denver Rockets in 1969.
"John McLendon was a pioneer in our profession," Calipari said on a YouTube video promoting the mission of the McLendon Minority Leadership Initiative.
While McLendon was at KU, Naismith served as his teacher, advisor and mentor and words from McLendon about their relationship are etched on the walls inside the DeBruce Center, where Naismith's original rules of basketball are housed.
"Dr. Naismith taught me far more than was found in textbooks," McLendon's quote begins. "There's no question that my life would not have been anywhere near what it has become if I had not had Dr. Naismith as my adviser."
McLendon was the first person inducted into the Naismith Memorial Basketball Hall of Fame, first as a contributor in 1979 and later as a coach in 2016.
According to the website, the new minority leadership initiative will be a collaborative effort between athletic directors, coaches and minority applicants, with the goal being to provide real world experiences and the opportunity to increase networks.
Candidates, who can apply through the website beginning Aug. 1, will be analyzed and vetted by members of the McLendon Leadership Initiative and names then will be passed along to athletic department officials, who will review the list for potential hires.
Calipari called it a "coach-driven" initiative, and Amaker said he was attracted to the project because of his belief that coaches should always be viewed as teachers and leaders first.
"The name John McLendon is synonymous with education, educator, teacher, coach, excellence, service and leader," Amaker said on Get Up. "It would be incredibly meaningful to me to have the opportunity to honor this man and to support this mission."
Other college basketball coaches supporting the project who are listed on the website include: Duke's Mike Krzyzewski, Georgetown's Patrick Ewing, Gonzaga's Mark Few, Oregon's Dana Altman, Dayton's Anthony Grant, Tennessee's Rick Barnes, Michigan State's Tom Izzo, Pitt's Jeff Capel, Arizona's Sean Miller, Michigan's Juwan Howard, South Carolina's Frank Martin, Missouri's Cuonzo Martin, West Virginia's Bob Huggins, Stanford's Jerod Haase, Washington's Mike Hopkins, Oklahoma State's Mike Boynton, Maryland's Mark Turgeon, UConn's Geno Auriemma, Virginia's Tony Bennett, Colorado's Tad Boyle, USC's Andy Enfield, Arizona State's Bobby Hurley, Georgia Tech's Josh Pastner, Tulsa's Frank Haith and UCLA's Mick Cronin, among several others.