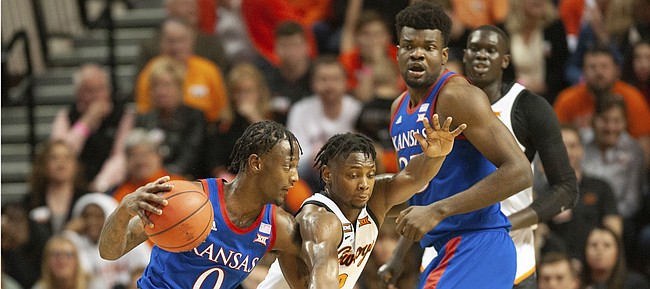 Stillwater, Okla. — Three-point shooting has not exactly been a strong suit of the third-ranked Kansas basketball team so far this season.
But it sure saved them on Monday night in a 65-50 win over Oklahoma State at Gallagher-Iba Arena.
Behind a Robin Hood-esque showing from new starter Christian Braun, who robbed from the Cowboys and gave to the Jayhawks while firing imaginary arrows after his four 3-pointers, Kansas knocked in 11 of 33 3-pointers to survive a first-half scare from Oklahoma State, which remained winless in Big 12 play this season.
The 11 3-pointers were the third most for Kansas in a single game this season. KU hit 14 against Monmouth and 12 against both Chaminade and Milwaukee.
"Guys like CB made shots," said junior guard Marcus Garrett when asked what got into the Jayhawks on Monday night. "That's something he's been doing since he came here. Him and Isaiah (Moss). Like I tell the boy every game, 'If you're open, shoot it. That's something that we need.'"
Noted Braun: "That's me and Isaiah's job — to knock down shots. And that's what we did."
Despite the high number of makes, KU coach Bill Self was not in any hurry to call his guys the next Steph Curry or Klay Thompson after the victory.
"Even though we made some shots, and it's good to see, I'm not leaving out of here thinking we filled it up," Self said. "I think we can shoot the ball better. Of the 33 we took, I bet you 29 were good looks."
The Jayhawks raced out to about as good of a start as any team could ask for as a heavy road favorite in a potentially hostile environment.
After both teams struggled to find their offense in the first five minutes, Kansas got going from the outside and did not stop.
A pair of Braun 3-pointers in the first half helped KU race out to a 15-4 lead, and two more Braun triples close to one another early in the second half helped the Jayhawks (17-3 overall, 6-1 Big 12) push their lead that had dwindled all the way down to a single point back to double digits by the under-16 media timeout in the second half.
Braun finished with 16 points on 5-of-11 shooting and added nine rebounds and two steals to his final line.
But it was much more than his final numbers that made an impact in KU's latest victory. His relentless effort after misses and loose balls and willingness to stay aggressive on the offensive end helped set the tone for the Jayhawks on Monday night
His second 3-pointer of the first half started a chain reaction that made its way through almost the entire KU lineup, as Tristan Enaruna, Ochai Agbaji and Moss all followed with 3-point makes of their own, pushing KU's lead to 24-7.
Oklahoma State coach Mike Boynton called timeout at the 7:55 mark of the first half, and whatever he told his team during the break clearly worked.
The Cowboys (10-10, 0-7) responded to a 9-0 Kansas run with a 15-0 run of their own, pulling within a bucket at 24-22 late in the first half.
After a Garrett free throw stopped the bleeding, the Cowboys pulled within a point, at 25-24, prompting the public address announcer to roar, "One-point game."
Before those words had even evaporated from the Gallagher-Iba Arena air, Devon Dotson's lightning-fast layup had put Kansas back up by 3.
A late offensive rebound by Braun that led to a little floater along the baseline put the Jayhawks back up by 5 at the break, helping calm their nerves and cool down the Cowboys.
Dotson, who joined Udoka Azubuike (6 points and seven rebounds in 28 minutes) in picking up two first-half fouls, was whistled for his third foul of the game at the 17:08 mark of the second half.
With him on the bench, the Jayhawks caught fire once again, ripping off 13 consecutive points after Dotson went to the bench during a 20-3 run that turned a 29-26 grinder into a 49-29 KU lead.
"I thought it was good to see," said Self of his team rallying without their leading scorer and primary ball handler on the floor. "I've got to be honest with you. We've actually played two pretty good games without Devon being a factor. ... I mean, he's still a factor in his own way."
Garrett said the experience of playing without Dotson in a win at Oklahoma earlier this month helped the Jayhawks' comfort level for stretches without him on Monday night.
"A lot," Garrett said. "I mean, we don't have a choice kind of when he's not in the game so we have to adjust. We always huddle up if he goes out and let (each other) know, 'Now we've got to play. Our point guard's out. We've got to lock in and take care of the ball."
The Jayhawks hit three 3-pointers during the run (two from Braun and one by Moss) and Azubuike scored 4 points from point-blank range to help Kansas take total control.
Things went so well for the Jayhawks in the second half that even their passes began to count for points.
With 10:41 to play and Azubuike battling for position, an entry pass over the top of the defense from Agbaji missed Azubuike's hands and softly caromed in off the glass for one of the most unconventional 3-pointers in Kansas basketball history. That put the Jayhawks up 52-31 and inspired several Cowboy fans in orange to head to the exits.
Neither Garrett nor Braun said they gave Agbaji any trouble on the bench or in the locker room after the game for the errant-pass-gone-good.
"I was actually celebrating," Garrett said with a smile.
"I was, too," Braun added. "That was a pretty good shot."
Garrett added: "It went in."
Garrett, who handled point guard duties while Dotson was out, delivered yet another solid all-around game, finishing with 7 points, eight rebounds and nine assists in 34 minutes.
"Marcus and Christian Braun were the two best players in the game," Self said emphatically after the victory.
Dotson (11 points in 25 minutes) returned to the game shortly thereafter and Kansas rolled to its fifth consecutive road win of the season, fourth consecutive win over the Cowboys and second straight win at always-tough Gallagher-Iba Arena.
With sophomore forward David McCormack serving the final game of his Big 12 suspension for his role in last week's brawl with Kansas State, KU coach Bill Self had a decision to make about the Jayhawks' fifth starter.
After going with senior Moss against Tennessee — Moss also started at Oklahoma when Dotson was out with an injury — Self elected to go with Braun on Monday, and the move paid off.
Braun's arrow has been trending straight up since his strong showing in KU's loss at Villanova in late December.
In his previous eight games entering Monday night, the 6-foot-6 freshman from nearby Blue Valley Northwest High had seen his minutes-per-game average increase to 23 and his 14-of-25 shooting from 3-point range during that stretch has been tops on the team.
He enjoyed a 20-point outburst on 6-of-10 shooting from 3-point range in KU's win over Kansas State and put up a similarly solid effort on Monday night.
This one, however, was not overshadowed by anything off the court, and it likely will go down as the strongest case yet for Braun staying in the starting lineup even when McCormack returns.
Neither McCormack nor Silvio De Sousa, who still has 10 games remaining in his suspension, were in Stillwater on Monday night. As part of the Big 12's suspension, neither player was allowed to travel with the team or be on the bench. Both watched last Saturday's win over Tennessee in the Big 12/SEC Challenge from the KU locker room.
After a whirlwind week and the first Saturday-Monday turnaround of the season, the Jayhawks will get a few days to catch their breaths before returning to the court for a 3 p.m. game with Texas Tech on Saturday at Allen Fieldhouse.