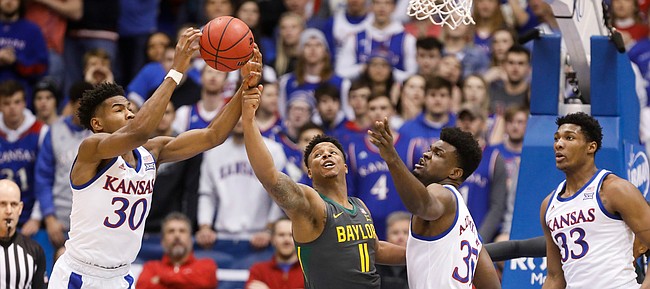 Kansas head coach Bill Self shouldered the blame, but it is unlikely anybody would have faulted him given the circumstances that led to his team's first league loss of the season.
Sophomore point guard Devon Dotson was sidelined with a hip injury for a long stretch in the second half. Junior Marcus Garrett played on a sore ankle, an injury he suffered just a few days earlier against Iowa State. Center Udoka Azubuike was completely gassed by the end after fighting for post position all afternoon.
In the end, No. 3 Kansas simply didn't have enough offensive firepower to compete with No. 4 Baylor in an eventual 67-55 loss Saturday afternoon in Allen Fieldhouse. The Jayhawks, who entered the game averaging 79.4 points per game, matched their season-low in points in the top-five showdown.
"There was just no rhythm offensively at all; it was disappointing," Self said. "This is my fault. Against good teams, you are not going to score on the first side or second side a lot of times. That's a really good team. Our ball and body movement was awful."
Saturday's loss was a shocking result for many reasons. For one, Baylor (13-1, 3-0 Big 12) had lost its previous 17 meetings with Kansas in Allen Fieldhouse. The Jayhawks, who were coming off a 79-53 thumping of Iowa State earlier this week, were also considered 8-point favorites via most sportsbooks entering the matchup.
Photo Gallery
Kansas basketball v. Baylor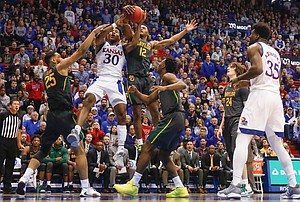 View a gallery of images from Saturday's game between the Jayhawks and Bears at Allen Fieldhouse.
But the latest performance proved the Jayhawks (12-3, 2-1) have their flaws, even if there were a few things that were ultimately out of their control. As dominant as KU has been on the defensive end this season, the team's offensive limitations remain a very real issue during its quest to reclaim the Big 12 throne.
The Bears did what every team will try to do against the Jayhawks this season. They fronted Azubuike in the post and helped off on the weak-side corner to contain any lobs.
"Against West Virginia, it was similar. We were able to drive downhill a little bit to force help," Self said. "We didn't ever do that this game. We couldn't get around them."
Dotson's extended absence was a big reason why the Jayhawks never adjusted, of course. He was forced out of the game after one possession in the second half, and didn't return until there was 8:52 left to play. The Bears also happen to be the fifth-best team in the nation in adjusted defensive efficiency on KenPom.
"The way they played the post, making it hard to go to our strong suit, which is (Udoka) obviously," sophomore Ochai Agbaji said. "Taking that away, and just their defensive pressure and getting up. Just them moving around their defense so much and having help side."
Still, Saturday showed how far Kansas still has to go on the offensive end, particularly when its two best players are limited.
Azubuike was held to just 6 points on as many shot attempts, marking the fourth consecutive game that he has attempted six-or-fewer field goals. Dotson scored 9 points on 5-of-10 shooting, which was his fewest attempts in a game since Dec. 7 against Colorado.
Document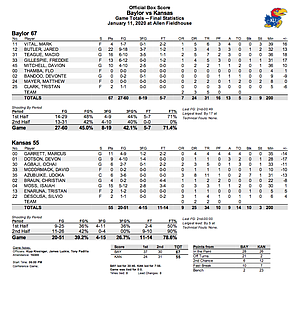 "(Baylor) was just playing hard," Isaiah Moss said. "(Dotson) went out too, that hurt us pretty bad. They were just aggressive on defense."
That lack of offensive firepower was even more evident in the second half, when the Jayhawks were on the verge of mounting a comeback.
Moss, who finished with a team-high 15 points after scoring 10 in the first half, missed a wide-open 3-pointer from the corner in transition. Moments later, Garrett willed his way through the Baylor defense for a tough left-handed layup to pull Kansas within 5 at the 13:01 mark.
It perfectly illustrated how much it took out of the Jayhawks to even get within striking distance. Baylor responded by increasing its lead to double digits a few minutes later, and the game was never really in doubt after that.
Kansas, which trailed for 30-plus minutes, finished with 14 turnovers as a team in the loss. Garrett and Moss were the only two KU players to finish in double figures. It was the fourth time the Jayhawks have been held under 70 points in a game this season, three of which have been in their three defeats.
None of this means KU can't win the Big 12 or have a deep run in the NCAA Tournament. It was just an important reality check for the Jayhawks just a few days after their thrashing of the Cyclones.
"It's a long season, all of us know that," Agbaji said. "We just have to keep this in the back of our minds when we go play down there."