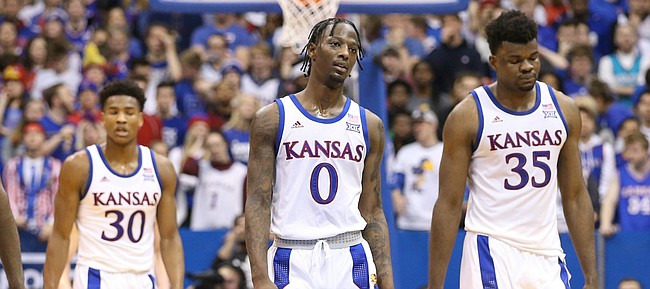 Baylor coach Scott Drew has always told his team that in order to win in Allen Fieldhouse you have to be up 10 with 3 minutes to play.
For a guy who had tried and failed 12 times before, Drew wound up being right on Saturday. And his team even gave him a little wiggle room.
Behind stellar guard play and suffocating defense, the fourth-ranked Bears led No. 3 Kansas by 15 with 2:59 to play, paving the way for a 67-55 Baylor victory that snapped the program's 0-for-17 stretch in Lawrence.
"Actually, I was thinking maybe we needed (to be up) 15," a water-drenched Drew joked after leaving the celebratory Baylor locker room. "We've been up 6 before and that didn't workout. Down the stretch of games nowadays in basketball, things change so quick. With the crowd and momentum and how anything can happen the last couple minutes here, you've got to have a cushion."
Photo Gallery
Kansas basketball v. Baylor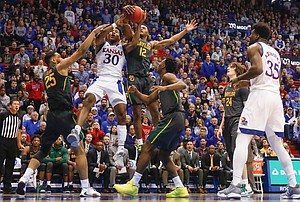 View a gallery of images from Saturday's game between the Jayhawks and Bears at Allen Fieldhouse.
The Bears (13-1 overall, 3-0 Big 12) played with one for most of the day on Saturday, leading Kansas for 30:46 of the 40-minute game.
The Jayhawks (12-3, 2-1) trailed Baylor by 13 points at halftime and as many as 16 late in the second half before quietly succumbing to history.
The loss not only ended KU's dominance over the Bears, but it also snapped a 28-game home winning streak for KU, put an end to a stretch of nine consecutive Kansas victories in Allen Fieldhouse over top-five teams and handed KU coach Bill Self just his 14th loss (256-14) in his 17 seasons in charge of the KU program.
Self has shown throughout the years the ability to recall even the tiniest details of many of those previous 13 home losses. But years from now, when he looks back on this one, Self likely will only remember one thing.
"They were just better than us," Self said after the loss. "I didn't feel anything today like I did (in 2017) when Arizona State came in here (and won). … This is sports. And when you play a team that can win a national championship, regardless of where you play them, if they're on and you're not, they're going to beat you. And that's what happened tonight."
Baylor jumped out to a 9-3 lead but saw that early advantage quickly disappear when Kansas responded with a 9-0 run to take an early 12-9 lead.
Document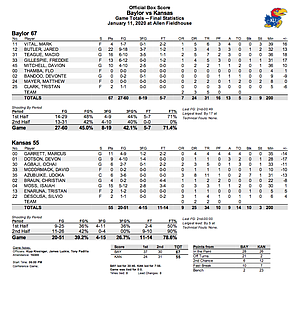 Behind some hot shooting from senior guard Isaiah Moss, who finished with 15 points and had 10 by halftime, the Jayhawks built a 20-15 lead and appeared to be ready for a fight to the finish.
But shortly after a 3-point make by Devon Dotson with 7:55 to play in the first half, the wheels fell off.
Baylor's defense quickly became its best offense and the Bears' roared their way to a 22-4 run to close the first half.
"The last two minutes, or whatever, of the first half was a debacle for us," Self said. "That made the climb obviously a lot harder. We put a little game pressure on them in the second half, but not much."
Baylor guards Jared Butler, Davion Mitchell and MaCio Teague combined for 32 of the Bears' 37 first-half points. And, more importantly, the ball pressure from that trio forced Kansas into 10 first-half turnovers.
KU committed just 14 turnovers for the game, but those giveaways led to 21 points for the Bears, who gave it up just five times themselves and only allowed Kansas to score two points off of turnovers.
With the Jayhawks trailing 37-24 at the break, their bid for a comeback became even more difficult when Dotson left the game because of a hip injury just seconds into the second half.
"He came in for a little treatment (at halftime) and thought he'd be able to go," junior Marcus Garrett recalled of Dotson after the loss. "But as soon as he touched the ball he realized he wasn't as good as he thought he was."
Garrett handled point guard duties while Dotson was in the locker room, — he checked back in at the 8:52 mark of the second half — and Kansas actually trimmed the lead to as low as five points without Dotson.
That brought Allen Fieldhouse to life. But Drew and his coaching staff continued to stress poise and confidence to the Baylor players. Three minutes later, BU's lead was back to 10 and the Jayhawks found themselves back in a rough spot.
"We were just trying to get the lead back lower so once (Dotson) came back in, he could give us another spark," Garrett said.
It never happened. Instead, the Jayhawks were outscored 19-17 the rest of the way and never again trimmed the Baylor lead to single digits.
Butler (22 points on 9-of-18 shooting) played a big role in that, scoring 10 consecutive Baylor points during one stretch in the second half to ensure that there would be no Kansas comeback — or Baylor meltdown — on Saturday.
"It shows what happens when you expect to win versus when you're just trying to survive," Butler said of his team's ability to finish off the Jayhawks on Saturday.
Said Self of Butler's performance: "We won't guard anybody this year that's harder to guard with the ball in his hands."
While Drew focused on the joy of Saturday's win for the Baylor fans and his players above anything for himself, the Bears made sure their head coach celebrated properly, as well.
"Well, I don't have to shower now," Drew said before heading to the team bus. "So that's a good thing. I wish they could've turned the temperature up a little bit on the water bottles, but, like parents at Christmastime, you love when your kids open gifts and are excited, and, for coaches, there's nothing better than when you see your players happy and excited and celebrating.
"I knew at some point Baylor was going to win up here. And I was just hoping that I would be able to be a part of it."