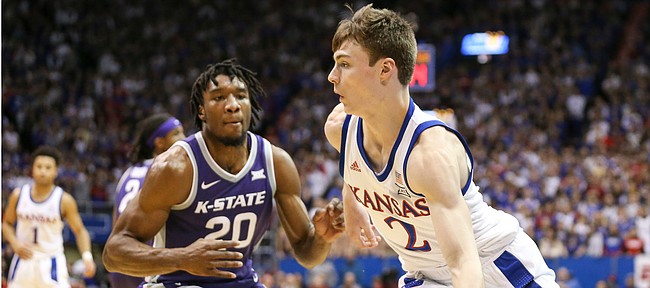 The goal for the top-ranked Kansas Jayhawks is to treat Saturday's 12:30 p.m. rematch with Kansas State in Manhattan like any other road game.
But given the fact that the first meeting between these two teams ended with a brawl that led to suspensions for four players, the Jayhawks also know that what they will walk into Saturday at Bramlage Coliseum will be different from anything they have seen this season.
"They hate us," sophomore guard Ochai Agbaji said of the Wildcats on Thursday. "When we first ran out there to warm up (last season), they were just booing, so we know how it's going to be this time. We're going to get a lot of boos, a lot of jeers, everything. We know what to expect, so we're ready for that."
While Saturday's atmosphere may be more charged up than normal, Kansas coach Bill Self said he had not talked to his team about handling the K-State crowd, which figures to come early, be loud and hoist several anti-KU signs.
Photo Gallery
Kansas basketball v. Kansas State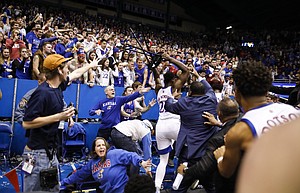 View a gallery of images from Tuesday night's game between the Jayhawks and Wildcats at Allen Fieldhouse.
"It's always that way," Self said Thursday during his weekly news conference at Allen Fieldhouse. "It's not like (focusing on the crowd is) going to be our point of emphasis going over there. Our point of emphasis is being poised and playing hard, competing hard, how to guard their actions and how to take advantage of how they guard us."
One thing that Agbaji and freshman guard Christian Braun said had helped put the brawl on the back burner was the fact that it took place 38 days ago.
"Obviously, we'll be on better behavior," Braun said. "But it's been a while since that last game, and we're not focused on that. We're more focused on getting in there, getting a win and getting out."
Added Agbaji: "I would say everybody's moved on. We haven't really had any talks with Coach or anything. We're just going to treat it like any other road game. … It was just a mistake. Emotions got going. I think that's all it was."
The 12-game suspension handed down to Kansas forward Silvio De Sousa was the longest of the four suspensions that came after the Jan. 21 brawl. KU's David McCormack was suspended two games, and Kansas State's James Love (8) and Antonio Gordon (3) also were penalized.

Self said De Sousa would not be in Manhattan on Saturday, and that he has remained upbeat despite missing 10 games for his role in igniting the fight, which included a blocked shot and taunting gesture. De Sousa also lifted a stool above his head during the melee but dropped it before using it.

The junior forward's suspension has two games remaining, and Big 12 rules stipulate that he is not allowed to travel to road games or sit on the bench at home games until the suspension is lifted.
"He's been practicing, and he's actually doing great," Self said of De Sousa. "His attitude's good. He certainly had a bad moment, but his attitude's good. And he's contributing in every way he possibly can with the limitations put on him."
De Sousa, who was suspended indefinitely by Self before the Big 12 Conference announced its official suspensions on Jan. 22, will be eligible to return to the court on March 7 against Texas Tech during KU's regular-season finale in Lubbock, Texas.
While the rematch of January's game-gone-wrong will be a big part of the story on Saturday, Agbaji and Braun said their team's focus was on closing out the season strong and charging toward a Big 12 title.
Kansas (25-3 overall) and No. 2 Baylor are tied atop the Big 12 standings at 14-1 with three games to play.
"(This is) just another step towards our goal," said Braun, who originally is from Burlington and will be getting his first taste of the Sunflower Showdown in Manhattan. "I'm excited to play in front of a loud crowd. That's always fun, wherever it is. But I'm just excited to be able to compete again with a crazy environment."
Added Agbaji: "We knew we had to play them twice, obviously. It's going to be a hostile environment; that's how we get it everywhere. So we'll take it as any other road game, just like in Waco. It was loud and rowdy. We can see it the exact same way as that, but (the Wildcats) just hate us a lot more."
In the 10 games since the brawl, Kansas is 10-0 and has climbed to the No. 1 ranking in the national polls. The Wildcats, meanwhile, are 1-9 in their last 10 games and enter Saturday at 9-19 overall and 2-13 in Big 12 play.
Its lopsided numbers like those that Braun, who scored 20 points on 6 of 10 shooting from 3-point range in the first meeting with K-State, remembers from his childhood while watching the games and rooting for the Jayhawks. Now that he's a part of the rivalry, the 6-foot-7 guard who finished his prep career at Blue Valley Northwest said he was excited to add to them as a player.
"Most of my memories (of the rivalry) come from wins," Braun said. "So we're going to try to keep that going."