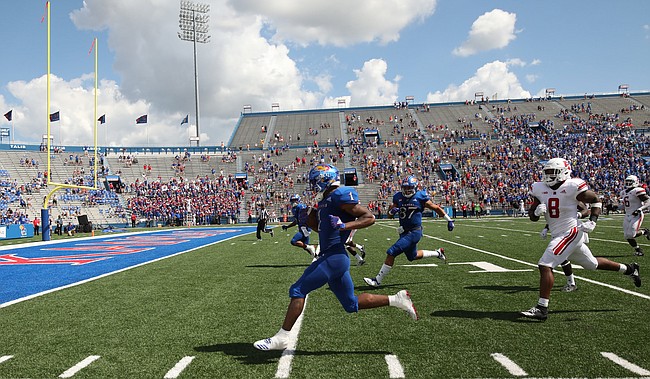 In the last season under head coach David Beaty, the University of Kansas football team posted the lowest revenue from ticket sales the team had seen in at least 12 years.
According to an NCAA financial report released by Kansas Athletics Inc. in January, the program received $2.75 million in ticket sale revenue for the fall of 2018, down from $3.99 million the previous season.
The 2018 total was the lowest mark for the program since at least 2006, according to previous Journal-World reporting.
In fall 2018, Kansas State University made more than four times as much money in football ticket sales than KU did. K-State received $12.35 million in ticket sale revenue in the fall of 2018, down slightly from $12.46 million the prior football season.
KU Athletic Director Jeff Long said that revenue from ticket sales was "much improved" during the 2019 season, the first one with coach Les Miles at the helm. However, those numbers won't be released in a financial report until January 2021.
"In generalizations, I would say that we are averaging nearly 30,000 (tickets) a game (in 2019), which is up from the teens in previous years," Long said.
Kansas Athletics spokesman Dan Beckler was not immediately able to provide the Journal-World with ticket sale revenue numbers from the 2019 football season. He did say, however, that 237,122 people attended KU football games last season, up from 116,544 the year before. Student attendance nearly tripled, rising from 7,477 in 2018 to 20,879 in 2019.

KU's NCAA financial report also showed that ticket sale revenue from the men's basketball team increased, but only slightly. In fiscal year 2018, revenue was $15.86 million. In fiscal year 2019, it increased to $15.94 million.
Long said it has "been a challenge" to increase ticket sale revenue for the men's basketball program.
"From my perspective, we are seeing the society change," Long said, mentioning that many people prefer to watch games from home. He said the program is doing more to promote sales, and added that fans should know there are opportunities to get tickets and see a game in Allen Fieldhouse.
"So with that there is good news," he said. "People can gain access that they haven't had before."
In other news from the report, women's basketball ticket revenue declined, whereas women's volleyball ticket revenue increased.
"I think the fact that we built a new arena is a testament to the fact that volleyball fan interest is high and continues to be high," Long said.
For the fall of 2018, volleyball posted $115,552 in ticket sales, up from $101,311 the previous season.
Women's basketball, on the other hand, fell from $102,021 in the 2017-18 season to $85,917 in the 2018-19 season.
As for women's basketball, Long said that "winning drives ticket sales."
This season, the women's basketball team currently has a 12-8 record but is only 1-8 in conference play.
---
Ticket sale revenues for KU sports in fiscal year 2019:
Men's basketball: $15,944,899
Football: $2,746,575
Volleyball: $115,552
Women's basketball: $85,917
Baseball: $67,264
Softball: $37,775
Women's soccer: $24,599