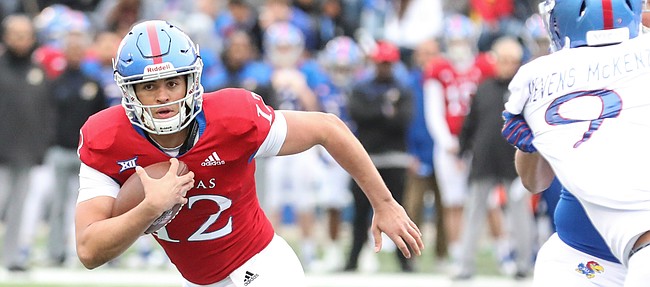 Torry Locklin arrived at the University of Kansas in 2019 as a quarterback. And in a way, at least, Locklin still is.
But KU's coaches envision the redshirt freshman more like a Swiss Army knife than even a dual-threat QB.
Appearing in four games for the Jayhawks last year, Locklin lined up as a Wildcat QB on a few occasions, only rushing the ball three times for four yards.
Offensive coordinator Brent Dearmon let Locklin know early in the offseason that he wants to use the 6-foot-2 athlete from Rockdale, Texas, much differently moving forward. The hope is to get Locklin involved in just about every way imaginable.
During a video conference with reporters this past week, Locklin shared that Dearmon wants him to become KU's version of the New Orleans Saints' Taysom Hill, a "do it all" athlete.
Hill threw a 50-yard pass, rushed for 50 yards and caught two passes for 25 yards and a TD in a playoff game versus Minnesota early this year.
"It's a challenge, you know," Locklin said of becoming that type of versatile contributor. "But I accept it, because I feel like I can do everything that they want me to do."
That's why even though Locklin is listed as a running back a year after he had the letters QB next to his name, there probably isn't enough room on KU's roster to adequately describe everything the coaches would like him to do.
Asked what KU's plan was for using Locklin this season, head coach Les Miles said the coaches are continuing to evaluate their options. But the answer might end up being all of the above.
"I think he's a Wildcat quarterback," Miles began, "I think he's a tailback, I think he's a slot receiver that could make a catch when need be. So I think he fits several spots."
Physically, Locklin doesn't look like a typical running back. He's tall as a rusher at 6-2, and with the 10 to 15 pounds he has added to his frame since the end of last season, Locklin should be playing at somewhere in the 220- to 225-pound range this season.
He's not quite as imposing size-wise as his father Kerry (6-3, 230), who was as an NFL tight end for a couple seasons in the 1980s. But the young KU athlete is getting close.
"It's helped me a lot, being able to carry a little bit more weight," he said, "especially taking these hits at this level."
Locklin is striking enough with the ball that one teammate who sometimes has to try and tackle him at practices, senior outside linebacker Kyron Johnson, compared him to a bruising back the Jayhawks faced in 2019.
"He's fast," Johnson said of Locklin's standout trait. "He reminds me of A.J. Dillon from Boston College. He runs tall, he runs hard and he's just a dude who makes a cut and goes. He's one of the dudes who will be a problem for the defense."
Indeed, another KU defender corroborated Johnson's analysis. Senior cornerback Elijah Jones said it's difficult to anticipate what's coming next when Locklin lines up in the backfield during preseason practices.
On some occasions, Jones admitted, a cornerback has to follow through on his assignment on defense and hope that Locklin doesn't end up throwing a pass on what looks like a run play.
"He's a great quarterback and at the same time he's a good running back," Jones said of the left-handed Locklin. "It's fun going against him when he's in the Wildcat."
Locklin didn't attempt any passes during any of his cameo appearances in 2019. That could change this year.
Jones wasn't at liberty to provide specifics, but he said during preseason camp this month KU "sometimes" calls up trick plays involving Locklin.
"They'll try to catch us slipping," Jones said.
Considering Locklin hasn't thrown a pass in a live game since he was leading Rockdale High to a Texas Class 3A Division 1 state championship in 2017 (Locklin grayshirted as a member of KU's 2018 recruiting class, enrolling in the spring of 2019), he might be able to take some defenses by surprise with his arm.
"Nobody's seen it yet," Locklin said of his passing ability at the college level. "Nobody's seen anything I can do on the field yet."
Time will tell how Dearmon and KU's offensive coaches end up utilizing Locklin the most once the season arrives.
If the multi-talented Locklin prefers one position over another, KU's potential secret weapon is concealing that information, too.
"I feel like I can do it all," Locklin said. "If they want me at Wildcat, running back, slot, anything, I'll do it."