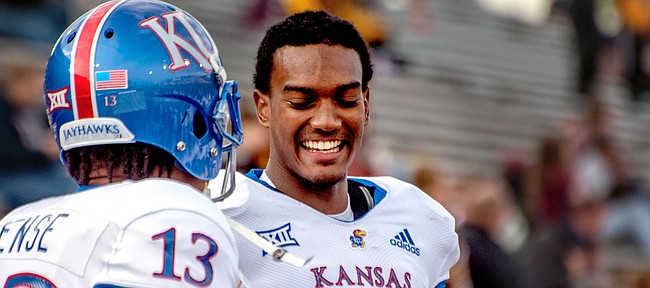 Elijah Jones' responsibilities within the Kansas football defense have become a lot more extensive this summer.
Now in his third year with the program, the cornerback who joined the Jayhawks as a junior college transfer in 2018 could find himself in a starting role this fall, after playing infrequently as a reserve in 2019.
The 6-foot-1, 185-pound defensive back from Cape Coral, Fla., thinks his game has developed enough since the end of his redshirt junior year that he'll be able to not only get on the field more as a senior, but also execute at a consistent enough level to maintain his spot.
"I've just got to stay mature, stay level-headed," Jones said during a video conference with reporters this week. "Keep focused and keep doing my job every single play. Keep going out there and making plays and just listen to what my coach has got going for me out there."
That coach Jones referenced is Chevis Jackson, the one-time LSU standout entering his second season working for his former head coach, Les Miles.
"Coach Jackson is showing us and teaching us the ropes," Jones said, "and showing us how to do that since he's been in our shoes before."
Jones, who played at Ellsworth Community College (Iowa) before transferring to KU, took a redshirt season his first year with the Jayhawks. In 2019, he appeared in seven games and made nine total tackles, four of them coming in the season finale versus Baylor.
Now KU figures to need much more from Jones, especially with junior cornerback Corione Harris' future with the program up in the air, following an offseason arrest and an ongoing indefinite suspension.
Without Harris, Jones projects as a probable starter at one corner spot, with senior Kyle Mayberry (a six-game starter in 2019) at the other.
Jones said his biggest improvements as a defender have come in his approach as a corner at the line of scrimmage.
"My coach has been working with me a lot on just staying patient with the receivers and trying to get hands on them a lot of the time," Jones said of that initial opportunity to knock a route off course.
The Jayhawk Jones most often sees lined up across from him at practices, senior receiver Kwamie Lassiter II, shared that both Mayberry and Jones have been making plays during KU's preseason camp.
"Elijah, he's pretty long," Lassiter added. "He's good at what he does."
It seems KU will need both Mayberry and Jones to play a great deal of snaps in the coming months, because there isn't much depth at cornerback.
In fact, it's likely the Jayhawks will have to find a freshman Jackson and defensive coordinator DJ Eliot trust enough to come in and spell the starters.
In Jones' opinion, two freshman corners in particular have stood out during recent practices with their athleticism: Duece Mayberry and Karon Prunty.
"You can tell they're not like the younger boys, you feel me?" Jones explained, adding the younger Mayberry brother and Prunty both have shown maturity. "They go out there and they're excited to make plays and they're excited to go to practice every day."
Miles brought up Duece Mayberry, Prunty and redshirt freshman Valerian Agbaw Jr. this week, along with Kyle Mayberry and Jones, when discussing the team's options at corner.
"All those guys we're kind of excited about," Miles said.
Jones at least has in-game experience at the FBS level headed into this season, unlike his youngest teammates.
How difficult is it to play the cornerback position as a freshman?
Jones chuckled before sharing his advice.
"You've got to be focused, man. You've got to grow up fast," he said. "You ain't got no choice but to grow up fast."