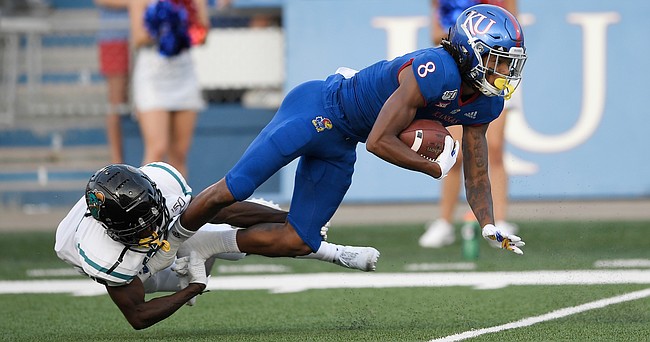 When the Kansas football program announced last week that it would be playing Coastal Carolina on Sept. 12, that didn't mean all the logistics of the game had been hammered out.
In fact, because the kickoff time hasn't been announced, Coastal Carolina Athletic Director Matt Hogue hasn't even been able to lock down his travel plans yet. But he's not really worried — charter flights and hotel rooms are far from the biggest unknowns in this pandemic-altered season.
"I think the one given in this entire situation is you really have to focus on where things stand on a day-by-day basis," Hogue told the Journal-World in a phone interview Wednesday morning. "I know my focus has been let's not get too far ahead of ourselves on what the climate is, what the guidelines are, what the requirements are because those are changing, sometimes suddenly and sometimes significantly."
And the Kansas-Coastal game has definitely seen its fair share of changes this season. Before the pandemic hit, Kansas was originally scheduled to face Coastal in Conway, S.C., on Sept. 26. But then the game was canceled, and Kansas cycled through a host of nonconference foes before finally settling on Coastal again — for a game two weeks earlier and in a different state than originally scheduled.
Hogue credited constant communication between officials at both schools for making the rescheduled and relocated game happen.
"From the very beginning, when things started changing, we continued to have conversations and continued to compare notes on where we stood if we lost a game or they lost a game," Hogue explained. "When you're already on the schedule and have a series that we had a desire to continue and complete, that was a solution that was kind of just right in front of us."
It wasn't always there, though.
For a while this summer, KU had Southern Illinois on its schedule as the only nonconference game of 2020. But when the Mid-American Conference decided to cancel fall sports, Coastal Carolina suddenly lost one of its opponents — Eastern Michigan — and by coincidence, the Sept. 12 date was also available for Kansas and fell in line with conference requirements.
"There's some spontaneity and some luck that comes into play to make it work," Hogue said. "But the Kansas administration has been great to work with from the very beginning."
One wrinkle: The Big 12 Conference required each team's lone nonconference game in 2020 to be a home game. So instead of traveling to Conway, S.C., this year, KU will make that trip in 2021.
One thing that didn't really play a role in the planning was travel distance, Hogue said. Three of the four other road games on Coastal Carolina's current schedule are just a short trip away from Conway, S.C.: Alabama, Georgia and Louisiana. But the scheduled trip to Texas State on Nov. 28, in San Marcos, Texas, is actually 100 miles farther than the trip to Lawrence, Hogue said.
"When you look at the Sun Belt, we'll have a couple of trips this year that are just as far if not farther," Hogue said. "So we've become accustomed to that."
As for those travel plans, Hogue said it would likely be a matter of canceling hotel rooms in one city and booking them in another, because the KU game and the canceled Eastern Michigan game were on the same date. And he said the fact that the Chanticleers had been to Lawrence before definitely helped.
"There's a bit of local knowledge working in our favor, given the fact that we were there last year," Hogue said of Coastal's Week 2 win at Kansas in 2019. "As long as you're following the protocols and doing what you have to do, the trips can be very similar."
Pandemic precautions will definitely factor into the travel plans, too. For instance, Hogue said he and his staff, along with other administrators and coaches in the Sun Belt Conference, had also discussed the possibility of flying in on game day and heading home the same night in order to cut down on the number of places and people the team comes in contact with. To this point, however, Hogue said that had been "a general idea" and was not one they were specifically considering for the Kansas game.
The fall semester at Coastal Carolina started on Wednesday, and Hogue said he was optimistic that things would go well enough in the next three weeks for the Chanticleers to be able to board their flight and travel to Lawrence to kick off the 2020 season.
"We understand what can happen that can derail that," Hogue said. "But I think there is a high degree of confidence that we can play. It's a cautious confidence, for sure. But we're honing in very precisely on what we're told we need to do and are meeting those requirements."
More like this story on KUsports.com