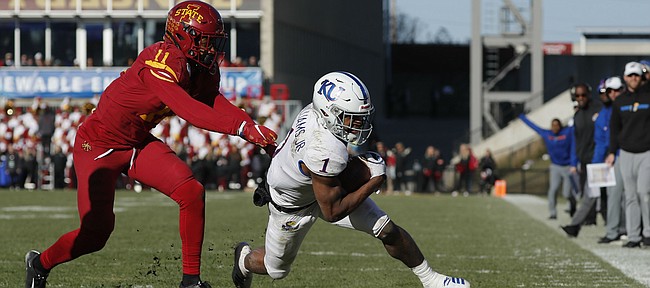 As of the start of the third week of August, six of the 10 FBS conferences plan on playing college football this fall.
For the three Power Five programs forging ahead without the Big Ten and Pac-12, though, if something goes awry due to the COVID-19 pandemic, they might just all take the off ramp in one big caravan together and try to play a season in the spring.
It's not a scenario in which Big 12 commissioner Bob Bowlsby is interested, but he spelled it out as one possibility his conference would have to consider if either the SEC or ACC ultimately changed course and backed off plans to play this fall.
"Well, anytime anybody at any level has decided they weren't going to play or that they were going to do something different, it affects us," Bowlsby replied this past week, when asked what the Big 12 would do if the SEC or ACC moved football to the 2021 spring semester.
"I don't know that we would want to be the only college football conference playing," Bowlsby said, pointing to the lack of a postseason for Big 12 teams in that hypothetical.
Bowlsby said he spends a lot of time speaking with ACC commissioner John Swofford and SEC commissioner Greg Sankey, with the three "comparing notes." So Bowlsby doubted the Big 12 would diverge "without some fairly significant conversations in advance of it."
At this point, the Big 12, SEC and ACC are effectively "in it together," per Bowlsby, though he also said he didn't know whether the three leagues are "locked at the hips."
"We'll probably continue to talk to one another with regularity and probably influence one another in terms of how we're managing," Bowlsby said. "But in the end we need to do what's right for the Big 12 and they have to do what's right for their teams."
Remaining vague when presented with hypotheticals during a media teleconference, Bowlsby called exploring what-ifs as counterproductive at this point.
"But any time something happens in another conference, we're going to take note of that," Bowlsby said. "And in the case of the ACC and the SEC I think we'll probably know about it in advance and have a chance to compare notes."
Even though the Big Ten and Pac-12 are in the process of figuring out what a spring football season will look like for their teams, Bowlsby has always pictured Big 12 football games in the spring as a "fallback" option.
"If we got disrupted or something happened that we couldn't start the season, I think the spring is viable," Bowlsby said. "I just don't think it's a first choice and I don't think it's something we'd do preemptively."
The Mountain West Conference and the MAC joined the Big Ten and Pac-12 in opting out of competition this fall.
The AAC, Sun Belt and Conference USA still plan to play, just like the ACC, SEC and Big 12, with at least one game scheduled to start as soon as Sept. 3: South Alabama at Southern Mississippi.
The SEC isn't beginning its conference-only schedule until Sept. 26. The ACC and Big 12 aim to get started with nonconference games the weekend of Sept. 12.