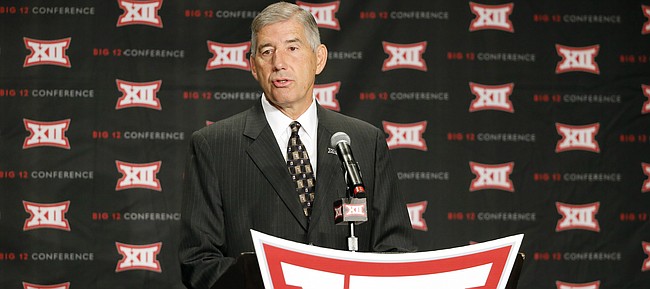 While explaining why the Big 12 swerved around the Big Ten's and Pac-12's decisions to cancel fall sports, Big 12 Commissioner Bob Bowlsby didn't claim to have a better understanding of the future than other college athletics administrators.
Instead, he said, the decision was intended to give athletes and coaches a clear plan for fall.
"I think most importantly we have some clarity for our coaches and our student-athletes," Bowlsby said Wednesday during a teleconference with reporters, shortly after the Big 12 announced its plans to continue with fall sports during the COVID-19 pandemic. "There's a difference between clarity and certainty. I don't think we have certainty in this environment, but we have been able to get some clarity."
If anything, Bowlsby said the Big 12's administrators are expecting complications while trying to play an already-shortened 10-game season in the months ahead. He said athletes who tested positive for the virus would be dealt with carefully and athletes' ability to return to play would be scrutinized.
"I think what we've heard from our student-athletes is they'd like to play, but they want to make sure it's safe," Bowlsby said.
Before green-lighting a fall sports season, Bowlsby said, the Big 12 board heard from doctors who are on the conference's medical committee and have advised the league over the past months and weeks. The Big 12 also listened to doctors, researchers and scientists from around the country, including experts on infectious diseases. On Tuesday night, Bowlsby said, a team from the University of Kansas Health System proved "helpful" in assisting the board with thinking through all the issues. Board members also heard from a Mayo Clinic doctor who specializes in genetic cardiology.
When players test positive for the virus, Bowlsby said the Big 12 will require them to have a cardiac MRI, EKG and other heart-related tests before they are cleared to return to action.
"That's the standard of care that's required and that cardiologists mandate," Bowlsby said. "There will be some that probably a return to participation is not going to be possible. But we will find that out before they go back to any form of strenuous exercise."
The Big 12 also fielded questions from at least two athletes from every university in the conference as part of its decision-making process. Senior receiver Stephon Robinson Jr. and senior offensive lineman Chris Hughes represented KU.
"They are smart, they're insightful, they're tough, they love the game and they were just very thoughtful," Bowlsby said of the athletes who voiced their opinions and concerns to Big 12 decision-makers.
Still, not all of the plans for playing during a pandemic have clear-cut answers, Bowlsby said. For example, the Big 12 hasn't come up with a specific number of positive tests on a team that would lead to a game being postponed, canceled or forfeited.
Bowlsby said that if an outbreak were to occur at certain position groups, such as the offensive or defensive lines, it would be difficult to plug in other players on short notice.
Each Big 12 team will have to sign a document prior to games that states no one who is on the field has tested positive. During the season, Bowlsby said players will be tested Sundays, Wednesdays and Friday evenings.
At one point during the press conference, a reporter asked Bowlsby what the argument was for trying to make a college football season work when other conferences weren't willing to do the same.
"The biggest argument is that nobody has told us it's poorly advised to go forward and do what we are doing," he said.
The commissioner said medical professionals have advised the Big 12 to go forward, move slowly and be vigilant about changes in the environment
"If they tell us otherwise, we will listen to that, as well," he said.
Bowlsby repeatedly said he feels good about the Big 12's move. But some other sports leaders weren't as optimistic on Wednesday. Among them was USC Athletic Director Mike Bohn, who said regarding the Pac-12's decision to postpone football until the spring: "In my view no reasonable-minded individual could have listened to the facts presented by our medical experts and believed that we had any other option at this time."
But Bowlsby said during his teleconference that people who think they can forecast what will happen with the virus are "delusional."
"Even the best scientific minds are unable to forecast with precision," Bowlsby said. "I feel good about where we are just because we've got good practices in place."
Bowlsby touted preseason camps for Big 12 football programs as being "as close as you're going to get to a bubble with college students."
"What you're seeing, we had a number of various-sized outbreaks when student athletes first returned to campus," he said. "Now we have several of our teams that haven't had a positive test in weeks."
The commissioner said that as medical professionals learn more about the virus, the situation "continues to evolve," and he emphasized the importance of remaining flexible.
"Opinions vary regarding the best path forward," Bowlsby said, "as we've seen throughout higher education and our society overall, but we are comfortable in our institutions' ability to provide a structured training environment, rigorous testing and surveillance, hospital-quality sanitation and mitigation practices that optimize the health and safety of our student-athletes."
"Ultimately, our student-athletes have indicated their desire to compete in the sports they love this season," he added. "And it is up to all of us to deliver a safe, medically sound and structured academic and athletic environment for accomplishing that outcome."
No chance for Nebraska?
When the idea of former Big 12 member Nebraska latching onto the conference came up, Bowlsby said it wasn't currently in the cards.
Although Nebraska leaders voiced their desire to play this fall after the Big Ten canceled its fall seasons, Bowlsby said nobody from Nebraska had reached out to the Big 12 about playing any games.
Later, a reporter asked if the Big 12 would entertain any temporary members this fall now that other conferences are canceling fall competition.
"It's not in any of our plans at the present time," Bowlsby said.