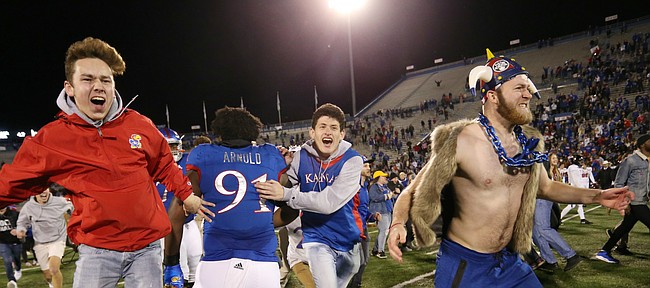 The Big 12 Conference reminded football fans Wednesday evening that it frowns upon them celebrating their favorite team's victory on the field.
A few days after such postgame parties spilled out of the bleachers and onto the playing surfaces at three different venues, the conference office issued a public reprimand to the University of Kansas, Kansas State and TCU for how each institution handled "field-storming incidents" after home victories this past Saturday.
The Big 12 fined both K-State and TCU $25,000, while KU was not fined.
The Big 12 cited its principles and standards of sportsmanship while announcing its reprimand.
"Our institutions have a duty to provide a safe game environment," the Big 12's commissioner, Bob Bowlsby, stated in a release.
"Although the Big 12 does not currently have a policy prohibiting spectators from entering playing areas for postgame celebrations," Bowlsby stated, "it is of utmost importance that home game management provide adequate security measures for our student-athletes, coaches, game officials and spectators.  That expectation includes providing safe passage from the playing field to the locker room, and protection of the visiting team bench area."