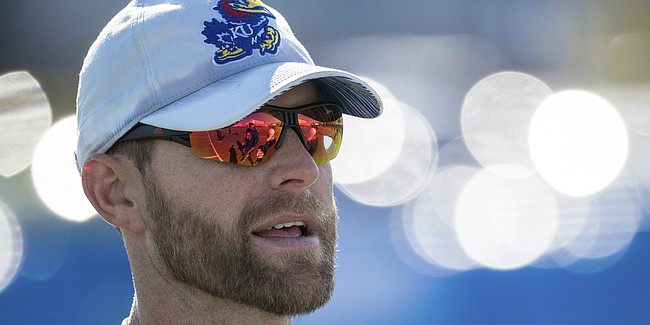 The third offensive coordinator Les Miles has hired since taking over the Kansas football program in November of 2018, Brent Dearmon's contract could keep the recently promoted senior offensive consultant with the Jayhawks through the 2025 season.
A copy of the contract, obtained by the Journal-World through an open records request, shows that Dearmon's first two years — which include the remainder of this season, and all of the 2020 and 2021 seasons — are guaranteed and will pay him $250,000 each of those years.
Given the timing of Dearmon's promotion, in the middle of the season, once Miles fired Les Koenning, the rest of this year and all of the 2020 season are lumped together as "year one" of the contract.
Kansas Athletics would have to exercise any of the four option years on the contract, for the 2022, 2023, 2024 and 2025 seasons. His total salary for each year is $250,000, though some incentives could raise that figure.
Dearmon will receive a $225,000 base salary, as well as $25,000 for personal services, described as educational, public relations and promotional duties assigned by the head coach and director of athletics.
The man Dearmon is replacing, Koenning signed a deal that paid him $500,000 a year. Koenning's contract with KU Athletics was only guaranteed for two years. He is due to be paid the remainder of his $500,000 salary for the 2019 season and another $500,000 for 2020, per the terms of his deal.
The contract Dearmon signed includes potential bonuses tied to KU's results each season:
• 5% of his salary for KU playing in a bowl game
• 7.5% of his salary for KU winning a bowl game
• 10% of his salary for KU playing in a New Year's Six bowl game
• 15% of his salary for KU winning a New Year's Six bowl game
• 15% of his salary for KU making the College Football Playoff
• 20% of his salary for KU winning one CFP game
• 25% of his salary for KU winning a national title
The incentives are non-cumulative, so Dearmon would only receive the highest of those bonuses if more than one was achieved in the same year. The contract also states that Dearmon would have to coach in a given bowl game to receive a bonus, so if he were to leave for another job before KU actually played in a given postseason game he would lose that additional money.
If some other program hired Dearmon away at any point — during the first two guaranteed years or any subsequent year after KU exercising an option — KU Athletics would be owed a $500,000 buyout.
There also is an additional 5% bonus for Dearmon if KU plays in the Big 12 championship game, regardless of the outcome.
Additionally, Dearmon can receive a raise in his salary based on KU's success on the field.
His annual personal services agreement would increase by one of the following non-cumulative amounts if KU were to achieve the following:
• $250,000 for playing in the national championship game
• $200,000 for playing in the CFP
• $150,000 for playing in a New Year's Six bowl game
• $50,000 for any bowl game berth
There are two more non-cumulative scenarios that would give Dearmon additional money in his annual personal services payments.
One is tied to KU's number of wins:
• $200,000 for a 12-plus win season
• $175,000 for 11 wins
• $150,000 for 10 wins
• $125,000 for 9 wins
• $100,000 for 8 wins
• $75,000 for 7 wins
• $50,000 for 6 wins
A third scenario involves KU's scoring:
• $120,000 for KU leading the Big 12 in scoring
• $100,000 for KU finishing 2nd in scoring
• $80,000 for KU finishing 3rd in scoring
• $60,000 for KU finishing 4th in scoring
• $40,000 for KU finishing 5th in scoring
If KU decided to fire Dearmon "without cause," it would owe him the remainder of his guaranteed salary. He would be owed no money if fired for cause — such as criminal conduct, some sort of NCAA violation, insubordination or a serious HR violation, for example.
Chip Lindsey, who Miles initially hired as O.C. before Lindsey left to become the head coach at Troy, was due to make $500,000 at KU in 2019. Lindsey's deal would have paid him more in ensuing years of a four-year, $2.65 million agreement, with KU holding an option for the fourth year.
Lindsey's deal allowed him to leave KU to become an FBS head coach without a buyout.