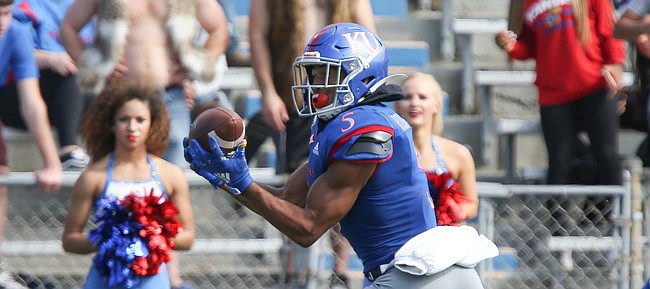 With a 25-point home loss to No. 6 Oklahoma still taking up space in their minds, Kansas football players and head coach Les Miles didn't really have any momentum to cling to while heading into their first bye week of the season.
However, receiver Stephon Robinson provided one positive development the Jayhawks (2-4 overall, 0-3 Big 12) can take with them into the second half of the season.
In what proved to be a career afternoon for the 5-foot-10, 180-pound junior from Los Angeles, Robinson produced the first 100-yard receiving game of his KU career, finishing with new career highs of 131 yards and two touchdowns, while matching his personal best of five receptions.
Said Miles: "I thought that Stephon Robinson's two touchdowns and the way he played the entire day was just spectacular."
With the Sooners (5-0, 2-0) keeping KU's No. 1 receiver, Andrew Parchment (four catches, 45 yards), from burning them in the secondary throughout the game, Robinson came through to give the offense and senior quarterback Carter Stanley a big-play threat in its passing attack.
"I saw that they keyed in on AP," Robinson said during a postgame interview, "but we have playmakers that can step up. It sounds cliche. But, you know, me and Daylon (Charlot, two catches, 33 yards, TD), when we're put on islands in one on one coverage, Carter expects us to win, which we did in most cases during this game."
Charlot's 22-yard touchdown reception that gave KU a brief lead came early, in the first quarter, but Robinson really took off in the second half. That's not to say the former El Camino Junior College receiver was silent until then. It's just that his gaudy numbers late even made receptions of 12 and 19 yards in the first quarter look average in comparison.
OU had built a 42-7 lead by the time KU's passing game found some rhythm in the fourth quarter. That's when Stanley finally was able to connect with Robinson again, for the first time since KU's second offensive series.
Robinson's third catch of the game went for 39 yards and a touchdown. He'd add another long play of 37 yards before scoring the game's final TD, a 24-yard reception, with 2:46 to play.
"The first one was a simple go route," Robinson said while describing his pair of TDs, "where I had one-on-one coverage and Carter threw it up and I made a play. The second one was a scramble play with Carter finding me in the open field for a touchdown."
KU's passing game looked ineffective much of the game against Oklahoma, before Stanley (18-for-28, 230 yards, three TDs) completed eight of 10 passes in the fourth quarter for 142 yards. Exactly 100 of those yards were the result of the senior QB finding Robinson.
Stanley said Robinson, whom he targeted seven times, kept working his way into open space due to the work Robinson has put in at practices throughout the year.
"He's a very detailed player," the QB said, "and is dedicated."
Before Robinson helped the KU offense finish the game on a relatively positive note, running back Pooka Williams did most of the heavy lifting, finishing with 23 carries for 137 yards.
Williams said Robinson had a "great" showing.
"Played his heart out," the sophomore running back assessed. "His hands are automatic to me."
Both Williams and Stanley said KU's receiving group has playmakers behind its top pass-catcher, Parchment (32 receptions this season, 422 yards, four TDs).
"Like I've said before," Williams said, "when they focus on one person, we've got AP, Daylon, we've got Steph. You can't focus on just one receiver or just me."
Robinson nearly doubled his season yardage against OU, and now ranks second on the team behind Parchment in both catches (17) and receiving yards (397). Robinson and Charlot each have two TD catches this year.
Robinson made sure to say "big ups" to Stanley for delivering the ball in one-on-one situations, leading to the receiver's best day in a KU uniform. On his end of the equation, Robinson described how he kept working his way open.
"Just trusting my technique, trusting the play," he said, "using my toolbox to get open."
KU is off this week. The Jayhawks play at Texas on Oct. 19.