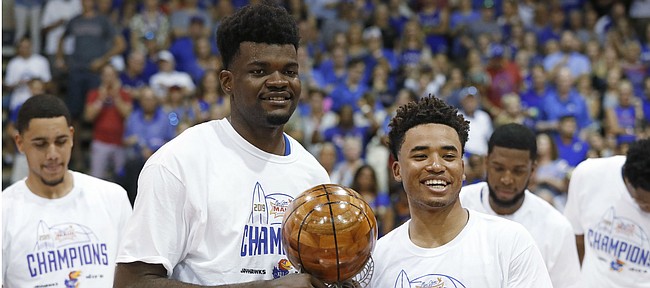 Lahaina, Hawaii — When KU's Udoka Azubuike and Devon Dotson were handed the Maui Invitational MVP trophy on the floor following the Jayhawks' 90-84 overtime win over Dayton on Wednesday night, Azubuike quickly lifted it high over his head.
As it turns out, the move was more than just Azubuike simply posing for a good photo opportunity.
"I'm keeping this," Azubuike said in the postgame news conference when asked who gets to hang on to the trophy.
"I'm good with that," Dotson responded. "Seniority."
Trophies is what it's all about for the two Kansas leaders, and on Wednesday they left Lahaina Civic Center with a pretty good haul.
Dotson, who scored a career-high 31 points on 11 of 16 shooting, could barely take his eyes off of the surfboard-shaped Maui Invitational championship trophy, which sat next to him during the postgame media session.
And Azubuike, often reserved and quiet, had no problem showing a little joy while sitting next to his head coach and point guard.
While Dotson was the Jayhawks' motor from start to finish, it was Azubuike's dominance down the stretch that helped the Jayhawks pull out Wednesday's win.
The 7-foot senior scored nine of his career-high 29 points in the opening minutes of overtime, which included a 3-for-3 clip at the free throw line that helped give Kansas (6-1) the cushion it needed to wind up in the winner's circle.
"Dominant, man," said Dotson when asked about Azubuike's big night. "They were sending one (defender) at him and you know the result when they do that. He's the most dominant big in the country and he imposed his will today. He played awesome."
Combining for 60 points on 23 of 31 shooting — the most since Alonzo Jamison and Terry Brown combined for 65 in a KU win over NC State in 1991 — Azubuike and Dotson provided Kansas with the kind of one-two punch that kept the Flyers off balance just long enough for Kansas to survive and win their second consecutive Maui Invitational title.
"Man, those guys brought it today," said KU sophomore Ochai Agbaji, who, like Dotson, played all 45 minutes of Wednesday's final. "And I couldn't be more proud of them. Devon, the way he led us down the stretch and Dok knocking down free throws, dunking it inside, playing in and out, we needed those guys and they brought it."
This one was a high-energy affair from the jump. Five minutes into the game, with fan bases from both sides blaring at the top of their lungs throughout, the Jayhawks and Flyers played the kind of basketball worthy of a championship game.
It wasn't always the prettiest. It was fraught with mistakes. But it also was crystal clear that something more than just another mark in the win column was on the line.
"Maybe not the most artistic at times," KU coach Bill Self said after the victory while wearing a celebratory lei around his neck. "But that was a great basketball game. … That was a lot of fun."
Thanks in large part to their red-hot shooting from 3-point range and — the Flyers hit eight of 18 from 3-point range in the first half and 16 of 33 for the game — Dayton (5-1) led by one at halftime.
The Flyers built their lead to eight (66-58) with 7:45 to play and appeared to have taken control of the game. The Jayhawks, who turned it over just 11 times, struggled to find a rhythm on offense and could not slow the Flyers' attack on the other end.
But a quick Kansas timeout followed by three consecutive drives to the rim by Garrett and Dotson pulled the Jayhawks back within two and set the stage for a wild finish.
Kansas threw a little bit of zone defense at the Flyers during crunch time in the second half. And even though Dayton still found a way to hit a couple of 3-pointers against it, the zone did enough to disrupt Dayton's flow and allowed Kansas to hang close.
"Well, we went zone and then we forgot we were in zone the next three possessions," Self said. "Two guys were in zone, three were in man and I think it maybe screwed them up or something."
From there, the Jayhawks began switching ball screens and that, too, made Dayton work a little more to get good looks on offense.
"That's my fault," Self said. "We should've been doing that the whole game."
None of that mattered at the very end, however. For all of the X's and O's and coaching strategies and bad breaks and good plays that came before it, all that mattered was the final 15 seconds of regulation and the overtime that followed.
With Kansas leading 73-70 following a pair of Dotson free throws, Dayton's Jalen Crutcher buried his fourth 3-pointer of the game from deep at the top of the key to tie things at 73 with two seconds to play.
KU senior Isaiah Moss, who went scoreless in 36 minutes, nearly ended the game in regulation when his half-court runner just barely clanged off the rim.
But that miss merely set up Azubuike's big finish and the Jayhawks' outscored Dayton 17-11 in OT, with Azubuike scoring KU's first nine points of the extra frame.
"I thought they were better than us for about the first 32 or 33 minutes," Self said. "Even though we maybe had a lead in there, I thought we were on our heels and they had five guys that could stretch it. But the last eight minutes or so, when we got down eight, I thought, except for a couple of bone-headed type plays, we played probably the best ball we've played in a while."
That included the Azubuike free throws and his 5-of-8 showing at the free throw line for the game.
"Even the ones he missed actually looked good tonight," Self joked. "So I'm proud of him for a lot of reasons. But the biggest thing is I just thought both teams competed and my guys really competed when we really didn't play very smart in certain areas. But we made up for it by trying really hard and I've got to be very happy about that."
Speaking of happy, the smile on Dotson's face as he walked into and then out of the Lahaina Civic Center media room told you all you needed to know.
On a night when he could have been absolutely exhausted after playing all 45 minutes in one of the toughest, most high-pressure games of his college career, Dotson looked as energetic as he did at any point on the floor.
The reason? He came back for his sophomore season for moments like this. And after going his entire freshman year without winning any kind of hardware, Dotson leaves Maui feeling pretty good about the beginning of his second stint.
"This is the start of it," he said. "The first of many. We're not satisfied. But we're going to enjoy this one and we're also going to get back to work."