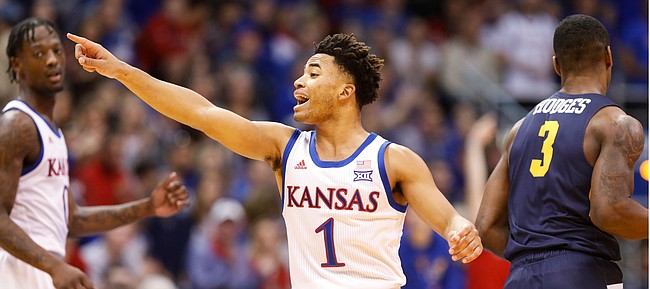 No. 4 Kansas Jayhawks (3-1) vs. Chaminade Silverswords (2-0)
Time: 8 p.m. | Location: Lahaina Civic Center, Lahaina, Maui, Hawaii
TV: ESPNU | Radio: IMG Jayhawk Radio Network
Sign up for ESPN+ and watch your Hawks on the go.
Log on to KUsports.com for our live game blog coverage and follow the KUsports.com staff on Twitter: @KUSports @mctait @bentonasmith @SJacksonLJW & @ByBradenShaw
Keys for Kansas
1. Locked in from the start
Lahaina, Hawaii — Ever since opening the season with a slow and sloppy start against Duke, the Jayhawks have been lights out in the opening few minutes of their three victories.
Sophomore point guard Devon Dotson is a big reason for that, as he has been the catalyst for KU's strong starts on both ends of the floor. His relentless pressure on the defensive end has led to easy buckets for him and his teammates. And his attacking mentality on offense often has put opponents in an early hole.
The one thing all three games — and fast starts — had in common was the fact that they were played in KU's friendly home environment. Getting that early intensity to travel will be key in this one, because the Jayhawks do not want to give the Silverswords any reason to think they can hang around.
"They say defense should (travel)," KU coach Bill Self said Sunday. "And I think it does."
Dotson said those types of starts are as much about preparation as anything, and he was not worried about whether the mindset was packed away with KU's carry-on baggage on the long flight over.
"It doesn't matter," he said. "I'm just a competitive player. That's anywhere — China, Hawaii — I'm going to play my hardest."
2. Put it away early
Even with the kind of tip-top shape that the Jayhawks are in, three games in three days in a hot and humid environment like Maui can take a toll on their bodies.
"Back to back to back games, I haven't done that since junior year in high school," Dotson said. "It should be an experience, and I've just got to get the body right and prepare."
Every year it seems like players on multiple teams find themselves dealing with cramps and the easiest way for the Jayhawks to avoid those types of issues, once the games start, is to get as much rest as they can and limit how much they have to exert themselves early in the tournament.
Kansas should have an opportunity to sit its starters and main rotation players for more time than usual in the opener.
KU's average margin of victory over Chaminade in three previous meetings with the Silverswords in Maui is 42 points. And the fact that Kansas has a massive size advantage should bode well for their hopes of building a big lead.
If they do that and are able to put this one in the books by halftime, the front line guys will be needed very little in the final 20 minutes and players like E.J. Elliott, Chris Teahan and Michael Jankovich should be able to play extended minutes and bring this one home.
But that will only happen if KU takes care of business early on. The KU training staff will also do everything in its power to make sure the players get the proper nutrition and hydration for their run in Maui. But all teams follow a similar approach, and it does not always ensure that things will go smoothly.
"I'm thinking it could be tough, with the load from the games you played before," Dotson said of the second and third rounds of the event. "But it's done every year, and you just have to deal with it and play."
3. Get going from 3-point range
Four years ago, a Kansas sophomore named Sviatoslav Mykhailiuk made KU's opening-round victory over Chaminade look like his own personal shooting practice, knocking in six of 11 3-point shots in the 50-point KU victory.
Even though Kansas fans saw Mykhailiuk go on to make 200 more triples by the time his career was done, there was something spectacular about his display in Maui.
The shots came in such smooth fashion, with such extraordinary ease in the small gym that it genuinely looked like Mykhailiuk was shooting from inside of 10 feet every time he let another one fly.
There might not be a shooter of Mykhailiuk's caliber on this roster, but if the Jayhawks play the right style of ball in this one, the shooters they do have can get those kinds of shots.
And wouldn't that be a welcome sight after the Jayhawks watched themselves make just one of 14 from 3-point range in their most recent outing?
No one could use a good shooting night — or tournament — more than sophomore guard Ochai Agbaji, who has made just three of his last 17 shots and is shooting 37% from the floor overall, 25% from 3-point range.
"I'm hoping Ochai has a bust-out tournament," Self said Sunday. "He's capable and potentially could be our best player and hasn't really been that yet. But I do think he has potential to be that."
Before heading to Maui, Agbaji said he was looking forward to playing inside Lahaina Civic Center because he had heard the venue has "a high school feel."
He also said the quick turnarounds and limited time to scout their opponents would make the Jayhawks focusing on themselves and what they do well more important than worrying about who they're playing.
"That's what makes it fun," Agbaji said. "The challenge of taking that on and just going out and playing."
Marquee Matchup
The rebounding battle
Despite having just two players listed on the roster taller than 6-foot-6 and none standing above 6-8, Chaminade has crushed its first two opponents on the glass by an average of nearly 20 rebounds per game.
Most of those have come on the defensive end, where the Silverswords have sent all five guys to the glass to protect every possession.
But they also have 30 offensive rebounds in two games, which demonstrates how active and athletic they can be.
"It didn't jump out watching their games," Self said of Chaminade's rebounding prowess. "Because their opponents weren't very big. But they're scrappy."
While the obvious objective for Kansas would be for Udoka Azubuike, Silvio De Sousa and David McCormack to use their big bodies and superior size to eliminate all hope of Chaminade turning in a repeat performance of its first two outings, the truth of the matter is that the key rebounders for Kansas in this one could be the guards.
That is particularly true of Marcus Garrett, Isaiah Moss and Tristan Enaruna, who could find themselves playing far more minutes than KU's big men in order to match up with Chaminade's smaller, quicker lineup.
Dotson (3.8 rebounds per game) and Agbaji (3.8) both have been good on the glass so far this season, but they also have provided the most intense pressure on the defensive end of the floor, occasionally taking them away from the glass.
Six-foot senior Kendall Small leads Chaminade with a whopping nine rebounds per game, but CU has four other players averaging at least five boards per game. None of them stand taller than 6-6.
Jayhawk Pulse
Entering Maui on a three-game winning streak, the Jayhawks appear to have fixed some of the issues that plagued them in the season-opening loss to Duke.
KU's turnovers have been down in recent games — 11 per game as opposed to 28 in the opener — and the team has picked up some confidence from tough wins over quality opponents like UNC Greensboro and East Tennessee State.
Those results and KU's road in Maui put the Jayhawks in position to reestablish themselves as one of the favorites in college basketball this season and winning three games in three days would do just that — especially if Game 3 happens to come against No. 3 Michigan State.
With De Sousa and McCormack settling in at the four spot and reserves Moss and Enaruna getting more and more comfortable with their roles, the Jayhawks appear to be on the brink of finding themselves as they prepare for play in Maui.
The questions about whether De Sousa and McCormack can guard the perimeter and how often KU will — and should — play four guards instead of going with two big men do not figure to go away any time soon.
But getting to play three days in a row should help the Jayhawks discover even more of a rhythm and position them to come away from Hawaii feeling good about the roles and styles spread throughout the team.
"I've never been (to Hawaii), and it's going to be fun," Agbaji said. "It should be a great experience for all of us, especially the news guys and people who haven't had this opportunity. But, we're there for one reason. And that's to win. Everybody has that same goal in mind."
Probable Starters
No. 4 Kansas
G – Devon Dotson, 6-2, 185, Soph.
G – Ochai Agbaji, 6-5, 210, Soph.
G – Marcus Garrett, 6-5, 195, Jr.
F – Silvio De Sousa, 6-9, 245, Jr.
C – Udoka Azubuike, 7-0, 265, Sr.
Chaminade
G – Kendall Small, 6-0, 190, Sr.
G – Telly Davenport, 6-5, 195, RS-Jr.
G – Andre Arissol, 6-2, 185, Sr.
F – Eliet Donley, 6-6, 200, Sr.
F – Tyler Cartaino, 6-6, 205, RS-Sr.