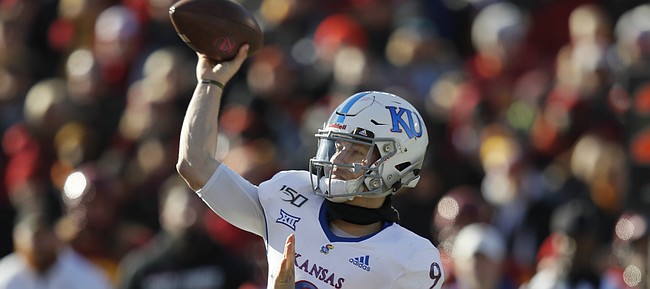 As much as Kansas football players lamented Saturday missed opportunities late in a 41-31 loss at Iowa State, the offense's red zone shortcomings in the first half contributed perhaps even more to dooming the Jayhawks' chances of an upset road victory.
After a three-and-out to open the day offensively, KU ventured inside the Cyclones' 20-yard line on four of the next five possessions. Each time the Jayhawks got within striking distance during the first two quarters, they settled for field goals.
Although KU (3-8 overall, 1-7 Big 12) scored points via Liam Jones field goals on three of its four red zone trips, a touchdown or two could have changed the tenor of the game, if not, theoretically at least, the outcome.
"The drives in the red zone down there, there were issues," head coach Les Miles said of the first half. "When you line up against a good team you're not going to win games just getting 3 points."
The first touchdown-less trip deep into ISU territory concluded on what was initially ruled a Carter Stanley fumble, but reviewed and changed to an incomplete pass on third-and-9 at the home team's 18-yard line. Jones kicked a 36-yard field goal to give KU a 3-0 lead, as the Jayhawks' defense was off to an encouraging start.
The next Kansas drive got as deep as the 15-yard line of ISU before Stanley looked for Stephon Robinson Jr. over the middle out of a four-receiver set. Some pressure at Stanley's legs from a diving defender appeared to hurry his throw and the pass went incomplete. Jones kicked a 37-yard field goal after a Kevin Feder false start, cutting the ISU lead to 7-6.
In the second quarter, Kansas had a chance to regain the lead after a 48-yard Pooka Williams run. Stanley tried to hit Andrew Parchment quickly following that chunk gain, as KU played with tempo, but the throw overshot Parchment, who was open deep for a TD.
KU wasn't even in the red zone at that point, but just outside of it at the 26. The Jayhawks reached the 13-yard line after Stanley found Kwamie Lassiter II on a third-and-10 throw. But a third-and-15 pass for Parchment, again out of a four-receiver formation, was off as Stanley got pressured. Jones' 35-yard field goal banged off the left upright.
The Jayhawks' fourth chance to put at least 6 points on the scoreboard instead of 3 came on the last drive of the second quarter, thanks to a 33-yard sprint by Williams out from KU's own 2-yard line to open the series. Stanley found Parchment three times and Robinson once before KU again stalled out in the red zone. The Cyclones stopped Velton Gardner for no gain on a third-and-2 carry from the 13-yard line. KU called timeout with 14 seconds left and Jones' 30-yard field goal made it a 14-9 ISU advantage.
"I mean it kills," Stanley said of settling for four first-half field goal attempts and not capitalizing on otherwise successful drives early on. "Realistically, I think we had four red zone trips in the first half (when KU could have scored a TD). Liam did a great job of knocking away three of those kicks. The miss was unfortunate, but that's on the offense and a lot of it's on me. I've got to find ways I can be better and get our team 7 points instead of 3."
Stanley went 12-for-22 passing in the first half, with 144 yards and no turnovers before the Jayhawks' offense finally broke through in the second half and scored three touchdowns — all on Stanley passes.
"I thought the offense," Miles said, "played spotty at times but really got in a groove late in the game."
By the end of the afternoon defeat, KU visited the red zone five times and scored on four of those possessions. The Jayhawks' lone TD from that portion of the field was a goal line play-action pass from Stanley to fullback Spencer Roe late in the third quarter.
From a scoring standpoint, KU's offense has actually been successful this season in the red zone. Entering their finale against Baylor this coming Saturday, the Jayhawks rank 21st nationally in scoring percentage in the red zone (90.63%). On 32 trips they've produced 29 scores — 19 touchdowns and 10 field goals. It's been getting into the red zone that has proven more difficult for the KU offense.
"I think we kind of opened it up a little bit more," Stanley said of the offense in the second half, compared to the first, "just because we were moving the ball well. But it was it was a lot of kind of our basic stuff (in the first half) and again our offensive line was doing a great job. And that allowed us in the second half to kind of open it up and do some of those play actions and some of those kind of trick play, shop plays that we have," Stanley said, adding offensive coordinator Brent Dearmon did a "phenomenal" job with the play-calling "as always."
The five red zone trips at ISU (7-4, 5-3) were the most for the Jayhawks since they had eight at Texas — Kansas only made two red zone trips in each of the three games in between. At UT, Kansas scored five touchdowns and a field goal in the red zone.
All those first half trips at ISU felt empty for the Jayhawks.
"Those definitely are going to hurt," Parchment said, "just knowing that we missed some opportunities, and also the missed field goal, as well."
The red zone deficiencies, Parchment added, were indicative of the difference in the game for KU.
"It's just little things that are going on in the game that they add up at the end," he said. "We've just got to do a better job of just staying focused."
KU closes its season at home on Saturday against No. 11 Baylor (10-1, 7-1), at 2:30 p.m. (ESPN).