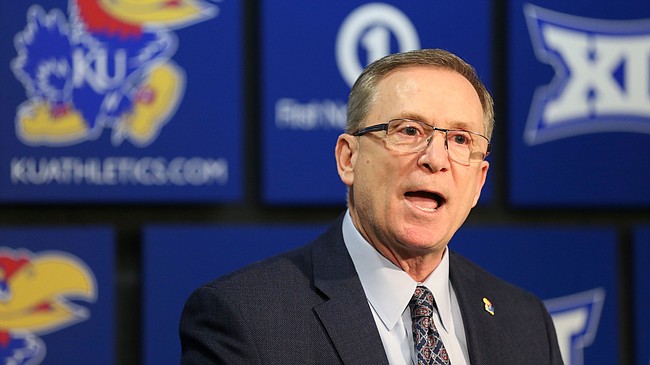 After two consecutive years of operating expenses exceeding operating revenues, Kansas Athletics Inc. reversed the trend for fiscal year 2019.
The organization's auditor's report, recently acquired by the Journal-World, shows that for fiscal year 2019, the operating income was $4.3 million. For fiscal years 2018 and 2017, operating income came in at a loss of $1.6 million and $82,000, respectively.
Kansas Athletics — which is its own nonprofit corporation but is wholly owned by KU — posted a profit by figuring out how to grow the department's revenues faster than its expenses. For a decade, KU's athletic department consistently saw its expenses grow at a faster rate than its revenues. A previous review by the Journal-World found that from 2006 to 2017, athletic department spending grew by 92% while revenues grew by 68%. That gap began to narrow some in 2018, and the department reversed it in fiscal year 2019, which ended in June, according to the new financial statements.
The financial statements show Kansas Athletics' total operating revenues — which include everything from ticket sales to contributions — were $114.7 million in fiscal year 2019. That's up 11% from its total of $103.2 million in fiscal year 2018. Operating expenditures also grew sharply, but not as quickly as revenues. In a year when much of KU's Lawrence campus was subjected to about a 6% budget cut, athletic department spending on operations grew by about 5% — or approximately $5.6 million — to $110.4 million.
A good portion of the new spending went to the university's football program, KU Athletic Director Jeff Long said via email to the Journal-World. Long, who began his job in August 2018, started a specific fundraising drive to boost football spending. This week, he said donors responded well to the drive.

"Operating revenues growth was driven in large part to our (donors) pledging approximately $12 million for the 'Break the Cycle' campaign to help with the aforementioned increased football investment," Long wrote in an email to the Journal-World. The "Break the Cycle" campaign was started by Long to raise money to support three aspects of the football program: operation expenses, salary and facility expenses.
Expenses for the football program rose in large part because of an increase in salaries. From fiscal year 2018 to fiscal year 2019, "salaries and expenses" rose from $9.6 million to $12.1 million, a 26% increase. Overall spending on the football program increased about 7.5% to $31.4 million.
Long said the increase in football salaries was the "result of a concerted effort to invest in our football program. Part of that investment is higher salaries for coaches as well as hiring additional analysts and recruiting personnel."
The financial statements, though, also show a sharp increase in general administrative salaries for the department. Administrative salaries increased by 32% for the year, according to the statements. That too, though, has some connection to the football program. Long confirmed severance packages to KU's former football coaching staff were placed in the administrative salary category. So too was a severance package for KU's former athletic director.
Under a category called "Management and General," the audit lists an increase in salaries from $7.5 million in fiscal year 2018 to $9.9 million in fiscal year 2019.
Long said $2 million of the $2.4 million increase was related to increases in severance expenses. He said fiscal year 2018 included $2.1 million in severance expenses primarily related to the university's former athletics director, and fiscal year 2019 included $4.1 million in severance expenses primarily related to the former football coaching staff.
Kansas Athletics spokesman Dan Beckler said the previous athletic director, Sheahon Zenger, has been paid his full amount owed. The $4.1 million in severance from fiscal year 2019 included $3 million to the former head football coach, David Beaty, which has been set aside in an escrow fund. KU and Beaty currently are involved in a lawsuit over whether the university owes Beaty the severance package. The additional $1.1 million was for assistant football coaches and staff. That will be fully paid off by the end of February 2020, Beckler said.
More information from the audit:
• The amount of money Kansas Athletics received from the NCAA and the Big 12 Conference increased from $32.7 million in fiscal year 2018 to $37.7 million in fiscal year 2019.
• The organization also saw an increase in revenue from sponsorships, media and royalties. In fiscal year 2018, it received $16.5 million, and in fiscal year 2019, it received $17.2 million.
• While salaries for those associated with the men's basketball program increased slightly, by about 2%, total operating expenses for the men's basketball team declined from $18.5 million in fiscal year 2018 to $18 million in fiscal year 2019. Long said this was due to nonrecurring travel costs related to the Final Four in 2018.
• Kansas Athletics decreased its long-term debt by $2.2 million. Long-term debt for fiscal year 2019 is listed at $33,411,234.
• Ticket sales were down in fiscal year 2019 compared to fiscal year 2018, falling from $20.6 million to $19.4 million. A breakdown on which sports saw ticket declines wasn't included as part of the financial statements.