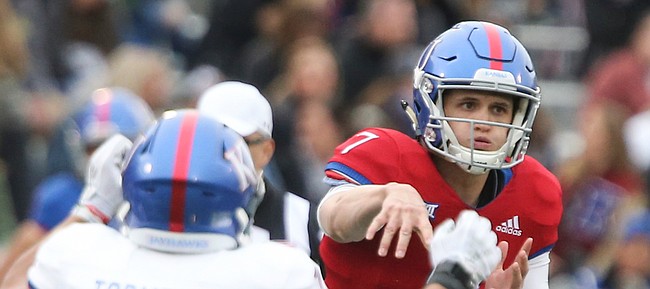 Les Miles decided midway through his Kansas football team's loss at Oklahoma State that he wanted to open the third quarter with a different quarterback.
With reserves Manny Miles, a graduate transfer, and Thomas MacVittie, a junior, both in uniform and available, the head coach ultimately went with the older QB.
Considering that MacVittie seemed throughout the offseason to be battling Carter Stanley for the starting job and MacVittie could potentially end up winning that No. 1 spot on the depth chart for the 2020 season, one may wonder why Les Miles didn't get the younger QB some in-game reps against the Cowboys, when Manny Miles won't be able to play for KU once this season ends.
"Yeah, next season is not the thing that we're trying to do," KU's head coach said during his Monday afternoon press conference, when asked why he didn't play a QB who will be around longer.
"We have two games left and certainly one at a time, we want to play the best players. And we were looking, not necessarily for future in terms of years. What we're looking for is an opportunity to make a play and get us a kind of new start and maybe get us a drive that we would enjoy," Les Miles explained. "But I think what it did is it did give us a spark. I think when Carter went back on the field, I think he enjoyed the time and he did so with a lot of effort and energy."
Manny Miles, who played sparingly as a walk-on at North Carolina before transferring to KU to play one season for his father, handled all but one third quarter snap (Pooka Williams Jr. lined up for a direct snap on one) in what would be a 31-13 loss at OSU. The offense gained 36 yards on 15 plays, and Manny Miles completed four of eight passes for 25 yards with one interception before Stanley returned to play QB in the fourth quarter.
MacVittie, meanwhile, appeared briefly in the first half, lined up at receiver. On a failed trick play, the junior threw an interception while trying to pass to Williams. It was the second time in as many games KU put MacVittie on the field out wide.
Les Miles emphasized there are no plans to move the backup QB to receiver.
"That's just a position of convenience that allows you to put another quarterback in. So, yeah, he's not going to play wide receiver," Miles said.
Asked what he needed to see from MacVittie to have more confidence in him as a QB, Miles replied, "Well, honestly, just some more time under center, I think will benefit him."
MacVittie, who played one season at Mesa Community College (Ariz.) before transferring to KU this past January, was asked to attempt his first pass as a Jayhawk on a trick play off a pitch from Williams.
Asked if that was a difficult spot for his teammate, who hadn't thrown the ball in a game of consequence in a year, Stanley explained why it was.
"Yeah, I mean, trick plays like that it's really tough sometimes on the person who's throwing the ball, whether it's the quarterback or a receiver out there, because, if you look at those plays there's so much commotion going on," Stanley said.
"I think we did a great job of blocking it actually," added Stanley, who watched the game on Sunday to study the footage. "I think the original plan was to hit someone (receiver Stephon Robinson Jr.) deeper down the field, but they covered it pretty well and so (MacVittie) actually went through his progressions. He was going to Pooka and, again with all those moving parts it's a tough situation."
A 6-foot-5 junior form Cincinnati, MacVittie spent the first two years of his college career at Pitt. He redshirted in 2016 and in 2017 only played on special teams.
MacVittie received a three-star rating as a juco QB in the class of 2018 before signing with KU.