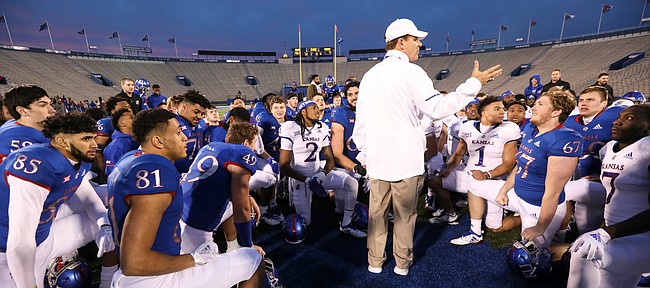 When Les Miles agreed to take over the struggling Kansas football program this past November, he did so with a working knowledge of the situation he was inheriting.
And while his familiarity with KU's roster of players steadily grew the longer he was on the job, the truest testing ground wouldn't come until March, when spring football began and Miles and his staff could work hands on with the Jayhawks.
After a busy five-plus weeks that featured not only 15 practices (four of which were scrimmage days) but also meetings, video study and much more, Miles left the spring more knowledgeable about the players he'll coach in his first season at KU and optimistic about what he has witnessed from them so far.
"I think we're a talented team," Miles said. "I think the team has got some experience. I feel a lot better coming out of spring than I did going in. I didn't know these guys. I know these guys now."
Miles wasn't big on heaping praises on individuals during interview sessions in the spring, preferring instead to keep most of his evaluations and true feelings hidden under his signature white cap.
Moments after concluding his final press conference of April, Miles jokingly slinked behind a group of reporters who were speaking with offensive lineman Hakeem Adeniji. Then Miles gave the senior left tackle his directive.
"Hakeem. Hakeem. Adeniji," Miles said while covering his mouth, joking as if no one would be able to figure out from where the words originated. "Don't tell them anything."
"Yes, sir," a chuckling Adeniji responded.
While the identities of the Jayhawks whom Miles thinks can help the team most during his first fall in charge remain somewhat of a mystery, there are some likely candidates among KU's players with starting experience.
On the offensive line, Adeniji and left guard Malik Clark were among the Jayhawks who both started six or more games in 2018 and finished up the ensuing spring taking first team reps.
More who fell into that category play on defense: cornerbacks Hasan Defense and Corione Harris, as well as safeties Mike Lee and Bryce Torneden.
While less is certain about KU's defensive front, which lacks the experience of the secondary, Miles repeatedly has spoken highly of the potential of KU's group of defensive backs.
Miles didn't get to watch the KU football team's 2018 breakthrough performer, star running back Pooka Williams, play during the spring. Miles suspended Williams from all team-related activities this past December, after KU police arrested Williams and the running back from Louisiana was charged with domestic battery. Williams agreed to a domestic violence diversion in late March. But he didn't practice with KU in the spring and his exact status with the program for the coming season is unknown at this point.
In Williams' absence during March and April practices, the KU offense heavily featured running backs Dom Williams and Khalil Herbert.
The passing attack for KU this spring, meanwhile, featured a new quarterback in Thomas MacVittie, and a pair of new receivers, Andrew Parchment and Ezra Naylor — all three of whom arrived at the beginning of the semester as junior college transfers. MacVittie also had returning receivers such as Daylon Charlot, Kwamie Lassiter II, Takulve Williams and Stephon Robinson Jr. to throw to, as did redshirt senior QB Carter Stanley.
MacVittie liked what he saw out of the offense's talent level in the spring and pointed out the Jayhawks needed to "clean up" some mistakes to take the next natural step in their progression.
"No balls on the ground. No false starts. And then just no wrong reads as a quarterback. No wrong steps as an O-line. No wrong routes as a receiver," MacVittie said. "Just cleaning up the details, because we've got a lot in and we put a lot in it every day. Everybody does a good job of getting in their playbook and being prepared."
Just as Miles seems bullish on KU's talent while discussing it in the media since the end of offseason practices, Adeniji said the Jayhawks heard similar messages from their new coach throughout the spring.
"Most definitely. We see that we have a lot of talent," Adeniji said of KU's offense. "We have a lot of guys at every position and the key thing is executing and not killing ourselves. That's something I think that (Miles has) harped on, as far as like preaching about turnovers and penalties, self-inflicted mistakes that can bring us down. If we avoid those we really allow our playmakers to get out there and really excel."
While Miles wouldn't go as far as to call himself surprised by his appraisals of the Jayhawks this spring, compared to what he thought of them when he was hired, the former LSU and Oklahoma State head coach admitted the roster possesses more talent than he expected.
"I think you'll find that offensively we've improved," Miles said. "We've improved personnel. I think defensively we're going to add four or five guys to our roster here at the beginning of the (summer), and those guys are really good."
More members of KU's 2019 signing class will begin moving to Lawrence in the weeks to come, with high school years wrapping up.
Nine defensive newcomers are expected to be in place before preseason practice begins in a couple of months. The incoming freshmen defenders are: lineman Marcus Harris, cornerback Kenny Logan Jr., linebackers Steven Parker, Gavin Potter and Jerome Robinson, safety Jayden Russell and lineman Dajon Terry.
The defense also will add two junior college transfers: sophomore defensive lineman Malcolm Lee and junior defensive lineman Caleb Sampson.
"So we're going to have an improved team," Miles predicted. "I think when we add to the guys that we have there will be advantages for us."
More like this story on KUsports.com